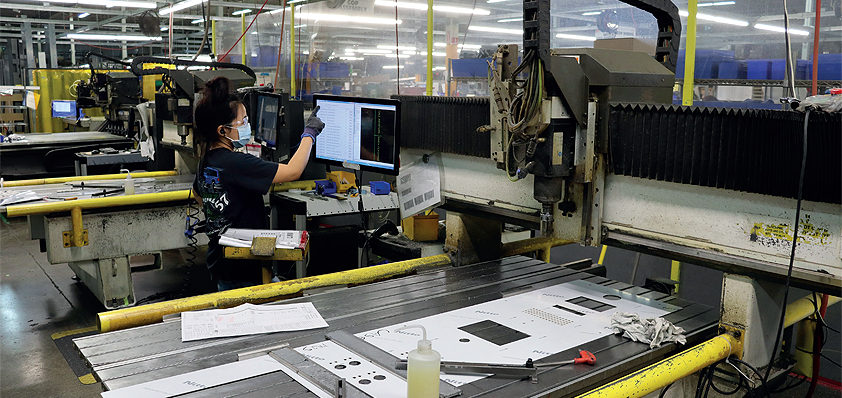 Rising to the top: How custom software was the key to success
Named as one of Canada's Fastest Growing 500 Companies for eight years in a row, MAD Elevator has innovated its way around numerous barriers to become Canada's largest elevator fixture manufacturer, and North America's only one-stop source for both elevator interiors and fixtures
Although there are many key factors behind MAD Elevator's growth and continued success, customization, digitization, and a strong belief in the company's culture have been instrumental. Headquartered in Mississauga, ON and founded in 2005, the company primarily serves the modernization market and has built a reputation as a high-quality manufacturer, selling its products to major elevator contractors such as KONE, Schindler, Otis and Thyssenkrupp.
When Steve Reich-Rohrwig, president of the company joined the business in 2008, MAD had only 22 employees. Today in 2020, the company has a workforce of over 200 and continues to find itself named among the best in the industry including Canada's Best Employers for Recent Graduates and previously The Globe and Mail's Top 400 Growing Companies. It's been 12 years of incredible transformation for Steve.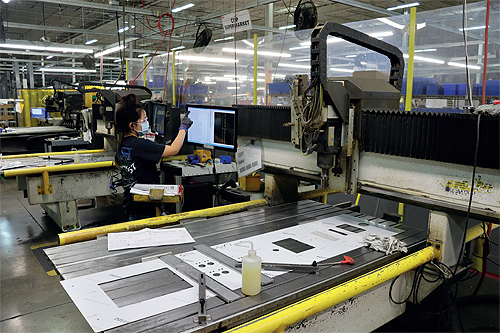 "We started out as a small custom manufacturer designing elevator control panels for specific buildings," Steve explains. "We lasered and formed metal, and assembled purchased buttons, electronics and wire. We weren't a software company – we didn't have any software engineers or experience – but we had two common constraints that forced us forward: lack of money and lack of space."
The early shortage of funds meant instructionsthat, in order to provide the ideal level of responsiveness to MAD customers, Steve wanted to find ways to make his existing resources more efficient rather than hire more staff. It became essential to pinpoint and direct resources towards areas where the company could add more value.
"The time spent looking for information was time that didn't add value for our customers," states Steve. "Time spent providing information to a client, on the other hand, was adding value. In looking for a solution to this problem, MADTrack was born in search of a solution to this small program that consolidates data from multiple sources, allowing us to perform dynamic searches using any number of variables in one place and using only one process. The result was that customers received answers instantly, which consequently led to happier customers and more orders.
"It was simple to have a custom application made for us like this," Steve adds. "Of course, there have been and are now, 3rd party applications that do what MADTrack does, including our current ERP – but going custom meant we had the application work for our data and existing processes, not the other way around. It was quick, cost effective and we could always commit to a larger SAS solution at a later date if necessary."
Inspired by the success of MADTrack, MAD embarked on an intensive digitization program that helped business to link processes, capture data for instant access and increase manufacturing efficiency. Since then what Incbegan as a mission to quickly provide accurate information to external customers has shifted to serving internal customers, helping the workforce of MAD to make faster, better, fully informed decisions on a daily basis.
"What makes us different is the number of custom programs we've introduced and the way we continue to digitize our information processes," Steve declares. "Through digitization, by accelerating and automating tasks, we are enabling our people to focus on actions that require human intelligence and drive value for our customers.
"A colleague has recently pointed out that we employ a concept used in aviation called Black Cockpit. Essentially, instead of the old analog days of flights where all information was visible for the operator to constantly monitor, today everything is black, except for the one item upon which the operator needs to take action. That is what we applied to manufacturing. For example, think of our two buyers who order an average of 253 items per day," Steve says. "ERPs are great at making recommendations and exception reports, but in terms of volume they take enormous effort to review and execute, meaning there is a tremendous opportunity for error. When reviewing those 253 lines each day, is it realistic for a human to catch the two or three abnormalities per week that need to be investigated? Through our digitization and custom programming, we are able to automate the bulk of the work, freeing up our staff to easily identify those abnormalities and spend more time on supplier management, rather than processing paper."
A few years after MADTrack was introduced, digitization at MAD was in full swing and information was fast and swiftly available Nightly emails were being sent automatically to inform sales reps about the status of their orders and there was no longer need to log into a system and check a dashboard. "I read the highlights of the previous day on my phone while I was brushing my teeth in the morning!" Steve recalls. However, the growing business was soon to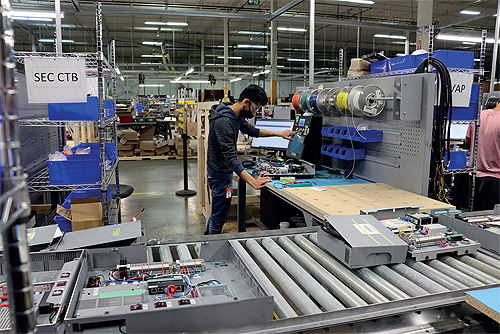 encounter its next constraint – MAD was running out of office space faster than production space.
Employing lean processes, they were able to cut production time from four weeks to one week, though increasing demand meant that there was not enough room for MAD staff in the front office. Consequently, the company looked for ways to streamline and expedite its front office operations.
"Using our experience with MADTrack, we started making our own custom UI application to interface with our system," Steve reveals. "As an external applications, we weren't confined just to that ERP, so I could interface with all our different programs via the same UI. Soon our order entry process was not only performing in half the time, but it also automatically created a project directory on the server, printing folder labels (now eliminated, we're 90 per cent paperless), emailing sales managers and adding to the engineering queue. Today, this ensures that our Packaging Department will scan parts while they pack customer orders to ensure that what is packaged suits the order, eliminate human quality checks and allowing the work to move faster."
Over four times larger than its original site, MAD moved into its current 80,000 square foot facility in 2017. It is a suitable location from which the company can now look to continue its irrepressible recent growth – more than 141 per cent in the last five years alone. Even, though Steve relishes the scale and freedom of MAD's new location, he is grateful for the challenges that the company faced in its early days and the hallmark ingenuity they drew out of the business.
"In the past, there has always been an external reason driving for us to do things smarter and faster which shaped the culture we have today," Steve remarks. "When you look at our history, we absolutely did not follow the route of an enterprise system to manage everything, which meant that we could run our business as we wanted to run it, not as our ERP wanted. Today, our ERP's UI is only used by the finance department and occasionally for non-routine operations; everything else from order entry, BOM creation, job creation, purchasing, receiving, material picking, job completion, packaging, shipping and invoicing is highly automated and done through our custom programs. Of course, you still need an ERP for all the background operations and transactions. We use SYSPRO, which has been incredibly successful for us as it provides a large library of APIs that we can write custom software to."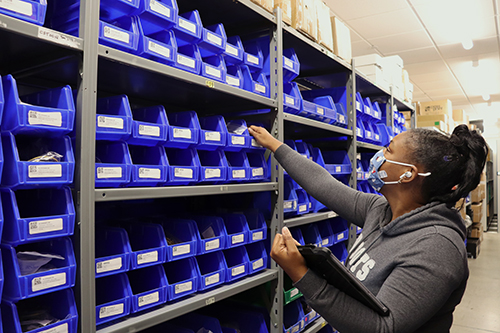 Since the release of the first elevator in-car touchscreen in 2008 through to the current portfolio of touchless solutions, MAD has earned a reputation as the most forward-thinking elevator fixture manufacturer in North America – but Steve believes the company still has room to grow. In addition to expanding its product range in 2021, MAD will be reviewing processes defined as requiring human intelligence to introduce more automation, as well as looking at the role of predictive analytics and artificial intelligence.
"Even in our black cockpit, the notifications are still reactive or near term. To get to the next level, we need to use the data we generate to influence decisions that are not currently connected," Steve reports. "To small manufacturers, I believe AI just sounds like a buzz word that consultants use to make their pitches sound better. However, as a small manufacturer ourselves, I do see an immediate application to our business. The next steps, like our journey up until now, will be small but fast and developed inhouse."
As we approach the end of 2020, MAD is ten times bigger than when Steve joined the business. The path the company has taken is certainly the path less travelled, but it is a path that Steve wishes many small businesses will consider in the future.
"Years ago, a representative of the Canadian National Research Council told me what we were doing was remarkable and how they see so many small companies struggling to break the five million CAD revenue ceiling," Steve says in closing. "These businesses are too small to afford and customize a comprehensive system, but they are struggling to scale without it. As part of building pride in our history, we have recently launched consulting at 'www.theMADsoftware.com' to help other small manufacturers by showcasing what is possible, and assisting them in optimizing their own systems. The story of MAD is important and we want to use it to give back."
MAD Elevator Inc
Products: Elevator interiors and fixtures
www.madelevator.com