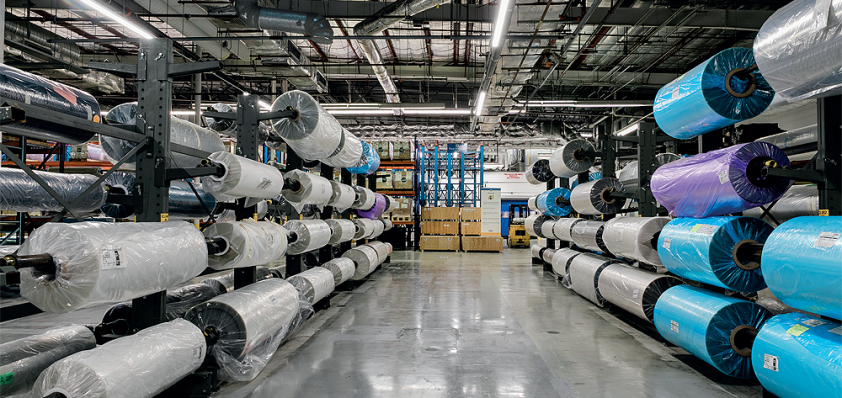 Blockbuster films
Already reaping the benefits of a brand new $40 million production facility, Madico is an innovative films and coatings manufacturer that continues to solve modern problems through invention and imagination
For many businesses that have thrived for over 100 years, one key to longevity is an ability to adapt. This is particularly true of Madico. Now one of the world's leading manufacturers of materials-based solutions, Madico was formed in 1903 as a producer and supplier of leather postcards.
"I doubt most people these days have ever seen one of those," CEO Shawn Kitchell laughs. "It just goes to show how far we've progressed. After leather postcards, the company moved into wrapping paper, a complimentary product, and then commercialized wide-web metallization for shiny wrapping paper and tinsel, before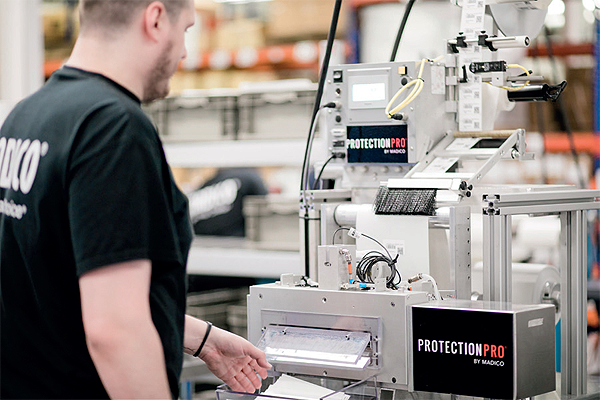 arriving at the wide range of coated and laminated products we offer today. Products that are used in places as varied as homes and automobiles to buildings around the world and even the International Space Station. Time and time again, Madico has proven its credentials as an innovative organization with the ability to change and adapt."
The truth of this statement was in evidence once again this year as Madico switched its focus to the production of face shields during the Covid-19 pandemic. As the virus began to threaten the company's regular operations, Shawn and his team acted quickly, pivoting the firm's business model and transforming Madico into a manufacturer of vital Safe-Gard® face shield protection equipment at a rate of 12,000 face shields per day.
"There was a real need in local healthcare and emergency response departments for that kind of product," Shawn recalls. "Face shields were not something we had made before, but I'm very proud to say that we were able to respond to the requests of the local community. Within two weeks we created a design, made a prototype, got it field tested by emergency responders and medical professionals, had it ANSI certified, created a production process, and started making products. Thanks to the continued hard work of our employees, we've made hundreds of thousands of face shields that have gone out to help local healthcare professionals. Not only has the work given us the opportunity to play a role in the fight against the Coronavirus but it has also allowed us to keep our workforce employed and fully engaged during this time of global slowdown. Our flexibility has facilitated another huge success for the business."
Industry-leading quality
In terms of products, Madico divides its core offering into four sectors: window films, specialty solutions, diversified business, and a sister company, VDI, specializing in metallization. Serving a wide range of applications and markets, Madico is responsible for the manufacture of natural disaster protection films, materials that protect against electromagnetic radiation in aircraft, customizable screen protector films and cutting equipment, anti-graffiti products, roofing material, and hundreds of other filmic solutions in use around the world today.
"Our safety and security films are widely regarded as the best in the industry," Shawn declares. "Our industry-leading quality and clarity is well-respected among our clients and we strive to excel in establishing relationships, delivering outstanding service, and providing value. We work hard to partner with our customers in a collaborative way so that we can create win-win solutions for everyone."
Later this year, Madico plans to add two new products to its existing range. Scheduled for release in July 2020, the company's latest solutions look to answer the growing demand for films that improve cleanliness and hygiene control by limiting the spread of bacteria.
"The persistence of Covid-19 means we are seeing a need for these types of products in the marketplace," Shawn reveals. "We've actually had our Neutralux® antimicrobial coating for some time, but we're relaunching an enhanced version of that product. It's an incredibly versatile material and, once approved, it will be usable on practically any surface – counter tops, tables, desks, or wherever suits the customer.
"We are also launching a second antimicrobial product that we call MicrobeX®, which is a completely different technology that we developed specifically for device protection. Screen protectors on phones require different characteristics to the surface protection of a desk or table because they also require a tactile element that allows you to manipulate the screen. It's a different kind of technology."
New facility
Madico's ability to continue developing and manufacturing pioneering products for its deep and varied customer base received a major boost at the beginning of 2020 when the firm opened a new $40 million headquarters and production site. Located in Pinellas Park, Florida, the 247,000 square-foot site replaced the firm's two aging former facilities and when fully operational this Fall, will offer a capacity much larger than was previously possible.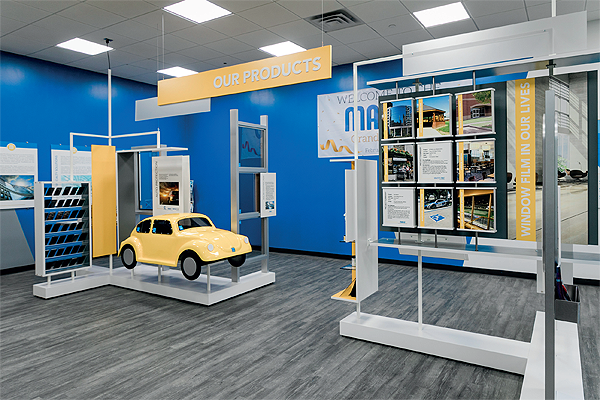 "The key advantage of our new site is the abundance of additional capabilities it offers," Shawn states. "We can do things we simply could not do before. The long ovens, additional coating technology, and facility configuration allow us to run faster linespeeds and operate more efficiently. Everything is now at one site, including our research center, and the resulting improvement in communication means we can move rapidly from R&D through the pilot scale and up to full production scale. One of the best parts about the new site though is that we still have room to grow. We are not occupying all 13 acres of land and there is potential for expansion both inside and outside the building.
"In terms of equipment, we upgraded and relocated our existing coating lines and finishing center to the new site, adding new capabilities so that they could run faster and process different material sets. Teknikor, a specialist in plant installation and long-time partner of ours, played an integral role in this process and in getting the lines up and running. They disassembled the existing coating lines, moved them to the new site and then, using the designs we provided, and the additional components we bought, reassembled the coating lines and made them operational."
Close collaborations
Though machinery and technology are vital tools in Madico's quest to find and produce better solutions, Shawn explains that the company's in-house Research and Development team is the group most responsible for upholding the company's reputation for innovation. Though the R&D team commonly collaborate with customers to develop new products, as well as sourcing ideas from academia and Madico's parent company Lintec Corporation, the group is not afraid to utilize more unorthodox methods in its pursuit of that 'lightbulb' moment.
"Although we generally have a stage-gate process, sometimes necessity requires us to think differently as we try to come up with new ideas and new approaches," Shawn remarks. "Recently, we were challenged with creating a new way to apply our phone screen protectors without a mounting gel, which always took an hour or so to dissipate after application and didn't look great for new customers. Our team responsible for that product used what we call the Apollo 13 approach. They focused entirely on the problem for 72 hours. They locked themselves away and said okay, our customers have all these machines, this software, these tools, these materials, how can we make this work? For 72 hours they brainstormed, they ran trials, they did a lot of different things until they came up with a very unique dry solution to the problem without the customer having to invest any more money, and without us having to provide any more tools or supplies. It was an example of our mission in action and it was very successful."
One of the very first entrants into the window film industry, Madico has been a leader in innovation for over 50 years. Along the way, the firm has introduced transformative technology to the mass market including anti-scratch coatings, bomb blast mitigation systems, and most recently, antimicrobial material that could help turn the tide in a global crisis. Where then does the company go next?
"We've invested in our new building, we've invested in a host of new capabilities, so our intention now is to grow the business," Shawn affirms. "We want to expand our operation across all sectors – window film, on-demand screen protectors, metallization – but most of all, we see big opportunities in our specialty solutions area. For example, we're already working with a company called Walter P Moore, one of the top engineering companies in the US, who do a lot of work on stadiums and large structures. We've partnered with them to co-invent and develop a new material to replace ETFE roofing on buildings. It's much stronger, so it requires less support, and it's clearer, which means it can be customized to meet the needs of the architect or structure. We hope to release this product by the end of the year and we are very optimistic that it will be a big hit in the future. The only way we were able to do this was through a strong collaborative effort with a partner like Walter P Moore. That's where we see our future, partnering with companies to create new market niches in the specialty solutions sector."
Madico
Products: Films and coatings manufacturer
www.madico.com