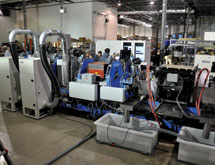 Magnetic Analysis Corporation
Magnetic Analysis Corporation was founded in 1928 in Long Island City, N.Y., by William Gould and William Gould Jr. to develop a group of patents for nondestructive electromagnetic testing of steel bars. As President and CEO Joseph Vitulli explains, most manufacturers relied on destructive testing to test for cracks or imperfections. After stressing the bar beyond its limits, the bar, even though without defect, would be destroyed. The problem with this method was that it created a lot of waste. MAC was ahead of its time when the Goulds introduced their nondestructive tester in 1934, presenting a new, more practical solution.
"The concept of nondestructive testing basically allows you to use the good product after the test," Vitulli says. "It becomes a tool for making the processes better and reducing the potential liability for the manufacturer."
The company's success in testing steel earned special recognition by the U.S. government when it was asked to create a custom system for testing munitions during World War II. By the 1950s, the company introduced its first commercial eddy current tester in the United States, a major advancement in NDT technology. Eddy currents are electric currents created by changing the magnetic field within a conductor. The eddy current testing process involves running alternating electric currents through the metal and looking for small changes caused by imperfections or cracks. "Eddy current business became our foundation, and the primary customers we had at the time were the U.S. manufacturers for steel, copper and aluminum."
Today, Magnetic Analysis Corporation is a global operation, with its main facility in Elmsford, N.Y., and subsidiaries located in the U.K., Italy, Australia and Sweden. The company still provides eddy current test equipment, but also has branched out into additional technologies such as magnetic flux leakage and ultrasonic. "As many of its competitors struggle to keep up with the changes in the manufacturing sector, Magnetic Analysis Corporation has the skill set necessary to offer customers the best service possible."
Deep Services
The company's main customers today are largely the same as they were more than 50 years ago, with manufacturers of metal tube, wire and bars making up the majority. What has changed, however, is the amount of testing that many of them are required to perform on their products. "For example, manufacturers making products for the petroleum industry have to abide by the standards set forth by the American Petroleum Institute. In 2005, specifications were introduced requiring some tube and pipe to be tested by at least two different technologies."
The two technologies most commonly chosen by these manufacturers are magnetic flux leakage and ultrasonic, and Magnetic Analysis Corporation has the capability to provide these forms of testing among others. It is this depth of service that he says elevates the company above many of its competitors, who often need to team up with one another to provide a full slate of services to customers. "What we offer now is multiple methods of testing," he says.
The other competitive advantage Magnetic Analysis Corporation brings to the industry is its people. Since the company based much of its business on leasing test equipment, it needed a strong field staff that could troubleshoot and maintain equipment for customers at their facilities. "To this day, our field staff – which is now worldwide – provide quick customer service and keep our customers up and running."
Emerging Trends
Magnetic Analysis Corporation is happy to have advantages over its competitors, because many have not been able to survive the conditions caused by the recession. "Some of our competitors in the last 10 years, evaporated because they couldn't handle the changes in the industry."
The current president and CEO adds that the company's global presence has been another advantage because the fluctuations in the world's economy doesn't affect all areas of the world at the same time.
Having a presence in multiple countries also makes it easier for the company to follow manufacturing trends around the world. Vitulli states the center of global steel manufacturing has shifted from the United States to Japan, and at present, China holds the highest rank in crude steel production at 45.4 percent.
One of the biggest changes to the industry in recent years that has affected many manufacturers has been the streamlining concept, according to Vitulli. "Our customers have changed in that they've become leaner organizations."
"As a result of that, they require NDT products to be more user-friendly. They're looking for faster setups and simpler methods for setting up a product test."
As the market continues to change, Magnetic Analysis Corporation continues to expand its offerings to include more options for non-destructive test equipment, software, and multi test systems utilizing greater sensitivity. This will be especially important as regulations such as ASTM, EN and API continue to become a greater factor.
"My feeling is that most of manufacturing today is being driven by standards committees like the API." Magnetic Analysis Corporation actively participates in these committees and contributes to the revisions of the industry standards.