Mahindra Truck and Bus Division
Mahindra Truck and Bus Division rises above the rest
Adopting the name Mahindra & Mahindra Limited (M&M) in 1948, three years after it was first established, this multinational automobile manufacturing corporation, headquartered in Mumbai, is one of the largest vehicle producers in India. Part of the Mahindra Group, a $19 billion group operating in many of the world's most important industries, M&M has several business units itself, each focused on a different automotive segment.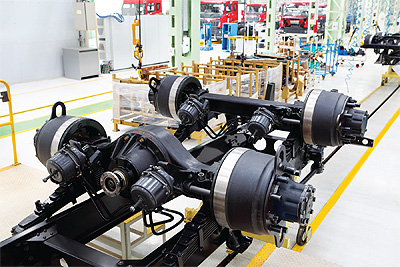 "Mahindra Truck and Bus Division was formed in 2005, originally as a joint venturebetween M&M and Navistar International," begins Dr. Venkat Srinivas, Senior Vice President, Principle Chief Engineer and Head of Product Development at Mahindra Truck and Bus Division. "Having demerged in 2013, the division has since gone on to develop product lines in both the truck and bus segments, with vehicles ranging from 3.5 to 9 tonnes GVW in Light Commercial Vehicle, 25 to 49 tonnes GVW/GCW in Heavy Commercial vehicles, and Regular as well as School Buses with seating capacity between 15 to 55 people."
By creating trucks that are designed for several different applications, from transit mixers and bulkers, to car carriers and refrigerated containers, the division provides an entire line of integrated trucking solutions, supported further by proven reliability and quick manufacturing turnarounds. Its HCV range has been engineered specifically to meet the requirements of its customers in the Indian market, and in meeting the varying needs of passenger transport, cargo and specialised load applications the division has reached a point where today more than 28,000 of its HCV trucks are on India's roads. Meanwhile, in the LCV market segment the division holds a market share of 9.8 per cent, a positon it is set to further strengthen as it looks to add considerably to the 150,000 LCV vehicles already produced.
Mahindra Truck and Bus Division's new range of heavy commercial vehicles are being manufactured at its new green field plant in Chakan, which itself spans over 700 acres. Its entire range of LCV load vehicles and buses on the other hand are manufactured at its facility in Zaheerabad. Both ranges are further supported by a rapidly expanding after sales service and spares network which operates across 84 dealerships, 120+ authorised service centres, 2900 roadside assistance points and 2069 spares retail outlets.
"Our Chakan plant possesses a fully sustainable manufacturing setup," Venkat states. "For one thing, it is what we refer to as a 'zero-water requirement' plant, where we have a lot of drain water harvesting taking place to make the plant completely self-sufficient when it comes to its water needs. It is a relatively new facility, inaugurated in the last few years, and will form the
basis for all future facilities when it comes to its sustainability. This way of thinking owes a lot to the Mahindra Rise philosophy that exists throughout the group, which centres around the core theme of creating a successful, sustainable, responsible business for all. Inside, its production facilities are all state-of-the-ar t, automated and fully functional so as to achieve maximum efficiency, reduce waste and ensure first-class performance. Our production lines are also suppor ted by a modern, fully functional trim and chassis line, and an on-site press shop."
India's manufacturing sector is in something of a period of flux at present, with a number of changes and developments occurring at national level, which are affecting all manner of industries. As Venkat explains, however, these changes have the potential to result in considerable benefits for companies that respond accordingly. "Logistics distribution in the country has been hampered in several ways in recent years, but moves are definitely being made to alleviate this. On 1st July 2017, the government's newly announced goods and services tax came into effect, which is designed to tighten the rules governing the transportation of goods across state borders. By allowing only those businesses with all the compliant documentation to transport goods in this way we believe it will lead to more efficient movement between states.
"At the same time, the government has assured that any future changes in regulations and legislations will be enacted while giving due notice to companies to respond to these. This is par ticularly important considering that the country introduced Bharat stage (BS)-IV earlier this year and has already mandated to bring BS-VI into place by April 2020."
Venkat and the rest of the Mahindra Truck and Bus Division family have some very ambitious plans of their own for the business in the coming years. "We have already announced plans to increase our portfolio of trucks and buses as we look to fill some of the gaps we have identified in the market and in our own offering, and this will pick up pace in the next couple of years," he describes. "At the same time, we will continue to gear up towards the introduction of BS-VI standards in 2020.
"We are also excited about some of the new innovations and technologies being brought to market. For our part, we recently launched a new telematics platform, DigiSense, for use in our trucks. This technology is going to aid our customers by letting them keep track of their truck, monitoring its performance and allowing them to communicate with us regarding any aler ts of early warnings of failures. Such advances have us excited about what is happening in our industry and we see changes like these, and those relating to regulations and legislation, as not necessarily being challenges, but opportunities that we can utilise to take the business forward. While we are conscious not to bite off more than we can chew, we have a great degree of optimism for what the future holds and our ability to grow and strengthen the business."
Mahindra Truck and Bus Division
Products: Trucks and buses
www.mahindratruckandbus.com