Wrap stars
Having diversified its capabilities through acquisition and innovation, world-class manufacturer of wooden and plastic hangers Mainetti leads the way in the production of accessories, garment covers, gift packaging bags and presentation boxes
A front line component supplier to the garment trade Mainetti has developed long-standing links with most of the world's leading retailers as well as a diverse client base since its establishment in 1961. Today serving supermarkets and discount stores to high-end fashion brands and everything in between, the company has grown to become the leading service provider to the industry when it comes to garment hangers.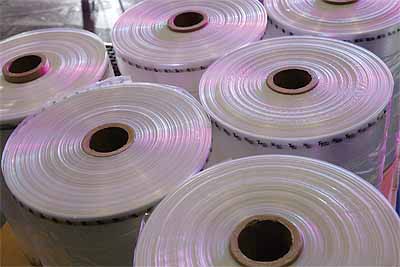 With approximately five billion hangers being sold globally on an annual basis, Mainetti focused on selling items from its expanding portfolio to existing customers, as Jim Hutchinson, Managing Director at Mainetti (UK) Ltd, explains: "One thing I was told as I was first starting in this business was to listen to your customers as they will tell you what they want. When you start to speak to people opportunities are presented for you to find solutions too. For example it became apparent that for every garment carried on a hanger each garment required a polyethylene cover to keep it clean as they are moved through the logistics network. When we investigated the polyethylene shroud business we found retailers were dealing with 50 different suppliers in 50 different countries with 50 different cultures and 50 interpretations of specifications.
"Once we realised this opportunity, we acquired a Sri Lankan business that made polythene bags and over three years we set up a global group that supplies plastic shrouds and display bags, with production sites based in the UK, Italy, Turkey, Bangladesh, India, Sri Lanka and China. We also looked at specifications and rationalised ranges of shrouds for retailers into much more manageable numbers."
In addition to enhancing this service for customers, Mainetti also provided further benefits to customers with the development of Smart Film, an innovative, thinner material than typical plastic shrouds that works through automatic bagging machines and is more cost efficient due to its weight in comparison to other shrouds.
While this innovative development was taking place, Mainetti's colleagues in Italy were also focusing on a strategy to supply 'total look accessories' to its customers within the high-end boutique market. "They hit upon the idea of pulling together a parcel for the retailer that included the hanger, a branded paper carrier bag and suit carriers/dress carriers for consumers to use once they had brought an item as a way for them to carry the branding from the store to their home. This business also grew and caught the interest of retailers across the globe and today we now supply paper carrier bags and suit covers to many UK retailers," highlights Jim.
Further enhancing its capabilities in November 2012 with the acquisition of a business based in Northern Italy that manufactured these bags, the company then diversified operations more through the addition of a consumable packaging department that focuses on the supply of carton tapes, bubble wrap, padded envelopes and shrinkwrap.
Alongside diversifying its packaging business, Mainetti made the strategic decision to develop opportunities within its plastic operations through the utilisation of its injection moulding capability. With a business development manager appointed, the company became involved with Wine Innovations, a manufacturer of pre-filled plastic glasses of wine with a foil top that are available at outdoor events and train stations. "We have made these glasses for Wine Innovation for approximately three years, which has led to the development of a range of plastic glassware products under the trade name "Glastic", a PET based material that is dishwasher proof and doesn't shrink or deform under high temperatures," highlights Jim. "So what we now have is a range of glassware that looks like glass and feels like glass but is plastic; these items range from a pint, champagne flute, wine glass or shot glass and they can be decorated either by a raised print and foil or by laser printing."
Mainetti has also developed a range of buckets for the cut flower industry. "The cut flower industry has used the same buckets for many years and simply lived with many of the issues that these old products brought. The biggest issues were the weight of the buckets and the tendency for them to stick together due to a vacuum forming between the buckets in a stack which caused big downtime on the production lines. Using our in house design team and looking at the supply chain issues we developed a light weight product that stopped a vacuum from forming and speeded the process up."
One of the key strengths for Mainetti is that it can react to market trends and ideas quickly, thus ensuring a concept can be trialled, prototyped and brought to the market in a relatively short amount of time. This will hold the firm in good stead as it continues to collaborate with customers on ways to find packaging solutions across a range of industries and markets. "One big focus for us over the coming years will be to develop our packaging business for online retailers; we will also be further developing our paper bag and suit carrier business while also seeking new opportunities to broaden our customer base. It is key to our ongoing success that we develop relationships that allow customers to understand and trust our capabilities so new opportunities can be presented," concludes Jim.
Mainetti (UK) Ltd
Products/Services: Front line component supplier to the garment trade