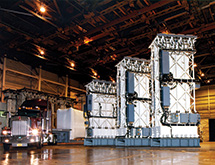 If you want to understand Major Tool & Machine's position in the marketplace, all you need to do is look at the customers it serves. According to Director of Business Development Joel Manship, Major Tool & Machine serves a broad variety of OEMs from multiple industries, the majority of which fall into the Fortune 1000. The size and diversity of the company's customer base reflects well on Major Tool & Machine, which has become a leader in providing manufacturing, engineering, fabrication, precision machining and assembly services.
Since 1946, Major Tool & Machine has concentrated on serving the needs of critical applications customers across the country. Today, the company has more than 600,000 square feet of manufacturing space in Indianapolis and has grown to serve customers in the international market, as well. Among the customers the company serves today are leaders in the aerospace, defense, power generation and nuclear markets. Although Major Tool & Machine faces strong competition from domestic and foreign sources as well as from its own customers in-house manufacturing in some cases, Manship says the company has the strengths necessary to remain on top, and it works tirelessly to ensure that it never stops trying to improve.
Small But Capable
One of Major Tool & Machine's best features is that the company has a large amount of capacity despite being considered a small company. "Even though we're a small business by U.S. government standards, we are a good-sized small business," Manship says, adding that the company's 600,000-square-foot facility gives it a healthy amount of capacity to meet customers' needs.
"What that allows us is to bring to bear capabilities and capacity that is on par with many of our customers with their in-house manufacturing," Manship adds. In addition, in an era of Fortune 1000 OEM's being focused on supplier consolidation, Major Tool provides expanded, turnkey capability and capacity. "This allows our customers to place a broader breadth and depth of work at one location, with confidence, minimizing their supply management effort and associated costs," he notes.
The fact that Major Tool & Machine is a small, privately held company means that it can offer large-scale capacity and capabilities but with the structure and cost of a small business. This means the company's customers can deal with Major Tool & Machine on a more personal level, and with lower overall costs, but still receive the same level of service they would from a much larger company.
Turnkey Services
The breadth and depth of the services provided by Major Tool & Machine allows the company to be a best-value, turnkey provider of engineering, fabrication, machining, assembly and testing services, Manship says. This has been one of the most important elements of the company's success over the years. "At the end of the day, you're looking for the opportunity to bring added value to the customer," Manship says.
Many of the company's customers are looking for any way to reduce their costs they can find, and for many of its larger customers those options include performing the work themselves in their own facilities. This in effect puts Major Tool & Machine in competition with its own customers in some cases.
Not only does the company need to offer a better value to its customers that can do the work for themselves, but Major Tool & Machine finds itself competing with larger and more varied competitors thanks to consolidation and globalization. "You have to compete today not just with your domestic competition, but also with your international competition," Manship says.
Many of the company's customers, especially in the aerospace and defense sectors, also are undergoing consolidation. The companies that result from these mergers and acquisitions are larger and have more extensive needs, but Manship says the cradle-to-grave capabilities Major Tool & Machine offers with the agility and cost control of a smaller company make it more than capable of serving those customers' needs.
Our People Make The Major Difference
Another crucial element for Major Tool & Machine's success is its people, Manship says. The company spends a lot of time and resources on training to expand its base of skilled workers and also to retain them to ensure ongoing consistency.
Recently, Major Tool & Machine re-instituted a machinist apprenticeship program, and expanded its' in-house welder training program. These  programs and its training help ensure that the people Major Tool & Machine brings into the company will have the most advanced knowledge in the industry.
On the retention side of the equation, the company recently expanded its on-site wellness facility, and established an on-site health clinic, which Manship says is unique for a business of Major Tool & Machine's size.
With a full-time physician and physician's assistant on staff, the company's employees and their families have access to healthcare and wellness programs when they need it, which is a significant advantage for the company in retaining employees.
With all of these pieces in place, Manship says, Major Tool & Machine sees a lot of positives on the horizon. "Where we are and where we're going to be, we anticipate 10 to 15 percent growth year over year, doubling in revenue by 2023," he says.