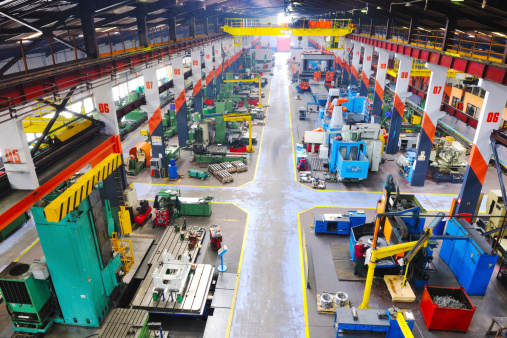 After 70 years, Major Tool & Machine says it is a world leader in contract manufacturing, fabrication and machining services. "Since 1946, Major Tool & Machine has provided exceptional customer satisfaction with our persistent dedication to quality, service and state-of-the-art technology," it says.
Based in Indianapolis, the company began as a custom manufacturer of tooling and aircraft ground support equipment. Major Tool now also provides engineering, fabrication, precision machining and assembly services to clients in the United States and internationally.
"Major Tool & Machine manufactures hardware for a variety of industries, including aerospace, defense, power generation, commercial/industrial and the nuclear markets," the company says, noting that it has more than 600,000 square feet of manufacturing space in the Indianapolis area.
The company adds that it keeps growing to meet its clients' needs. "Within our world-class facility, we produce highly complex custom parts, production pieces and turnkey assemblies from material acquisition to testing," it says.
"Major Tool & Machine's customer-focused teams present unequaled levels of engineering and project management," the company says. "We apply and maintain the highest levels of quality assurance to meet the demanding expectations of our customers."
Areas of Excellence
Major Tool's core competencies include its material conversion services, which gives it the ability to fulfill its clients' sheet, plate and bar material processing needs. "We have a dedicated area for the initial sawing, burning, rolling or forming of material prior to being welded or machined in one of our other divisions," it says.
The company also excels at welding and fabrication. "Our welding department has extensive experience with a vast array of materials ranging from high nickel alloys and stainless steel to carbon steels, aluminum and titanium," it says.
Major Tool's specialties also include precision machining, and the company is proud of its inventory of CNC-controlled machine tools and equipment. "Our machinists are highly skilled craftsmen who have the ability to meet and exceed all [the client's] expectations," the company says.
"Whether it's turning, milling or drilling, Major Tool & Machine maintains a unique array of machining tools, and tooling accessories to accommodate your most demanding machining requirements," Major Tool says. "We have the ability to precision machine parts ranging from six inches to 90 feet."
The company also highlights its assembly and testing abilities. "We have developed and employ the qualified personnel and systems that allow Major Tool to assemble and test to exacting requirements," it says.
"From critical braking systems for the Disney Tower of Terror to precision carting system for the delivery of mercury targets to the world's largest neutron spallation source to mission critical radar defense systems, to ultra-critical radioactive materials transport, storage and emplacement systems," Major Tool says.
Major Tool also recognizes program management as being important to client satisfaction. "Our customer focused teams [CFTs] are at the core of our commitment to customer satisfaction," it says, noting that these teams are organized by the markets it serves.
"The teams vary in size, based upon need, but always consist of a dedicated team later and multiple, degreed engineers," Major Tool says. "The [CFTs] dedicate themselves to understanding the complexities of the market they serve and the dynamics of our individual customers represented within those markets."
Major Tool says its relationship with the customer begins at the quoting stages, where teams talk to its clients' associates and ask important questions. "This allows us to develop a detailed response that incorporates a well-thought-out process," it says.
"Upon award, that CFT is responsible for the planning, release, program management and customer reporting activities throughout the life of the program," Major Tool says. "To further enhance their efforts and total customer satisfaction, the [CFTs] are supported by procurement, production control and quality assurance personnel throughout the Major Tool organization."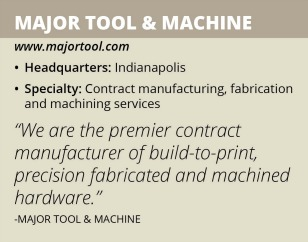 Green Commitment
Major Tool focuses on sustainability by reinvesting in its people, facilities and new equipment. "[We are] committed to minimizing our impact on society and the environment," the company says.
"We will accomplish this by using sustainable purchasing practices, recycling reusable products, eliminating waste through the use of lean Six Sigma tools, minimizing energy consumption and utility usage, and keeping environmental sustainability at the forefront of all of our business practices," it says.
The Right People
Major Tool's staff has the experience to meet its customers' needs. "The processes employed are technical and complex in nature, which requires our workforce to be highly competent and flexible in their ability to understand, communicate and respond to the customer's needs," the company states.
Although its manufacturing processes and capabilities are critical, "The ability to meet and exceed customer expectations is impossible without the right people," the company says. "Our employees develop and maintain a strong bond with our corporate values: mutual respect and trust, hard work, dedication, integrity, dependability, responsiveness and commitment to quality."
Major Tool says it develops strong relationships with its staff to promote dedication and continued improvement. "Frequent expressions of appreciation for our workforce in general and positive recognition of desired behaviors help reinforce the essence of the values of the corporation," it says.
The firm also values relationships with its community. "We want to share our success through community relations with other entities that support the local neighborhood and broader community," Major Tool says.
"These relationships are developed through investing in human and social services, potential employees and the general development of goodwill," it adds. "To that end, we promote employees becoming volunteers for organizations that Major Tool & Machine supports, or with the charitable organization of their choice."
A Major Supplier
For more than six decades, Major Tool says it has been a critical supplier of energy products. "We maintain an extensive track record within the power generation and oil and gas industry worldwide," the company says.
"Our experience in the fabrication and machining of 'super alloy' applications, or hot section components, has set us apart from the competition for years," it adds. "We provide the highest quality, precision fabricated and machined hardware, such as hot gas path casings, combustor liners, transitions, exhaust frames, end covers, nozzles, diaphragms and many other highly engineered components for the energy market."
Major Tool also has extensive experience manufacturing industrial turbine hardware. "Combined with the expertise and qualifications we apply towards the manufacture of critical nuclear hardware, Major Tool is poised to be a premier supplier of commercial nuclear reactor internals, supports, ancillary and balance of plant hardware," it says.
"Whether conventional or nuclear, turnkey energy projects are a mainstay for Major Tool's core competencies," the company says. "We are the premier contract manufacturer of build-to-print, precision fabricated and machined hardware for the energy marketplace."
One-Stop Shop
Major Tool also excels at serving the aerospace and defense (A & D) markets. "Our state-of-the-art machining and welding allow for a one-stop shop for [the client's] fabrication and assembly needs," the company says. "When [their] project requires controlled processes and detailed quality planning, our engineering and manufacturing teams have both the training and experience to ensure our customer's expectations are met or expected.
"We have over 100 years combined engineering experience assisting customers on programs for the latest A & D projects," Major Tool says. "We encourage our customers to engage us early on complex and challenging projects to create manufacturing solutions and feasibility advice that reduces risk to their projects.
"Working together to match our expertise and capabilities to our customer's needs is our approach to manufacturing equipment for the A & D community," the company says. "Our engineering, manufacturing and assembly/system integration capabilities coupled with our superior quality program make Major Tool & Machine a high value supplier for our aerospace and defense customers."
Specialized Manufacturing
Major Tool also meets the demands of the nuclear industry. "Specifications and requirements for fabricating, machining, assembling and testing of nuclear hardware call for specialized manufacturing methods, equipment, facilities and skill sets," the company says.
"Our employee qualifications, facilities and systems comply with the rigorous specifications of both nuclear customers and regulatory authorities and adhere to the most stringent quality assurance requirements in the industry," Major Tool says.
Major Tool also serves emerging markets. "[We maintain] a long and proud history of participating in state-of-the-art, cutting-edge technologies that require the full-scope of concurrent engineering, fabrication, machining, assembly and testing disciplines we exemplify," it says.
"Many of these programs begin as developmental government or university initiatives that transition to the commercial industry, serving the aerospace, defense, energy, security and transportation markets," it says. "We apply our unique capabilities, unparalleled capacity and unwavering commitment to quality assurance towards the successful outcome of the next generation technologies.
"Whether capturing the power of the stars on earth, securing the safe transport and disposal of special nuclear materials, providing our country and allies the most reliable line of defense or enabling extended space flight to the outer reaches of the universe, our people at Major Tool & Machine take great pride and apply it every day," the company says.