A cut above
Malthouse Engineering was established in 1947 and is the UK's largest independent flame-cutting company as well as offering other steel engineering solutions
Malthouse Engineering MD Roy Taylor is in a jubilant mood as the company celebrates its 70th anniversary in the steel engineering industry: "We are going to get together with our wives
and partners to celebrate – we are going to have a surprise appearance (it was in fact Doreen Tipton – the queen of the Black Country), a meal and then afterwards we'll have a DJ!" he happily exclaims.
While he is keen to celebrate Roy also realises that the progress of Malthouse Engineering has not always been smooth: "When I took over in 1983 we were in the depths of a depression. There was five of us, all equal shareholders who bought the company in a MBO, it was going to include my predecessor but unfortunately he died," he sadly recalls. This represented a big challenge for the business and after this tragic event he and his fellow directors began the process of ensuring Malthouse Engineering's long-term progress: "We acquired 14 companies over the next 25 years and with all the companies we acquired we added them to the three sites," Roy illustrates, outlining the approach that would serve the company well in the years to come.
Forging ahead
Malthouse Engineering's main speciality is flame cutting – the company has the capacity to stock up to 2000 tonnes of steel and can cut up to 500mm of thick steel plate. It is this capacity that Roy believes will allow it to take on exciting new projects: "We are very interested in HS2 and in fact railways in general. As you can imagine, that was built on solid, substantial engineering. We have also been working with medium sized windfarm manufacturers and what we are also very much interested in is wave power as some of our material in Pembroke dock is undergoing trials," he states.
Productivity
A major reason that Roy believes that Malthouse Engineering can take advantage of these opportunities is the level of precision and the efficiency of the system: "We start from 6-8mm thick but we can go up to 500mm thick so as you can imagine that is a huge lump of metal and we can cut it to all shapes and sizes to the customer's requirement. We have a patented system so one man can operate two machines so productivity is pretty high," he confidently proclaims, showing what the company is capable of.
What this means is that Malthouse Engineering can adapt quickly if any specific orders come in, something Roy believes will continue despite Brexit: "It does sound the opposite to the population in that for us the weaker pound is a good thing. We do buy a lot of raw materials from Europe but it's the value we add and we are looking forward to a period between now and 2019 where at the moment we can only see continuing growth," he envisions.
Long-term
One of the reasons that Roy believes that the business will continue to move forward is its long-term strategy, always looking to bring more companies into the group and build on its foundations: "We are predators and we need to acquire companies as they become available and we have always got our eyes open in terms of any opportunities that are ahead of us. We are in discussions with two companies and we will see where that takes us," he says, enigmatically hinting as to what is to come. While some companies will outline plans for a future vision Roy is more guarded but this is also combined with an obvious pride and passion for the company he represents: "It wouldn't be right to say what our plans are but we are constantly looking at how to grow the company and many times companies come to us as opposed to us going to them!"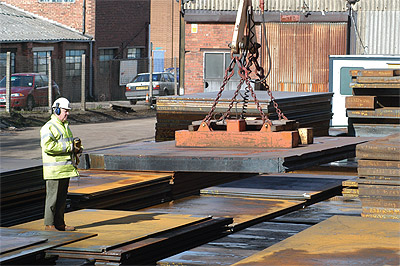 Roy feels that inviting more companies into the Malthouse Engineering Group is beneficial for customers in terms of quality and peace of mind as well as for the companies joining the group: "Companies see us as a way of getting their ideas forward. Furthermore, they believe we can safeguard them as they recognise that we are a responsible company," he firmly believes.
He does believe that bringing in younger talent at a higher level in the company will also benefit the business in the long-term through the KEEN and KTP education programmes although he accepts this is something that young graduates need to get used to: "We are a dirty, smelly industry but when you get involved it doesn't take long to convert people to think that this is an exciting industry and there are a lot of opportunities there," he insists. While these are positive statements Malthouse Engineering can also point to genuine results from these schemes – for example one employee Mark was a graduate from a KTP programme who has been with the company for nine years, proof that the rewards are there for aspiring students.
It is at this point Roy is asked whether or not this move to bring forward younger talent is to future-proof the business: "Indeed," Roy confirms. What this clearly shows is that he is not just passionate about how he runs the business but also that he wants to pass that on to another generation. In short if all goes to plan Malthouse Engineering will be forging ahead for some time to come.
Malthouse Engineering
Services: Flame cutting and other steel engineering solutions