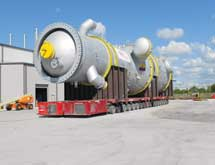 When it comes to heavy lifting and transport, there literally is no one stronger than Mammoet. A global company, Mammoet is headquartered in Schiedam, the Netherlands, and today has clients and projects all over the world. The company takes a "think globally, act locally" approach to business, which is why it has a major presence in local markets through operating companies throughout Europe, the Americas, Africa, the Middle East, Asia and Australia.
"Each region operates independently, but we have ties back to Mammoet on a global level," says Richard Miller, president and COO of Mammoet USA. "The largest cranes in the fleet are global assets, and we have a worldwide planning board that helps keep equipment tracked and moving to where it is needed."
Second to None
On a global scale, Mammoet can lay claim to a status as the world's leading tailor-made heavy lifting and multimodal transport solutions specialist. It is capable of transporting, shipping, installing and removing heavy or large objects to and from any onshore or offshore location. The institution that is the Mammoet company today effectively got its start in 1966 with the creation of Van Seumeren Kraanbedrijf (SKB) in the Netherlands.
In 2011, Mammoet celebrated its 45-year anniversary and a long history of innovation. In 1974, the first 250-tonne capacity TC1200 lattice boom Demag crane established the company as a market leader. In 1976, the company introduced the Superlift on its second TC1200, which increased lifting capacity to 350 tonnes.
During the same decade, the inland barge and floating crane company Goedkoop (established in 1807) and crane and heavy transportation company Van Wezel (established in 1845) merged into Mammoet Transport in 1971, ultimately changing the name to Mammoet. In 1972, Mammoet acquired Stoof, a Dutch and international heavy-lift and heavy transport contractor. In 1973, the company established Mammoet Shipping and then acquired a major Dutch and international competitor, Big Lift, in 1979.
Meanwhile, Van Seumeren's expansion continued in the 1980s as it added 400/600 and 500/800 tonne lattice-boom truck cranes furnished with Superlift. By 1985, the company had built a footprint around Europe with heavy-lift and transport projects, while Mammoet's focus was on heavy transport and alternative lifting projects, mostly in the oil and offshore markets.  In 1986, Mammoet acquired Walter Wright's Southeast Asian crane activities and locations and then acquired Western Industrial Movers on the West Coast of the U.S. in 1987 and Texas-based Davenport in 1989.
Heading into the 1990s, Van Seumeren expanded worldwide, establishing offices in Southeast Asia, the Middle East, Australia, the Americas and Russia. It added lifting and heavy transport capacity with one 600/1000 tonne and four 800/1200 tonne Superlift crawler cranes in 1992 and 200 lines of SPMT in 1993.
In 1996, it introduced the Demag CC4800 Twin Ring concept, increasing the capacity of its 800/1200 tonne cranes to 1440 tonnes before it launched a 1600-tonne-capacity heavy duty concept in 1997 and ultimately designed and built a 2000-tonne-capacity Platform Ringer crane. It then created the 1600/2000 tonne capacity Platform Twin ring Containerized (PTC) crane, which entered service in 1999. As of 2000, Van Seumeren had a total lifting capacity of 94,295 tonnes.
Mammoet also grew during the 1990s, entering a joint venture with Italian-based Decalift in 1995, which added cranes with up to 1,200 tonnes capacity. In 1998, it acquired StoTra and its 3,600-tonne capacity containerized Sliding Gantry crane. By 2000, Mammoet's total lifting capacity was 64,880 tonnes.
In 2000, the companies came together when Van Seumeren acquired Mammoet. The following year, Mammoet recovered the famed sunken Russian nuclear submarine, the Kursk. Over the past decade, the company expanded its U.S. presence, acquired ETARCO in Canada, established a joint-venture in the Brazilian market, developed new skidding and jacking techniques, introduced a Double-Stacked boom upgrade to the PTC cranes and established Mammoet Salvage for deep water cargo recovery operations.
Specifically in the United States, Mammoet USA formed in 1987, and it has since seen continuous growth in the Americas, having expanded its equipment capacity and technical resources. It offers full-service handling of heavy-lift cargo and specializes in the transport and placing of heavy cargos for many industries, including power plants, refineries, chemical plants, civil projects and offshore projects.
"Our core business in the U.S. is the heavy lift and heavy transport industry," Miller says. "We utilize cranes of 600 tons and above, we also maintain a fleet of smaller equipment that is used in support of the larger cranes. Several projects we've done in the U.S. have been with cranes that have the capacity of upwards of 3,000 tons.
"We've set several records with transport weights of 30,000 tons, so our expertise is the high-end, heavier projects in the market," he adds. "In addition, we also have a strong foundation in day-to-day projects, Mammoet offers our customers a true factory-to-foundation concept."
Mammoet's equipment fleet and resources include specialized and custom-built rolling, lifting, rail, jacking and skidding equipment. Highly skilled internal personnel operate the equipment and are supported by in-house logistics specialists and experienced engineers.
Domestically, Mammoet's main U.S. office is in Rosharon, Texas. It also has offices and equipment facilities in New Iberia, La., Atlanta, Ga., Rockdale, Ill., Portland, Ore., Baton Rouge, La., Monterrey, Mexico and at the Port of Houston. Because of increased demand for Mammoet's equipment and expertise, Mammoet added a rail and nuclear energy department to its operations in the Americas, although power, petrochemical, civil and offshore remain as its four core market segments.
Mammoet continues to invest in enhancing its presence in the United States. One of the ways it did so was by investing in a new headquarters. Mammoet built a new 32,000-square-foot, two-story facility as its American headquarters. But that isn't really the end of the story.
Because of operational and safety issues, Mammoet decided to built the facility about a quarter-mile from its final location. As the company is the leading heavy lifting and multimodal transport specialist, it didn't see any problem building and moving the facility. The company moved into the new building at the end of 2011.
Making Adjustments
One of the aspects that keeps the company out in front of competitors is its desire to be innovative. The company's in-house engineers regularly come up with new solutions for customers and design new products to suit market needs. Such is the case of the introduction of Mammoet's new generation PTC super-heavy-lift cranes. Designed internally, the cranes can be used for large construction projects such as oil refineries and power stations. Mammoet's top priority was to build a product that was reliable, safe, easy to transport and able to work in difficult environments.
"Our sheer size and innovation set us apart," Miller says. "We will come up with a custom solution based on client needs."
Safety, health and environment are other areas where Mammoet delivers exceptional results. The company works to ensure a team mentality on a global scale so that high standards are maintained through continuous training and development, strict safety procedures and company-wide safety, health, environment and quality campaigns.
The American operation takes these concerns to heart. In fact, Mammoet USA earned the Houston Business Roundtable's Crane & Rigging Group Safety Award in 2011. The awards are presented annually, and nominees and winners are evaluated through a six-month process that may include field audits.
"Our core customers are global companies, and they expect us to perform on projects with operational excellence," Miller says. "They also like the exceptional safety track record we have. These companies keep coming back to us because our personnel does a fantastic job each and every time."
Keeping in tune with its target markets is an ongoing challenge. One of its sectors is nuclear power, which has changed dramatically in the wake of Japan's Fukushima disaster. In fact, the super crane was designed in part to serve nuclear power projects.
"We've turned our focus to the petrochemical and offshore industry to reroute that equipment," Miller says. "Mammoet does a great job of researching what the markets are doing so we can be better aligned with the markets and redefine our assets and focus based on the trends within each market."
Future growth over the next few years for Mammoet USA will rely on natural growth and acquisitions. Miller says the company wants to double the size of the American operation.
"Our specialty has been big cranes and hydraulic platform trailers, but there are other markets out there we can penetrate through acquisitions," he says.
The major issue affecting long-term success is the availability of key personnel. Miller expects the next year to be busy, and human resources are likely to be stretched thin, and it isn't easy to find qualified, competent and experienced people. Miller also says the rise in fuel costs affecting the trucking industry will have an impact on Mammoet. But he feels the company is perfectly poised for growth over the course of the next decade.
"We are the world leader in this industry, and our staff and customers respond positively to the brand we represent," Miller says.