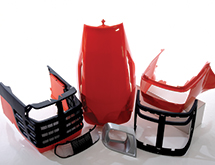 Founded in 1974, MANAR Inc. is a full-service custom plastic injection molding company. The Indiana-based company services customer needs with start-to-finish plastic product solutions, including design and prototyping with four custom plastic molding operations, two painting and finishing facilities and one contract manufacturing plant.
MANAR serves customers in the aerospace, automotive, diesel engine, consumer electronics, lawn and garden and medical sectors. Its experience and expertise in the custom plastic injection molding of engineering-grade materials and specialty resins sets it apart in its industry, allowing MANAR to be a critical vendor for large clients including Boeing Co. and Cummins Inc.
President Gene Nolen summarizes MANAR's capabilities as follows: "We make plastic products. We have the capability of both designing and producing plastic products."
Plastics Expertise
MANAR's key areas of expertise are development and design, custom molding, secondary services and contract manufacturing.
The company has facilities in Indiana, Tennessee and Shenzhen, China. Five of its seven sites are located in Indiana. Its subsidiary companies are GTR Enterprises, Tennplasco, Key Manufacturing, Plasfinco, CEW Enterprises and ECA Enterprises Inc.
MANAR offers a comprehensive list of full-service manufacturing options. "MANAR brings a high degree of specialization and the ability to perform very complex manufacturing and assembly tasks for our customers," Sales Engineer Doug VanKlompenburg says. "Most of our customers are really focused on other areas. They need plastic to improve their products but don't have expertise in that area internally."
VanKlompenburg explains that MANAR can perform design work for customers "in a way that complements their products' strength. If they don't have manufacturing specialization in-house, they can rely on our ability to do anything from design, rapid prototyping, stress analysis or mold flow analysis."
In the aviation sector, MANAR supplies passenger service unit components such as light lenses, air gaspers, emergency oxygen boxes and attendant call buttons. It also supplies other interior parts such as seat-back video bezels and arm rests which use high-performance engineering resins such as Radel to meet FAA regulations. MANAR is registered in aerospace quality standard AS9100revC.
In its automotive and diesel engine work, MANAR meets TS16949:2009 quality standards when manufacturing under-the-hood components, interior trim and fascia components.
In the consumer electronics market, MANAR is an expert in the molding and finishing of HD DLP, plasma and LCD television frames and panels. MANAR also produces tight-tolerance, high quality parts for other demanding markets such as medical, automation equipment, lawn and garden and others. MANAR  is registered to ISO 9001:2008 and also UL listed.
New Challenges
For Nolen, "every day is a new challenge." In particular, the complexity of performing tooling work with customers presents unique challenges. MANAR is "constantly looking for new and better tooling suppliers – and that is a challenge in and of itself," VanKlompenburg explains. "While there are many good suppliers located in the United States, some unfortunately went out of business during the economic downturn."
MANAR's largest client had been Toshiba Corp., for which it produced molded plastic television components. In 2008, when Toshiba was relocating to Juarez, Mexico, MANAR was producing $20 million per year for them. For reasons of employee safety, MANAR declined Toshiba's offer to maintain and increase that business by also relocating to that area.
The exit of this big customer reemphasized the importance of diversification to MANAR, which has bounced back strongly from the setback. "Since the economic downturn and our experience with Toshiba, we've had steady upward growth," Nolen says. "We have top-notch, good customers with strong products and have been growing across the board."
The question of working overseas occupies MANAR to some extent, as well. At its Shenzhen, China, site, costs are much lower. However, communication and quality control can be difficult. MANAR doesn't export from its China site but conducts extensive business in China and throughout Asia.
At all of its global facilities, it maintains quality standards with detailed checklists and quality systems, Nolen explains.
"Another thing that is unique about us," VanKlompenburg says, "is we can mold engineering resins with high-temperature capability and high strength."