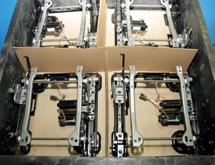 Manufacturers Industrial Group
Manufacturers Industrial Group's (MIG) experience in welding and other manufacturing techniques as well as its focus on quality control ensures a smooth ride for the end-users of the components it produces.
MIG manufactures automotive seating assembly components including manual seat adjusters and cushion frames. The company also provides welded assemblies, metal stampings, fine blankings, formed wire, bent tubes and other components used within roughly half of the vehicles manufactured in North America. "We provide everything metal inside of a car seat from the floor to the headrest," says Andre Gist, CEO of the Lexington, Tenn.-based company.
As a Tier II manufacturer, MIG supplies many of the automotive industry's top seating suppliers including Johnson Controls, Lear Seating, Intier Automotive, Faurecia, TS Tech and Toyota Boshoku. Components produced by MIG are ultimately used by most notable automakers including Honda, Kia, Mercedes, BMW, Ford and General Motors.
MIG's four manufacturing facilities are all located close to large automotive production plants in the Southeast. The company performs stamping in Athens, Tenn., and wire forming and tube bending in Chattanooga, Tenn. Two facilities are located in Lexington, Tenn., including an assembly plant and its main facility, which performs fine blanking and roll forming. "Our location in the Southeast and our vertical integration capabilities help us remain competitive and keep prices down," Gist says.
MIG's internal emphasis on lean manufacturing methods also plays a large role in the company's success. The cost savings realized from lean processes have helped the strengthened operation invest in itself and continue to grow.
"Our hope and intention was to survive the recession and come out stronger on the other end, and I think we did that by being very lean and concentrating on cost-savings projects," Gist says, noting that the company employs full-time staff to lead lean efforts. "The use of kaizan and other types of activity to reduce waste throughout the company is a process that never ends in our organization."
Welding Masters
Although MIG performs a number of manufacturing processes, it is perhaps best known in the industry for its welding capabilities, Gist says.
The company performs gas metal arc welding and resistance welding using the most up-to-date robotic and automated equipment available in the industry. MIG uses a total of 147 robotic weld cells in its manufacturing facilities including 24 robotic resistance weld cells, 20 multi-gun resistance weld cells and nine turntable multi-gun resistance welders. "We are familiar with most welding processes and robotic programming language," Gist says.
MIG works directly with its customers at the design phase of a product to ensure the appropriate specifications are selected for the drawings. This also increases welding feasibility and quality results. "We monitor and control the parameters that produce a good weld up front in order to prevent bad welds during the process itself," he adds.
Robotic weld cells are equipped with monitoring system that closely monitors welding speed, wire placement, voltage and current. The goal of this system is to set the limits close enough so that system fails or shuts down just before the non-conforming part is produced, Gist says.
Product quality is also assured through MIG's use of a process, failure, mode, effects and analysis (PFMEA) procedure at the beginning of each new product launch. The company forms a PFMEA team that closely analyzes customer drawings and other specifications and determines potential manufacturing difficulties. The process helps the company prevent defective products. The company is TS 6949 and ISO 14000 certified.
"MIG is dedicated to providing quality products by controlling its processes from design to shipping to our customers," the company says. "We use a team approach as we develop our process control plans to ensure all in-process quality controls are put in place throughout the process."