Robot joins the fight
Necessity is said to be the mother of invention and the fight against COVID-19 has proved that to be true. Nowhere is that more apparent than in the much-anticipated introduction of a high-tech robot powered by high intensity ultraviolet light (UVC). The innovation from UVCLIGHT (UVClight.co.uk), a subsidiary of servicerobots.com, is raising interest around the globe for its ultra-fast, ultra-effective decontamination potential for healthcare settings, nursing homes, transportation hubs, prisons, and other public spaces.
The company's UVC disinfection and sterilisation robot (dubbed The Helios) has been in development for two years but production went into hyper-speed as the pandemic took hold and the need for its capabilities became readily apparent. According to UVCLIGHT representatives, the mechanism is a one-of-a-kind UVC robot capable of disinfecting most 80m2 rooms in under ten minutes.
The robot's UVC breaks down the DNA of viruses, bacteria and other microorganisms, killing them with no chemicals or residue left behind as is the case with manual cleaning. Likewise, in several studies conducted in the US, UVC disinfection has shown to have a 99.9 per cent kill rate as compared to today's generally used cleaning procedures that have an approximate kill rate of 78 per cent. And because UVC is extremely dangerous and damaging to eyes and skin, the disinfectant robot is unmanned, and programmed to navigate around rooms doing its job on its own.
Race to help

INEOS, one of the largest manufacturing companies in the world, has started delivering millions of bottles of hand sanitiser each month to hospitals across France. INEOS has started production at new plants at Lavéra and Etain in France in under ten days, and it has repeated this in Herne Germany and Newton Aycliffe in the UK.
INEOS is first focusing on meeting the needs of front line medical and care services before making 'pocket bottle' hand sanitisers available for people's personal use. These will all be produced to World Health Organization specifications.
The company enlisted the help of the TEAM INEOS cycling team, which is used to moving at speed and even four-time winner of the Tour de France Chris Froome made a personal appeal to hospitals who have a shortage of hand sanitiser to contact INEOS directly.
Sir Jim Ratcliffe, founder and chairman of INEOS commented: "INEOS is a company with enormous resources and manufacturing skills. If we can find other ways to help in the Coronavirus battle, we remain absolutely committed to playing our part."
All of INEOS nine polymer and chemical divisions are currently supplying products for the medical and pharmaceutical industries and many of them are now being used in the fight for Coronavirus vaccines and treatments.
The US Department of Homeland Security has even described INEOS Acetonitrile, IPA and Acetone as "Critical to ensure National Resilience" in their CV-19 response.
Successful collaboration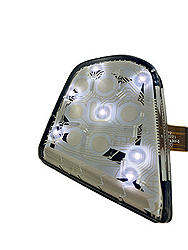 TactoTek and Alps Alpine have collaborated to develop an IMSE human-machine interface (HMI) solution for a premium German automotive OEM. In this project, Alps Alpine started the development with the industrial design and HMI of an existing serial production part of the OEM. TactoTek worked with Alps Alpine to transform their current design thinking into an IMSE electromechanical design and deliver an IMSE solution that meets demanding automotive cosmetic and functional requirements. TactoTek manufactured the resulting parts in its vertically integrated production facility in Oulu, Finland.
The resulting HMI parts with IMSE technology include printed electronics for circuitry, seven digital touch buttons and one slider as well as seven LEDs for backlighting controls, all of which are encapsulated within the 3D injection molded structure. Because IMSE technology is used, the finished part is only 2.5 millimetres thick, has a seamless cosmetic surface for appearance and easy cleaning and sterilisation, and requires no manual assembly of in-mold electronics.
The great British bake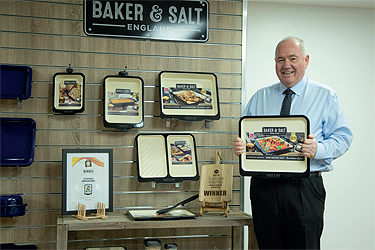 What More UK, the Altham based housewares manufacturer, has announced an astonishing growth in demand for its home bakeware products. Since lockdown was imposed in the UK on March 23rd, the country has had to find new ways to keep busy. This has led to an increased interest in home cooking and especially baking. The Altham based manufacturer has announced that they have had to start running night shifts to keep up with the demand.
Tony Grimshaw OBE is a company director at What More UK. He said: "It's great that people are remembering the traditional skills of home baking. If there's one good thing that comes out of this national crisis, it'll be a generation of kids who learnt how to cook a decent meal by watching their parents in the kitchen, like it used to be in the days before takeaways, microwave meals and TV dinners."
Off you pop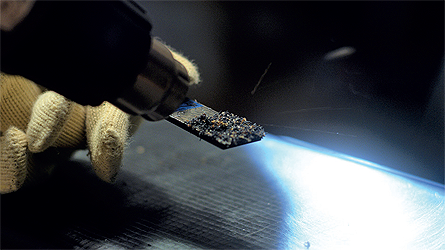 A revolutionary new technology developed by the National Composites Centre (NCC) and Oxford Brookes University means composite structures can now be separated (or disbonded) quickly and cheaply using a simple heat source. By making it easy to work with, repair and disassemble composite parts, this world-leading research could have a transformational impact on the design, use and end-of life recycling of wide range of products, including cars, aircraft and wind turbines.
"This is a really exciting development, especially with sustainability being an increasingly significant challenge for the industry," said Lucy Eggleston, Research Engineer at the NCC. "Historically, when a part is damaged or reaches the end of its life, it would be classed as waste and discarded. With this technology, we can take these structures apart to be repaired, reconfigured, or used in different ways. This could increase available end of life strategies for components, ultimately reducing their impact on the environment."
Researchers at Oxford Brookes University demonstrated that by adding low-cost additives to off-the-shelf structural adhesives, composite parts could be separated in as little as six seconds by raising the temperature of the joint to approximately 160°C. The National Composites Centre has now proved that the new approach works at an industrial scale as part of the Technology Pull-Through Programme, designed to transition new ideas from the lab to the marketplace.
Small quantities of expandable graphite (widely used for fire protection) or thermal expandable microspheres are added to adhesives routinely used to bond composite parts. The additives have minimal impact on the performance of components in normal operation, but when heated to the required temperature exert a force causing components to 'pop apart'. This means, in the near future, composite components may be easily repositioned and reused during manufacturing – reducing waste, repaired in operation and recycled more efficiently at the end of their working life.
Now wash your hands
Since the onset of the Coronavirus, Daro UV Systems (part of the DaRo Group), has seen a sharp increase in demand for its hand inspection cabinet. The hand inspection unit provides a striking visual and educational aid for users by using UVA, long wave UV light, and light responsive Glitterbug lotion – to highlight areas where handwashing must be improved. After washing, when hands are placed in the inspection cabinet any remaining lotion will fluoresce under the ultraviolet lamp, thus demonstrating flaws in the hand washing technique of the user. By identifying where handwashing techniques need to improve, more effective infection control can be achieved.
Life savers
Spirax Sarco has begun machining a critical component part for use in the UCL-Ventura breathing aid, a Continuous Positive Airway Pressure (CPAP) device. Spirax Sarco responded to an urgent enquiry from Mercedes-AMG High Performance Powertrains, who are working in conjunction with UCL, asking if the company could produce the component at its manufacturing plant in Cheltenham. In less than a week Spirax Sarco completed a technical evaluation, wrote the programs required to manufacture the part, produced the first samples, had the samples reviewed and approved, and commenced around-the-clock production, which will continue until the order is fulfilled.
Mask heroes
Staff from the Design Modelling Operations team at Tata Motors European Technical Centre (TMETC) have responded to the pandemic by producing coronavirus face shields for local hospitals. The first batch of visors have been made using 3D printers and have been delivered to nurses and doctors at Birmingham Children's Hospital, a GP surgery in Oldbury and George Eliot Hospital in Nuneaton. Envisage Group is supplying the clear plastic for the visors and some elastic for the bands, ATD has provided all the Velcro and neoprene foam and Wurth has been supplying the fixings.