Cap solution
INEOS Olefins & Polymers and Forever Plast SpA have formed a partnership and together they have developed a range of new Polyethylene grades that mirror INEOS virgin grades and perfectly fit injection moulding and compression moulding machines.
The new Recycl-IN products take Post Consumer Recyclate (PCR) from used bottle caps and carefully blend them with highly engineered virgin polymer to create new high-quality caps. Over the next five years an incredible 6.5 billion bottle caps will be diverted from the waste stream to be recycled.
Iain Hogan, CEO INEOS Olefins and Polymers said "For a while PET bottles have been increasingly recycled but this is one of the first circular developments to tackle the caps. This is a major step forward. We are creating a truly circular approach to ensure used bottle caps are recycled and returned to the market as new highly engineered high-quality caps, rather than being thrown away or wasted."
The steam team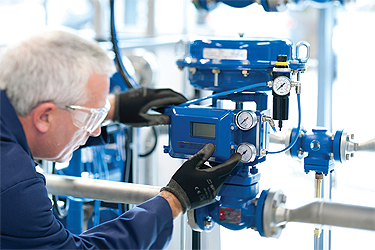 Engineers and purchasing teams are being offered a new window into the importance of control valve specification and design following the launch of a new guide from steam experts Spirax Sarco.
Authored by Darren Silverthorn, Spirax Sarco's National Controls Specialist, 'Increasing Your Process Productivity and Boosting Process Efficiency' highlights the best practice approach to specifying control valves for your system and avoiding challenges such as product quality and spoilage issues, control valve failure and unplanned downtime.
The guide offers a tool to help users find the lowest total cost of ownership (TCO) by looking beyond the initial cost at different requirements including process characteristics, energy saving capability, maintenance and support. The tool enables users to score against a series of key questions they should be asking their supplier about control valve design and the support they can provide. In turn, this will help indicate towards a valve that can offer the lowest total cost of ownership from those assessed.
Best sales year

The London EV Company (LEVC) celebrated a record sales year, thanks to month-on-month growth in 2019, delivering an impressive 2507 sales of its electric TX model and more than doubling the volume of the previous year. The TX has not only proved successful in London but across the UK and overseas too, with growing demand from taxi operators and ride sharing shuttle services in Germany, France, Switzerland, Denmark, Middle East and Japan.
Over 3800 TX electric taxis have now been sold since launch, making a significant international contribution to improving air quality. So far, 30,000 tonnes of CO2 has been prevented from entering the atmosphere – the same as 1785 return flights from London to Melbourne.
The TX is the world's most advanced electric taxi and its eCity technology, which combines 80 miles (128km) of zero-emissions pure electric range with the flexibility of a total electrically driven range of 377 miles (600km) – made possible thanks to the on-board range-extender. Passengers also benefit from the TX's quiet, comfortable and luxurious cabin – capable of seating six – alongside charging points for mobile phones and laptops, on-board Wi-Fi and a breath-taking panoramic roof.
Commenting on the brilliant performance, Joerg Hofmann, CEO of LEVC, said: "Our TX has been a huge success with drivers and passengers alike. The TX provides the perfect solution to the growing demand for green mobility solutions in cities across the world, and we rapidly continue to grow our export business to introduce TX taxi and TX shuttle to more new markets.
"We will also grow our product range in 2020, with the launch of a new electric van. This exciting new model will enable the commercial vehicle sector to also benefit from the successful TX combination of eCity technology, unrivalled turning circle capability and renowned durability."
Major order

The industrial robot manufacturer FANUC and the automotive group BMW AG have signed a framework agreement for the supply of 3500 robots for new production lines and plants. FANUC robots will be used in the production of current and future generations of BMW models. The first robots were installed at the end of 2019. Further robots will be used at German and international production sites of the BMW Group in the coming years.
FANUC winning this project is an important milestone as a strategic partner of the BMW Group. The robot manufacturer is continuously investing in research and development as well as in the expansion of its service network to support its customers all over the world.
With over 110 robot models in the range, FANUC offers the widest range of robots for industrial applications worldwide. Various FANUC robot models will be used by the BMW Group in the future – including newly developed ones that have been tailored to the customer's individual requirements. The robots will be primarily used in body shop construction and for the production of doors and bonnets. In cooperation with manufacturers of hose packages and traversing axes, FANUC is rounding off its range of supplies to the BMW Group by providing peripheral components.
Royal visit

His Royal Highness The Prince of Wales officially opened CAF's state-of-the-art manufacturing facility at Celtic Business Park in Newport, South Wales on Friday 21 February. CAF invested £30m to open the factory and received significant grant support from the Welsh Government's Inward Investment Programme.
The facility currently employs around 200 staff, which will eventually grow to around 300, providing opportunities for skilled technicians and engineers, management and support staff, as well as apprentices.
The Prince was given a guided tour of the production facility – currently constructing Civity DMUs for Northern and West Midlands Trains – by Darren Cumner, Chief Operating Officer of CAF Rolling Stock UK. The Prince boarded a Civity DMU destined for the Northern franchise, and was later invited to unveil a plaque to commemorate the official opening.
During the tour His Royal Highness met members of the factory workforce and vehicle manufacturing team, and learnt about the CAF digital manufacturing system.
Darren Cumner, Chief Operating Officer of CAF Rolling Stock UK, said: "It was an honour and a pleasure to welcome His Royal Highness to officially open CAF's Newport manufacturing facility.
"The factory is fundamental to the company's growing business operations and strengthens our position as the manufacturer of choice for the UK rail industry."
Green targets
Mondi has announced its new science-based targets as part of its commitment to support the global transition to a low-carbon economy. The targets have been set in collaboration with WWF's Climate Savers programme and are approved by the Science Based Targets initiative, a collaboration between CDP, the United Nations Global Compact, World Resources Institute (WRI) and the World Wide Fund for Nature (WWF).
The first target pledges to reduce scope 1 and 2 greenhouse gas (GHG) emissions by 34 per cent per tonne of saleable production by 2025 and 72 per cent by 2050, from a 2014 base year. The second target commits to reducing scope 2 GHG emissions by 39 per cent per MWh by 2025 and 86 per cent by 2050, also from a 2014 base year. The setting of a science-based GHG reduction target is an important step in supporting the achievement of Sustainable Development Goal (SDG) 13 Climate Action.
Going electric
Exel Composites has supplied Chinese bus and coach manufacturer Yutong with fiberglass profiles for 33 electric buses, which have been delivered to Helsinki, Finland. The introduction of the electric buses is part of the country's goal to reduce carbon dioxide emissions by five million kilograms a year.
"Light weight fiberglass was important to this project as it reduces operating costs, and helps to increase energy efficiency and that helps improve environmental sustainability," explained Olli Tevä, SVP, Sales and Marketing. "Additionally, our composite profiles resist deformation and corrosion from the harsh road environments typical in Finnish winters. Repairing fiberglass is straightforward and can be done in depot. This means that the overall lifetime operational and maintenance costs of the buses are decreased. Our composites help reduce weight, improve performance, and decrease total life cycle costs, all while helping increase energy efficiencies and supporting environmental sustainability."