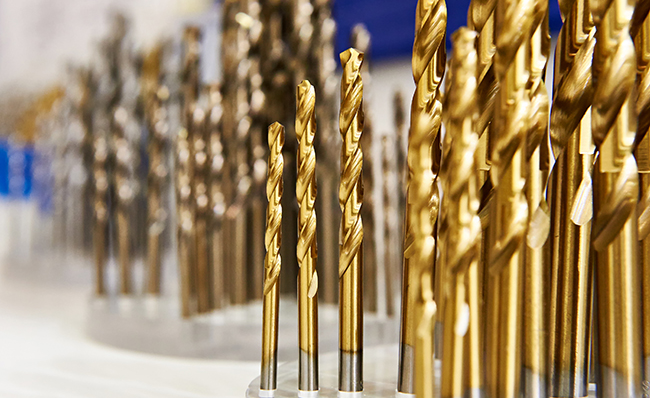 MAPAL is a worldwide supplier of precision tools focused on innovations that will lead it towards greater opportunities.
Dr. Georg Kress founded MAPAL in 1950 in Aalen, Germany, to provide support for its customers from project planning for individual processes to tool management. Today, the medium-sized family company is one of the leading suppliers of precision tools for the metal machining industry.
"MAPAL provides perfect engineering for the entire machining process from the pilot phase through design, planning and procurement of components to start-up," the company says. "The customer receives support during the manufacturing process and optimization is continuous."
The company first gained momentum in the '50s with the successful introduction of single-blade reamers with guide pads. Its headquarters is the main production site for reamers and fine boring tools with guide pads. With about 1,200 employees in its Aalen facility, MAPAL also manufactures multi-bladed reamers, clamping systems and setting devices.
MAPAL's production area supplies all six of the MAPAL Group companies with tool bodies and additional parts. In addition to the facility in Aalen, MAPAL Group operates six additional locations in Germany. MAPAL WWS GmbH manufactures PCD blades in Pforzheim, MAPAL ISOTOOL GmbH in Sinsheim extends the company's range of products with slide tools with ISO elements, MILLER GmbH produces precision tools, August Beck GmbH & Co. KG in Winterlingen specializes in reaming and countersinking tools, WTE Präzisionstechnik GmbH develops and manufactures high accuracy chucks for tool clamping and Rudolf Strom GmbH in Vaihingen/Enz produces special tools with ISO elements.
"Quality, close customer contact and early identification of the developments and demands of the market are MAPAL's primary objectives," the company says. "More than 3,000 people employed by the MAPAL Group work out perfect solutions every day for customers' machining tasks. Because of the ongoing general and advanced training of personnel and the constant exchange of experience, MAPAL ensures high technical standards worldwide and guarantees MAPAL's legendary quality."
MAPAL Group also operations sites in Australia, Basil, China, France, Great Britain, India, Italy, Japan, Korea, Malaysia, Mexico, Poland, Singapore, South Africa, Taiwan, Thailand, Czech Republic and the United States.
Quality Tools
"The customers expect us to provide them with a comprehensive, reliable and innovative program from our range of competences – at all the principal production sites in the world," says Dr. Dieter Kress, chairman and managing director. "This is what we do. This is how MAPAL is set up."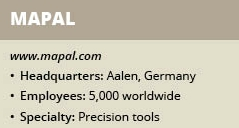 For nearly 70 years, MAPAL has set the highest quality standards for cutting with geometrically defined cutting edges using reamers and fine boring tools with guide pads. The MAPAL principle guarantees the dimensional stability and form of the bore within just a few microns, reliably and economically.
MAPAL has emerged as one of the principal manufacturers over the last 10 years of tools with PCD blades. The product line includes precision gun boring tools, circular interpolation milling tools and end mills, and a face milling head system with replaceable milling cartridges.
The company's actuating tools allow for maximum rationalization and optimization potential, particularly in mass production. TOOLTRONIC® tool system directly connects to the controller as a drive module, allowing the machine to have an additional axis. "TOOLTRONIC opens even more possibilities for flexible and cost-effective machining," the company notes.
Tools with ISO elements are efficient and reliable solutions with all materials for pre-machining and fine machining when boring and milling, MAPAL says. A wide range of selected substrates, geometries and coatings with suitable indexable inserts ensures that the optimal cutting edge can be used for every application.
MAPAL offers a complete range of competencies in bore machining, including a product line of special and standard tools in solid carbide. The product line ranges from simple to high-performance drills that achieve reaming quality in a single pass.
Clamping devices used on machining centers, special machines, transfer units and multi-tasking machines are also manufactured by MAPAL. "MAPAL's program of clamping systems offers the perfect solution for every application and a connection which provides the tool with the concentricity and repeatable accuracy it requires in use," the company says.
Continuous Innovation
"We believe that real innovations provide the thrust for the development of a company," says Dr. Jochen Kress, a member of senior management. "But for innovations we must create freedom in our employees' thinking and acting. It is only freedom, which will lead to new ways that drive technology forwards. And innovations must be presented to the customers with force, courage and pace. Only then will they bring the company success."
MAPAL is involved in the development of new technologies. Its development center specialists focus specifically on minimal quantity lubrication, high speed and high performance cutting and the machining of special materials. "MAPAL's customers profit from this technological advance with tool that offer greater economies and quality," the company says.
Many of MAPAL's innovations are solutions to its customers pain points. In principle, the company's objective is to find new tool ideas that achieve more than 30 percent savings. The development center ensures the quality of a new tool by performing a number of tests that replicate how the operations will run at the customer's facility.
"By working doggedly on new tasks, but also by making large and small steps with current problems, MAPAL innovations repeatedly lead to new paths and new opportunities in cutting operations," the company says.