The fifth element
Through high accuracy and the technology of its machines, Mario Carnaghi Spa has developed a reputation for excellence in the market as it continues to deliver total satisfaction to its global customer base
Founded in 1929 by Mario Carnaghi, family owned Mario Carnaghi Spa has developed over the years to boast a global presence thanks to its high quality machine tools, vertical lathes and milling machines with moving table or mobile portal. Committed to its mission of delivering total satisfaction to customers in a challenging and ever-evolving market, the company seeks to source solutions to increasingly specific requirements with more sophisticated machines. Driven by the goal of technical excellence and optimum quality, the company uses its 80 years of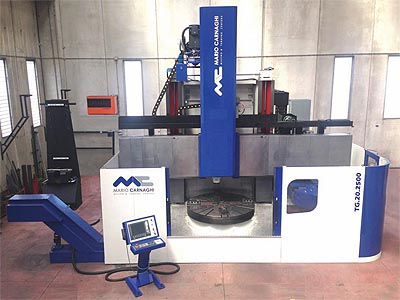 expertise to remain at the forefront of innovation and reputability.
"Mario Carnaghi Spa was founded by the grandfather of the current owner, also named Mario Carnaghi, so the third generation is running the company; we are based in Olgiate, Olona, which is strategically based close to a major airport in Italy. Our plants cover a surface area of approximately 100,000 square metres, of which around 20,000 square metres is within a built covered shed area. Since we began operating we have built approximately 3000 machines, which are medium to large in size," begins Dr Riccardo Fiorani, Sales Manager at Mario Carnaghi Spa.
"Looking at the development of the company, the first type of machines built by Mario Carnaghi Spa were plano machines; half a century later milling operations were introduced so we began to build plano milling machines to combine the solutions. During the 1970s the first vertical lathe was built by our company; the CNC control has since been added to every machine; we have also improved the technology of our machines in line with new developments in technology such as CNCs and measuring systems and today we have machines that are among the top five in the world," he adds. Believing that technology is the fifth element after air, land, water and fire, the company is focused on continuous technological innovation to improve performance, lower cost and boost quality and efficiency.
Exported all over the world, the company's manufacturing range includes CNC-controlled vertical lathes and vertical machining centres with single or double columns, with table diameter from 500 millimetres up to 8000 millimetres, with the option of "C" axis on the table and pallet-exchange system; this includes single or double column vertical lathes, with movable table or movable column from 1250 millimetres up to 8000 millimetres. Other products include CNC controlled milling machines with movable portal and fixed table, gantry type, of any length, with distance between columns ranging from 2000 millimetres up to 7000 millimetres and milling powers of more than 130 kilowatts for milling, boring, drilling and threading operations. This range of products includes CNC-controlled type milling machines with fixed bridge and movable table, single or double column of every length and with milling width up to 5500 millimetres and milling power up to 100 kilowatts for milling, boring and drilling operations; high speed milling machines, including moving table, gantry type and cross beam moving types, and multi axis. Also available to customers are CNC-controlled type planning machines and plano-milling machines of any dimension as well as milling, boring and drilling heads.
"Our product range is rather restricted but the family is regularly developed and enhanced," says Riccardo. "For example, in 2015 we produced a special set of milling machines, complete with moving bridge and fix table.
"Additionally, during the European economic crisis, we invested a lot of money in new technologies and developed a number of important projects that we patented for the vertical turning lathe; this made us increasingly more competitive in the market. At our facilities we produce between twelve to 18 machine tools per year, each of which has the average weight of around 70 tonnes. Working for us we have 80 technicians, 15 consultants, 20 installers for installation abroad and a several service centres located worldwide.
"When it comes to our application field, however, this is wide as our machine tools are used in a diverse range of sectors such as aeronautic, aerospace, wind power, turbines and generators,
the pipe industry, shipyards, milling, rail, general mechanic, defence, moulding, nuclear for big ring machining, big diesel engines, earth moving, chemical and transmission for motor users. Over the last 12 months we have seen significant growth in the aeronautic field, which continues to grow globally. We also see increases in production due to the growing Chinese market and are planning to improve the capacity of our workshop in line with market developments in the US and Russia; we will expand through extending the length of our shed so we can install further infrastructures (i.e. cranes for assembly), we will also increase manpower by hiring new personnel such as technicians and engineers. We are seeking to hire experienced personnel as our machines are complex and controlled via a CNC so there are a lot of electronic contents."
Within aeronautics, the company provides solid, strong machines that are well designed for the machining of rotating jet engine component parts, for example, as well as for the maintenance and repair process. With rigidity and accuracy at the core of Mario Carnaghi's customers priorities, particularly in terms of new high temperature alloys, titanium, special steels, aluminum alloys and composite materials, the company has developed new features in its latest vertical turning lathes; these include the latest cutting tool technology, cooling of the workpiece and machining parameters.
Meanwhile, within the rail sector, Mario Carnaghi has faced a diverse range of challenges in line with the evolution of the rail industry, as Riccardo confirms: "There is a lot of development within the rail industry, particularly with Europe, China and the US focusing on high speed rails; these high speed trains require railway wheels, bogie frames and so on to face challenges such as the fact there is different geometry and hardness of the rails." With fully rough wheels, rims, hubs and brakes at the base of the evolution and improvement of its vertical turning lathes in this specific field, the company generally produces machines with table drives of up to 180 kilowatts, twin ram heads and pallet changing systems for high productivity solutions that are required by railway companies and their stringent demands.
Used wherever the customer may face the machining of circular and cylindrical or prismatic elements, the company's products are delivered via the concept of a turnkey solution. Indeed, each product developed for a customer is designed, produced internally, assembled and delivered by Mario Carnaghi Spa at its facility. Moreover, each vertical turning lathe is tailor-made in accordance with the productive requirements of the end-user through the use of special accessories such as tool changers, special attachments, special tools and tool holders on areas such as the fixtures, operating platforms or video monitoring system. Meanwhile, every milling machine with moving table is completed with the required accessories that the specific application requires.
This commitment to delivering optimum solutions has resulted in Mario Carnaghi Spa gaining a reputation of excellence in its respective fields. Further strengthening its reputation is the company's membership with UCIMU – Sistemi Per Produrre, as Riccardo comments: "The UCIMU brand is important as it proves we are certified for quality; the UCIMU checks our company for quality, which means only companies that deserve the logo can be a member. Moreover, this brand is important as it supports us with our mission for expansion abroad via exhibitions and marketing and also provides us with stats and information in the market that help us to understand where we should make investments in the future. For example, UCIMU provides us with statistics and information on growth markets such as China while also informing us of potential indicators of market direction; the most recent example of this would be the US elections and Donald Trump's positive relationship with Russia."
He continues: "While Europe is still weak, the US is a good market, even if the politics is focused on buying internal products; we will also be focusing on Russia as opposed to Iran and we anticipate co-operation with the Russian market in the future. Another growing market is India, however, we believe the big machines don't have the same level of attraction for India as they did previously."
Moving forward, there appears to be a wealth of opportunity for Mario Carnaghi Spa to continue growing in strategic markets across the globe. As a company that believes in long-term goals, it will focus on improving the presence in the US over the next 24 months through the promotion of its machines and solid representation of Mario Carnaghi Spa's strengths as a manufacturer to be trusted. "North America, Germany and Russia will be the markets for us over the next two years as those are attractive countries for our machine tools. Meanwhile, from a technical perspective, we will focus on improving our technology continuously while also enhancing our capacity, the latter of which is a major topic for Mario Carnaghi Spa. By making these enhancements we will ensure that we remain competitive, as it is not only a matter of providing good machines any more, but also continuously improving and developing the machines. This is our focus," Riccardo concludes.
Mario Carnaghi Spa
Products: Manufacture machine tools, vertical turning lathes and milling machines