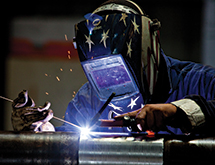 Marisco Ltd. might be on an island unto itself, but it doesn't let that fact stand in the way of getting its work done. The Kapolei, Hawaii-based company was founded in 1972 and has grown into Hawaii's premier industrial and marine services company, providing a wide range of ship repair services to government and commercial entities.
Founder and President Alfred Anawati has grown Marisco over the years by operating on one simple business philosophy: "Provide a quality job, do it in a timely manner and do it at a reasonable price," he states. "If you remember these three things, everything else is taken care of."
Anawati has set the company up in a way that naturally produces those three factors. By developing in-house skills and services, Marisco can control its ship repairing process and guarantee that work is done correctly.
"Doing things in-house gives us better control on the project," Anawati explains. "We endeavor to put a quality product out there and sometimes working with subcontractors, you don't end up with the result you wanted."
On its four acres of land, the company employs a number of men and women who work as mechanics, riggers, machinists, welders, fitters, blaster/painters, pipefitters and a variety of other disciplines.
Its welding services division performs marine and industrial weld repairs and fabrications. It also provides welding fabrication certifications, and administers non-destructive testing and compartment air testing. The shop supports arc, MIG, TIG, brazing and automatic burning welding processes and can perform heavy plate bending and sheet searing. It works with a variety of materials including mild steel, high-yield steel, stainless steel, chrome MG, aluminum, copper nickel and Inconel chrome moly.
Within its machine shop – which boasts the largest machine shop capacity in Hawaii – Marisco uses large-capacity lathes, horizontal and vertical milling machines to perform myriad tasks. These jobs include propeller shaft assembly repairs, rudder shaft assembly repairs, large-diameter propeller straightening and balancing and other mechanical repairs, modifications and fabrications.
Marisco's pipe fitting division specializes in mobile pipe fitting, precision pipe bending, complete valve service, valve rebuilds, weld build-ups, bluing and lapping and blanking. It also performs pipe system hydrotesting and dye penetrant testing. The company's operation is capable of supporting several systems including level 1 piping systems, hot and cold water systems, grey and black water systems, steam systems and hydraulic systems.
"We have our welding shop, mechanical shop, pipe shop, machine shop, preservation shop and we have our own project managers and supervisors for all these different trades," Anawati explains. "Very little of the work is subbed out."
Finishing On Time
Taking control of its process helps Marisco live out the second aspect of its business strategy – finishing work in a timely manner. Because the company is in Hawaii, it has a limited number of suppliers that it can source from in a timely manner. The convenience of putting components on a truck travelling from somewhere like North Dakota to Idaho doesn't exist in Hawaii. That limitation, however, is one of the factors that have led to  and maintained Marisco's enterprising, do-it-yourself spirit.
"Working on an island means we have to make due with what we can get our hands on to get the job done on time and in a quick manner," Anawati explains. "The ships can't wait for certain components to come in or be flown in. We're just too far away. So we have to make things go through with what we have and that's led to us developing our own capabilities."
The Right Price
Marisco's wide-ranging knowledge has made it a valuable asset to its diverse customer base. The company works with both government and commercial clients, with 65 percent of its work retained via bid projects with the U.S. Navy.
To win these projects, Marisco must be sufficiently skilled to do the work, but also able to do it within a specified cost, which is the third factor in the company's overall business strategy. "Most of our work is bid," Anawati says. "To be able to bid work you have to have the knowledge in place to accomplish certain tasks. A ship is like a small city afloat. You have power generation and distribution, propulsion, communications, and water and air systems, so you have to be knowledgeable in quite a few fields to become an authority.
"We have very knowledgeable quality assurance personnel and management," Anawati continues. "They check and double-check all of the work as specified. At times, we have to change specifications to do a better job. We let the client know it's better to do it this way or that way.
"Normally, the clients agree and we proceed with that. You send good men and good ships to sea, not a pile of junk."