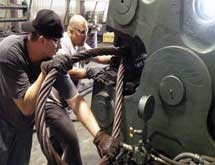 For nearly 40 years, commercial and military vessels sailing around the perimeters of the Hawaiian Islands have relied on Marisco Ltd. for its premier industrial and marine services. Founded in 1972 by Presi­dent Fred Anawati, Marisco prides itself on its reputation for safety, quality, timeliness and efficiency.
Maintaining these core values has enabled the Kapolei, Hawaii-based company to grow and evolve through­out the decades, Anawati says. "[We] provide a quality job, do it in a timely manner and do it at a reasonable price," he states. "If you remember these three things, everything else is taken care of."
Marisco boasts the largest machine shop capacity in the state of Hawaii , and adds that it is capable of servicing a variety of vessel types and sizes. It offers a multitude of services including commercial and military vessel repair, welding and pipefitting, industrial and marine vessel cleaning, paint­ing and lead paint removal, sandblasting, hydroblasting and dry docking up to 3,500 tons.
In addition to servicing vessels, the company modifies agricultural equip­ment used throughout the islands. The soil in Hawaii is younger, with a higher clay content than on the mainland. Standard equipment available to the mainland United States must be customized in Hawaii to suit the unique needs of its agricultural ind­ustry, Anawati explains.
"Since we're so far away from the mainland, we're able to make due with what we have here on the islands," he says. "It usually takes two to three weeks to get materials, but we have a large inventory of products. When we get unusual requests, we modify what we have and what we can get our hands on. We try and keep most of the business here in Hawaii as much as possible instead of having to depend on mail-in suppliers and subcontractors. It makes for a healthier economic situation."
Taking a thrifty, make-it-work app­roach to its business does not go un­noticed by its customers, he adds. This is evident in the amount of referrals and repeat business the company enjoys. Because Marisco already is accustomed to operating efficiently, it barely was affected by the global economic downturn.
"For us, it hasn't really changed much in the last few years," Anawati says. "It's actually improved. We have improved and increased our capabilities by acquiring new equipment, upgrading certain equipment and increasing our number of assets that can do certain jobs."
The key ingredient that puts Mar­isco above its competition is its personnel, according to Anawati. "Most of our work is bid," he notes. "To be able to bid work you have to have the knowledge in place to accomplish certain tasks. A ship is like a small city afloat. You have power generation and distribution, propulsion, communications, and water and air systems, so you have to be knowledgeable in quite a few fields to become an authority.
"We have very knowledgeable quality assurance personnel and management," Anawati continues. "They check and double-check all of the work as specified. At times, we have to change specifications to do a better job. We let the client know it's better to do it this way or that way. Nor­mally, they agree and we proceed with that. You send good men and good ships to sea, not a pile of junk."
The Phoenician
Through a number of internal growth objectives and strategic expansions, Marisco has grown and expanded its offerings to serve as a one-stop shop for its clientele. Each of Marisco's divisional subsidiary companies – the Phoenician, Coordinated Wire Rope of Hawaii Inc. (CWR HAWAII) and American Metal Bearing Co. (AMBCO) – is an integral component to the company's overall success, Anawati says.
Located on a five-acre plot on the Oahu waterfront, the Phoenician is Marisco's boatyard responsible for repairing and maintaining commercial fishing and tour vessels as well as private yachts. The company was est­ablished as a subsidiary of Marisco app­roximately 10 years ago. "When we built the yard, we used recycled cement from a local cement company right down the road," recalls John Gomersall, operations manager.
"We were able to pave our yard for less than the value of it. The cement company decreased their cost in handling extras, and the extra cement didn't end up in the landfill. That's a big deal in Hawaii since we only have one landfill. Our creative solution is a good example of how we do business – finding a solution that's advantageous to the most people involved. We try to think outside of the box a little bit."
Having the opportunity to construct its own boatyard was advantageous for the company. "We were able to build it in a very environmentally responsible way," Gomersall notes. "There are a lot of boatyards out there having to spend a lot of money reengineering their site to comply with new environmental regulations. We had the unique advantage of starting from scratch and doing it right from the get-go."
Another thing that makes the Phoenician unique from other boatyards is customers are allowed to work on their own boats here. "The boating culture in Hawaii, and other places as well, is that people want to maintain their own boats. It's like being able to change your own tire. A boat is not like a car in that you can't pull over to the side of the road and call somebody for help. That's why education is important for safety."
When a member of the Phoenician staff installs a new part, he or she will demonstrate or instruct how it works. "After a while you start developing relationships with these customers," he says. "In this kind of business, you develop loyal customers and long-term relationships. Nobody likes coming to a boatyard. It's like going to a dentist. But if we can make it as painless as possible and do the right job so the boat is going to go out safe, that's the important thing."
Coordinated Wire Rope
As a boatyard, the Phoenician has to rig, lift and secure vessels into place. Honolulu-based CWR HAWAII is a distributor of hoisting and rigging products that enable the Phoenician to accomplish its work. But long before the Phoenician was built, CWR HAWAII was serving other customers in Hawaii. Contractors comprise approximately 60 percent of its business, and the remainder is split between government/defense clients at nearby Pearl Harbor and boat repair companies such as Marisco and its competitors.
Inventory and training are key components to CWR HAWAII's success, says David Tavares, vice president and general manager. "We have around $4 million in inventory, which is a huge inventory for such a small economy in Hawaii," he states. "We have to have a high volume of products here because if we don't, we don't have the sale. Everyone in the industry knows we have a large, extensive inventory, so they call on us. We also offer training on all of our products because safety is a big part of our industry.
"Our success comes from staying ahead of the cutting-edge with regard to new safety and building regulations in Hawaii," Tavares continues. "Ever since the Internet has come into existence, it has opened up the competition a whole lot more. It has also given the end-user a more intellect as far as product knowledge. So not only do we need to stay ahead of our competitors, we need to stay ahead of the end-users as far as the knowledge, safety and specs."
CWR HAWAII distributes high-liability products, which is why quality is of the utmost importance. The company abides by a stringent quality program. It recently invested in testing equipment to check for product deformities before approving it for customer use.
"We also hooked up with some of the major quality suppliers in the industry for support," Tavares adds. "We have a lot of long-term relationships with these suppliers. Everybody knows everybody in this industry. You have to be respected and trustworthy because if you make a mistake, everybody will know about it. And because of that, there's also a lot of loyalty in this industry."
Because the company has earned the respect of its customers and suppliers, CWR HAWAII fared well during the recession.
"We always see the biggest growth in lean times," according to Tavares. "Competitors who were nibbling at our feet fell by the wayside because they didn't have the products or expertise that we do.
"We're here; they're gone, so in the lean times, we've excelled," he adds. "Challenges sharpen you and make you a better skilled company."
Now, CWR HAWAII is preparing to embark on a new market segment: fall protection. The company feels fall protection is a broad area to penetrate because it covers all sectors, including residential.
"If you're higher than six feet, you have to be tied up," Tavares notes. "Fall protection is a huge industry that's constantly growing. We expect to broaden our product line and sales outreach immensely."
American Metal Bearings
On Dec. 1, 2010, Marisco acquired AMBCO, the preeminent supplier of propeller shaft bearings to the U.S. Navy since World War II. The Garden Grove, Calif.-based company was founded in Los Angeles in 1921 as an automotive bearing repair shop that developed a specific type of bearing used in racing cars. It left the automotive industry in the late 1930s to focus on larger industrial bearings.
With the onset of WWII, AMBCO started producing large propulsion bearing systems for the victory ships. In the following years, the company built its core competencies around the design and production of propulsion bearing systems for U.S. Navy surface combatants and submarines. The company has expanded its service offering to include commercial bearings for power plants, hydroelectric facilities and the mining industry, according to Mike Tornberg, president and general manager.
"We've been able to meet the engineering, quality and service requirements of our customers for many years," he says, "and we probably do it better than our competition. We provide extensive support to our customers throughout the entire lifecycle of the product. This includes repairing bearings and providing replacement parts as necessary .
Ships can function for 30 to 40 years depending on the circumstances they encounter. For the past 50 years, we have been the main source to accommodate those needs."
For many years, AMBCO has supplied the bearing systems Marisco uses for its repair work on Navy vessels, which is why the acquisition made sense, Tornberg explains. "The acquisition assists AMBCO in ex­panding into the technical services and repair arena, and growing our customer base," he says. "The Navy is trying to extend the lifecycle of its ships, which requires more technical service on older equipment.
"We have been focusing on ex­pand­ing those services not only to the Navy, but to other repair yards, as well," Tornberg continues.
"As time goes on, we'll be looking to expand into other areas, leveraging the knowledge and capabilities of Marisco, combined with our market position and expertise, to expand the business," he says.