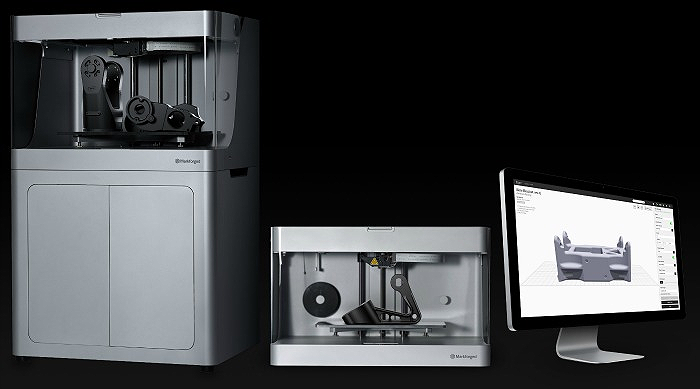 As a marketing professional, Cynthia Gumbert knows it is easy to sell people on individual nuggets of candy, but the jar that Markforged has filled over the last three years contains something much sweeter for its manufacturing clients: the realization of better speed, lower costs and improved reliability in the production line.
In 2011, Greg Mark, an entrepreneur and mechanical and aerospace engineer from MIT, was running a company that developed computer-actuated race car wings when he began thinking about how 3-D printing could be used to manufacture composite parts more efficiently. Mark refined the idea and in 2013 founded Markforged to create 3-D printers capable of producing parts strong enough for end-use functions.
Markforged is a 3-D printer manufacturer, but more importantly, its machines are the only way to produce strong parts from composite fiber on a desktop. The items that come out of a Markforged printer are not limited to prototypes. The use of fibers in the printing material means the finished component is exactly as it was designed: ready for use in applications that call for precision.
The company's advanced technology has put it in position to grow quickly. Backed by venture capital funding, Markforged has cultivated thousands of customers in more than 50 countries and established a network of nearly 100 resellers in less than three years. Advancements come quickly and Markforged launched the third generation of its 3-D printers in October with the release of the Mark X. And, in November, a new Onyx Series of printers was launched featuring the most accessible in its lineup: the Onyx One.
Ease of Use
Many companies that started with one Markforged printer have begun adding more equipment to expand their manufacturing capabilities. Today, large automotive manufacturers, U.S. government agencies such as NASA, sports equipment makers, research facilities, machine shops, light-weight prosthetic makers, custom motorcycle racing companies and even competitive combat robot teams use Markforged's 3-D printers. "We've seen a lot of the larger enterprises pick up our printers," says Gumbert, vice president of marketing at Markforged.
Markforged's core client base is located in North America but its 3-D printers also have a strong presence in Germany and other parts of western Europe. Further, the company has established itself in the Australian market and is in the early stages of entering Japan.
Although the Mark X is now the company's flagship printer, the desktop Mark Two remains its most popular product. At about the size of a shoebox, the Mark Two build plate is large enough to suit about 80 percent of the tooling and fixtures that customers need, according to Markforged. The machine is known for its reliability and uses carbon-reinforced nylon material to produce end-use parts from CAD drawings in only a few hours.
The Mark X, on the other hand, is about the size of a microwave with a build volume 2.7-times the Mark Two and is suitable for larger components such as automotive components, spinning gears, grippers, functional prototypes, robotics and prosthetics.
Advanced printer technology is only part of the company's overall strategy for the additive manufacturing market. Markforged is the only company in the industry that develops its own software and specialty materials alongside its printers to ensure all three work together in a cohesive way. "We're thinking about the whole 3-D printer experience, not just the hardware," Senior Product Marketing Manager Rebecca Dilthey says.
By controlling all three areas of 3-D printing – the machine, the software and the material – Markforged can act as a complete solution while ensuring compatibility.
Many 3-D printers require extensive training to operate and usually only a few people on the manufacturing floor are qualified to run the machines. The select few who receive the training then become gatekeepers to the technology. Limiting who uses the 3-D printers can create bottlenecks in production if that person is unavailable. But because Markforged's products all work in tandem, the company was able to develop an intuitive process that does not require special training.
"Our design point is to make it easy for everyone with some level of engineering and CAD experience to use it," Gumbert explains. She adds that it takes less than two hours from the time a person is introduced to the hardware to when they are ready to print.
An easy-to-use process is also easy to teach. Markforged largely relies on its resellers to conduct training sessions and hold demonstrations of its 3-D printers. Resellers teach customers how to use the machines for part design, then follow up with support for optimizing software and to provide service if an issue arises.
Better Control
Markforged credits its growing popularity around the world to its patented continuous fiber filament technologies and Eiger software. Eiger takes a .STL file – exported from CAD software – and automatically creates a fiber pattern that maximizes strength, resulting in complex and strong designs that would be almost impossible to match through traditional machining.
"In order to engineer and print composites it requires governing the direction of where the fiber goes and how it's laid down," Gumbert explains. "That's all done by the Eiger software." Eiger taps into an online network and can be used to create a collaborative printing environment among the customer's production team, she adds.
Most 3-D printers slice the CAD file and print the component from the design. Markforged's machines actually analyze the design and then determine how to reinforce the part with fiber. This customizable and easy-to-use method creates opportunities for the printing process to improve on the CAD drawing. By using Eiger, engineers have the ability to organize the fiber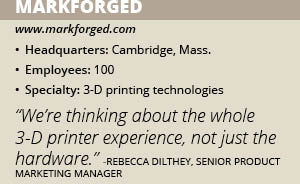 material in different geometries to give the product extra stiffness or alter its weight ratio. "The software makes it easy to go from default settings to giving you as much control as you want over the fiber that is being laid down," Gumbert says.
The foundation of Markforged's technology is its material. Printers use a tough nylon filament that provides flexibility while remaining impact-resistant, allowing for the strength manufacturers need for end-use components. All of Markforged's materials meet those expectations for strength. Onyx is a micro-carbon-reinforced nylon and the company's higher-end machines can also print using fiberglass, carbon fiber and Kevlar.
Having innovative materials doesn't mean much if the machine doesn't work as advertised. Markforged matches the ease of its printing process with quality that promises to limit downtime and avoid disruptions in the production line. "A lot of our customers will buy our printer because they bought another desktop printer and it just did not work for them," Dilthey says. "We've brought the reliability and robustness of the high-end printer down into the desktop world."
Reliability encompasses more than just producing machines that stay in service. Markforged machines must also deliver on the company's promise to create 3-D printed parts that meet or exceed the quality of traditional manufacturing methods. Unlike many competitors, Markforged printers lack a heated chamber for plastic printing. The heat can help the printing process, but as parts cool down the plastic may shrink and alter dimensions. Markforged machines, however, print at slightly above room temperature, avoiding the warping issue found in competing equipment.
The new Mark X printer takes another step forward in ensuring high quality standards are met with in-process inspection capability. A laser displacement sensor on the machine's print head can measure the accuracy of the component to 1 micron. If the part is off, the customer can stop the print job and resolve the issue.
Measuring the accuracy in real time gives better transparency into the part, Gumbert says. High-end printers may guarantee that a component is printed within 95 percent accuracy, but the customer doesn't know what 5 percent of the part will be flawed. The Mark X's sensor provides that glimpse into the component's construction and enables the customer to adjust the printer before it is too late.
Building Reputation
As 3-D printing becomes more pervasive, manufacturers are finding more ways to use the technology. Much of Markforged's business now is replacing the creation of aluminum parts in its customers' workflow. Traditional aluminum manufacturing is expensive and lengthy for one-off parts.
"The time it takes to create tooling to produce parts is a pretty long time if you look at the entire lifecycle," Dilthey says. A 3-D printer can complete the same job for a fraction of the cost and have the part delivered the next day, streamlining the entire manufacturing process. "Being able to 3-D print aluminum strength parts changes the game in how you can leverage 3-D printing in your manufacturing," she adds.
The savings from a handful of 3-D printed parts may seem insubstantial but it can add up over time. Every time the design of a part is modified the company must go through the tooling process again. However, with 3-D printing the customer must only pay for the machine one time.
Arow Global, a company that produces window systems for buses and recreational vehicles, used 3-D printing to eliminate tooling cost and speed up production. Through the use of 3-D printing, Arow took a part that cost $400 with 420 hours of lead time from a vendor and moved it in-house, reducing the cost to $1.59 with 1.92 hours of production time.
The technical capabilities of Markforged's printers and its ability to quickly launch new products have made the company a rising player in the additive manufacturing world. In the first half of 2016, Markforged realized sales growth of 147 percent year-over-year.
However, Gumbert says marketing and awareness are the limiting factors to the company's growth. The brand is building its reputation, but many potential customers still don't know what Markforged can offer. The company is working to change that by investing heavily in sales, marketing and engineering.
Markforged works to cultivate future potential employees by supporting robotics competitions, university events and STEM programs at high schools, Dilthey adds. "We're always looking for smart, new graduating engineers to come onto the engineering and applications team because they always seem the most hungry in because they are motivated to work hard to make Markforged successful."
The pool of potential customers continues to grow as more companies realize the benefits of 3-D printing for manufacturing processes and industrial automation. Markforged can help those businesses expand their materials, scale parts and relieve pain points around custom manufacturing and inventory, Gumbert says. "Things that will make a big impact on businesses, we're going to try to print it," she adds. "We're aiming to change manufacturing, supply chain and inventory managing all for the better."