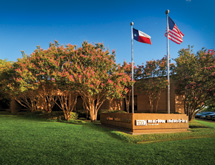 Nothing beats quality in the manufacturing industry, and Marlow Industries makes sure that point is understood throughout its operations in America and abroad. In fact, employees of Marlow Industries recite corporate and individualized pledges that reinforce their commitment to quality at the company's monthly all-staff meetings.
"We conduct professional quality training with all our employees," General Manager Kevin MacGibbon says. "We have a very good workforce here in Dallas. The tenure ranges between 12 and more than 34 years."
Meeting the exacting standards demanded in the thermoelectric industry leaves room for nothing but the highest quality, and Marlow Industries' 1991 Malcolm Baldrige National Quality Award indicates the initiatives are working. As a subsidiary of II-VI Incorporated, Marlow Industries is a worldwide leader in thermoelectric technology.
The company develops and manufactures thermoelectric modules and value-added systems for the aerospace, defense, medical, industrial, automotive, power generation and telecommunications markets. Marlow also specializes in providing standard or custom modules and sub-assemblies per customer needs.
Marlow Industries has its Center for Technical Excellence at its facility in Dallas. The research and product development teams there are dedicated to the advancement of thermoelectric technology. The center hosts advanced engineering and manufacturing for U.S. defense and space applications and has increased its intellectual property with 35 issued patents and 31 pending.
As a global company, Marlow Industries says it can offer closer interaction and real-time technical support for customers throughout the world. Marlow Industries provides engineering, sales and customer service through our design centers in North America, Europe and Asia. Marlow offers additional support through a global network of channel partners and regional offices located in the United States, Germany, China, Japan and Singapore.
Four Decades and Counting
Raymond Marlow founded his namesake company in his garage in 1973 after a successful career with Texas Instruments. He cut his teeth in thermoelectrics there before spinning off his own company with Texas Instruments as his first client.
Today, Marlow Industries serves multiple markets: defense, aerospace, telecommunications, industrial, automotive, medical, gesture recognition, personal comfort, power generation and government.
MacGibbon played a major role in Marlow's diversification strategy. When he joined the company in 2001, the telecommunications industry accounted for 60 percent of Marlow's business. But in June of that year, revenues plummeted.
The bursting of the telecommunications bubble at the turn of the millennium forced Marlow to not only lay off at its Dallas headquarters, but also review its revenue streams. Over the next 12 years, the company diversified into new sectors to expand beyond the defense and telecommunications markets. Today, MacGibbon says, not one market accounts for more than 20 percent of Marlow Industries' business. "We see ebbs and flows in the business and markets on a national and global basis, but if something is down, something else will be up," MacGibbon says.
Design Excellence
Marlow's Dallas facility occupies 60,000 square feet and handles all development and prototyping.
"The thermoelectric industry is a niche market, so we implement a great deal of custom design into our thermoelectric applications," MacGibbon says. "Most competitors offer a standard product line and fit you into an application, but Marlow optimizes for customer applications to improve product design and quality."
Offshore Savings
II-VI Incorporated purchased Marlow Industries in 2004, and sent MacGibbon to Vietnam in 2005 to set up a satellite manufacturing facility to take in more of its own supply chain needs. MacGibbon cites this initiative as an example of how an infusion of capital brought Marlow Industries back to life.
"II-VI brought in the capital we needed," MacGibbon says. "They shared the startup costs with us and helped us build over 100,000 square feet in Vietnam for two businesses."
This has helped Marlow Industries maintain its operational costs, as the market demands the lowest possible price for the highest possible quality. "In the last five years, what has been really driving the marketplace is cost," MacGibbon says. "The ability to manufacture at a lower-cost facility in Vietnam has greatly expanded our application base and increased our production capacity."
In terms of quality control, MacGibbon says the Vietnamese facility runs about 50 parts per million, which is a lofty standard to maintain. "Our customers are happy with that," MacGibbon says.
A Thermoelectric Future
As OEMs continue their search for more efficient processes, MacGibbon expects the thermoelectric industry to keep expanding and for Marlow Industries to grow along with it.
"I think the vision of the future is to enable and expand new markets, and to grow with our customers and their products," he says.