Marshall Aerospace and Defence Group
The right heading
With a world-class pool of engineering talent under its command, Marshall continues to deliver leading technical services to industries around the world
David Gregory Marshall began work at the age of 14 in the kitchens of Trinity College in Cambridge; he had soon proven his worth and in his 20's was appointed Steward of the exclusive Pitt Club, quickly converting losses into profits. His university contacts and enthusiasm for the potential of the motorcar led him to start a hire service for wealthy dons and undergraduates, with two chauffeur-driven cars. In 1912 when an Beta II, an Army airship in need of repairs landed in Jesus College grounds Marshall engineers were sent to look at its engine and so began the company's long-standing involvement in aerospace – this deep seated innovation and entrepreneurial spirit is still at the heart of Marshall 106 years later.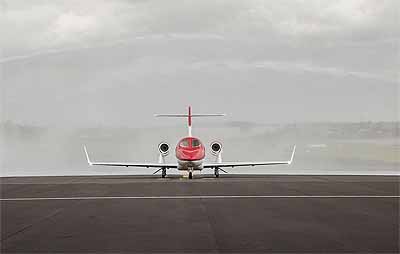 Today, still privately owned the Group is involved in the automotive, property and aerospace and defence sectors. "One of the key things that the company prides itself on is its integrity and its values," begins MD of the group's Military Aerospace unit, Rupert Dix. "At the core of what we do is a drive to solve the seemingly impossible problems that others have within the engineering and support domain."
Headed by CEO Steve Fitz-Gerald and supported by over 2000 employees, the Aerospace and Defence business has offices on four continents and has six primary businesses, each the result of a diversification strategy that has seen Marshall grow into the leading provider that it is today. Military Aerospace, Civil Aerospace, Aviation Services, Land Systems and Aero Structures, Advanced Composites and Major Projects combine to put the firm at the forefront of engineering, support and services. From CT Scanner integration into deployable infrastructures that won the Queen's Award for Enterprise in Innovation in 2013, to design and manufacture of advanced composite components for nuclear submarines. However, it is undoubtedly its aviation focus that represents Marshall's biggest achievements.
"People are at the heart of our success and we have over 450 engineers with the knowledge, skills and experience to be able to solve the most difficult of challenges," Rupert continues. "I am incredibly proud of the breadth and depth of our engineering capabilities – you only have to look at what we have achieved having worked on over 90 different aircraft types – but I am excited about what we are delivering now and the exciting projects we have coming up in the future."
As part of the strategy set out by Steve Fitz-Gerald, rebalancing the military and civil market is key to Marshall and the Civil Aerospace business is performing strongly in supporting high-profile airlines with capability insertion, MRO and modification and upgrades as well as engineering services in the VVIP market and Special Mission marketplace. An example of this would be the cabin upgrade engineering integration for TAP on two of their A330's.
When it comes to Military Aerospace, three central pillars define the services offered by Marshall: 'Fleet Sustainment' including fuselage fatigue analysis, obsolescence management load analysis; 'Support Services' provides manpower, materials and technical services to fleet maintenance operations around the world; and 'Product and Capability Insertion' can involve anything from minor modifications to complete cockpit upgrades.
"We're seeing a larger demand around capability insertion because there is a need from clients to keep some of their fleet flying for longer and therefore are moving towards multi-role aircraft, or a complete change of role," Rupert explains. "Much of this would demand more capability to be added to a platform that was originally intended for something entirely different and our team of engineers are able to help deliver this – we are world renowned for our unique spectrum of capabilitiesand our pedigree of performance and delivery."
Perfectly demonstrating the level of service provided by Marshall to the Military Aerospace industry is its long-running work on the RAF's C-130 fleet. 2016 marks 50 years of supporting the Royal Air Force on the C-130 fleet and 2015 was marked with the signing of the next pricing period for the HIOS (Hercules Integrated Operational Support) programme, a £369 million contract and in the 2015 SDSR the out of service date of the C-130 was extended to 2035.
"Supporting our armed forces is important to us, we are proud of the trust placed with us and our focus is on how can we do things better. We have increased fleet availability by one third whilst reducing costs by one fifth," outlines Rupert. "This was incredibly hard to do but we did it and it's a shining example of partnership and collaboration with the RAF and our industry partners, Lockheed Martin and Rolls Royce." This achievement was recognised though the award of the Ministry of Defence Procurement Award in 2015.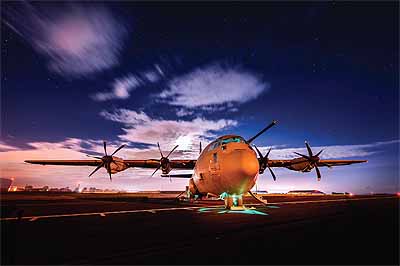 The KPI driven programme, which allows Marshall to detail long-term maintenance and upgrade plans, successfully continues to deliver over 70 per cent availability across the RAF's total Hercules fleet – an impressive achievement and one which is setting new standards.
As the Aerospace and Defence business moves forward diversification continues to remain a key factor of its success. "We are privately owned and independent business and will remain so – we are focused on supporting our customers in the military, civil and business aviation markets and defence solutions." The Award of the 2016 Queen's Award for Enterprise in International Trade demonstrates the increase of exports for Marshall.
As Rupert points out: "The strategy for us is all about using our broad range of skills to deliver value in engineering and support to our customers around the world." Current activities include deployable hospital systems for the UK MoD, design and manufacture of the auxiliary fuel tanks for the Boeing P-8 programme, Northern European dealer for HondaJet and a FBO at Birmingham Airport.
Inspiring future generations starts at the top and Steve Fitz-Gerald, CEO of Marshall Aerospace and Defence Group and over half of his Executive started as apprentices. For over 96 years Marshall has run an apprentice programme of its own run through its own AeroAcademy business and now offers degree programmes that combine practical and academic experiences.
"It's a competitive environment, but our spectrum of capabilities sets us apart from anyone else, we have a proven pedigree in delivery," Rupert says as he discusses Marshall's long-term vision. "We know where we are going and what we have to do, we are proud of our history but we are focused on our future."
Marshall Aerospace and Defence Group
Services: The UK's largest independent aerospace and defence company