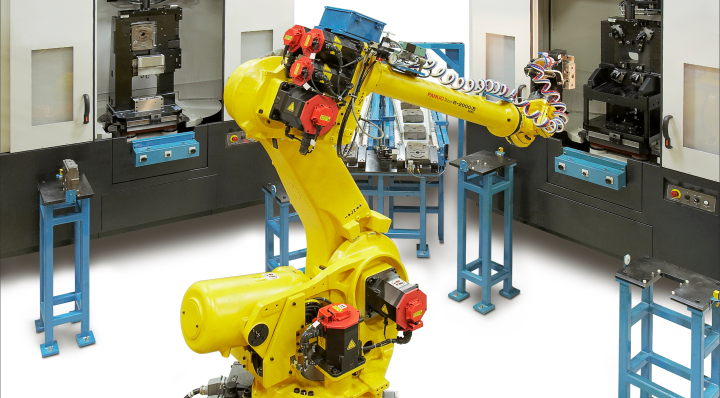 Manufacturing is gaining strength in North America, but the industry looks different today than in years past. Manufacturers are pushing forward with innovation, but they need support to meet their missions. Maruka USA is a key supporter of its manufacturing clients, always delivering on its foundational belief of sincerity. This means taking an open and honest approach to addressing customer needs, with an educated staff, quality products and always providing successful solutions. As President Gary Lowery explains, "sincerity without the capabilities to provide solutions is not helpful" to customers.
"In general, our vision is to provide solutions – to be a solution provider and technical consultant for forward-thinking companies," Lowery says. "Our basic approach is to first understand what a customer's issues are and what they want to achieve. A customer may request a particular brand of machine, but we don't like to quote without understanding their objectives first. Once we understand what they want to accomplish, we may be able to provide a completely different approach to their problem and a unique solution that will give them a better long-term result. You can't provide solutions just by throwing quotes out there."
With locations in Missouri, Illinois, New Jersey, Kansas, California, Oklahoma, North Carolina and Kentucky, Minnesota, Maruka USA serves the manufacturing industry with top-quality metal cutting, plastic processing and fabrication equipment. As a subsidiary of Maruka Machinery Co. Ltd of Osaka, Japan, Maruka USA has eight technical centers and four major showrooms, and is a distributor of Hwacheon Machinery, Methods Machine Tools Inc., TOYO Machinery & Metal Co., Chiyoda Kogyo, Fu Chun Shin Machinery Manufacture Co. and more.
To best meet the needs of its customers, Maruka USA is separated into four key divisions:
Maruka MI – Plastic Injection Molding
Maruka MM – Machine Tools
Industrial Tool Inc. (ITI) – Robotic Automation/Workholding/Custom Machine Tools
Maruka MU-J – Facilitating Japanese manufacturing in the United States
"Today, there is a lot of increased demand for automation and engineering solutions, so that is one of the reasons I went out in 2012 and purchased ITI," Lowery says. "That provided synergies between the other divisions, and they already had a customer base and could provide more solutions for us. It was a bold step in acquiring them. It's difficult to build something like that from scratch, so we wanted to acquire a company that already had success in that area so we could immediately begin delivering solutions.
"For ITI, we have provided them with expanded coverage, but Maruka has been able to benefit by being more of a one-stop solution for our customers," he adds. "Before we had ITI, we would have to go outside to an automation company and provide a two-fold quote to a customer – a quote for the machinery and a quote for the automation. With ITI, we are the sole source and full responsibility for solutions, which is what customers are really looking for."
Extensive Expertise
All of Maruka USA's divisions work together to best meet the needs of its customers. Lowery regular meets with the division leaders, but the leaders also are aware of the other divisions' strengths and the products they represent, so they frequently reach out to each other to assist customers. All of the divisions operate in the "Maruka way," Lowery says, so the level of service and dedication to solutions remain consistently high.
The MM Division, for example, is Maruka USA's original division as its Japanese parent's first focus on industrial equipment in the United States. As a result, it is very familiar with its customers' needs, and remains strong by continuing to evolve with the trends of the market.
"There are two areas where you have to excel to be successful," Maruka MM Vice President Brent Eagleburger explains. "First is knowing the product you sell, knowing the technology available and knowing where to get it. Next is taking that information and applying it to customers' specific needs. We are well-versed in both areas – we've watched the machine tool market grow, evolve and change because we've been part of it for decades.
"Now with ITI, there is a lot of synergy with the MM division," he adds. "ITI gives us the opportunity to sell a different product that enhances our core line-up of equipment.
The synergy with ITI allows us to provide machine tools coupled with automation as complete turn-key systems to our customers. In addition, we can offer a solution from ITI to integrate our customers' existing equipment in order to save them money and allow them to use machines they already own.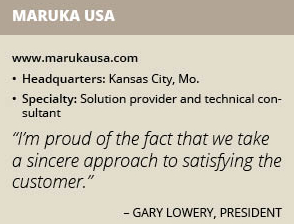 "We even have some shared customers with the plastics division [MI]. For example, we sell equipment to shops making molds that will eventually run in plastic injection molding machines from our MI Division."
This focus on service is reflected in the MI division, which has seen a dramatic increase in business over the past few years, according to Vice President of Sales Kevin Bruce. He explains Maruka's service is about providing out-of-the-box solutions for customers. For example, the MI division noticed how much plastic resin is wasted when a molder has to change materials, so it worked with TOYO to develop high-speed resin change technology, which has been added to its machines. This is now a standard feature and cuts the time to change materials by 50 percent while also reducing wasted plastic material by 50 percent.
"Customers are looking for business partners," Bruce says. "Someone to work with who they can trust to stand by them and support them. Someone to find better ways of doing things to become more efficient and help them become more profitable. This is what we offer – we are a trusted business partner that works with our customers to find better solutions. The best way we have found to do this is by using a proven industry technique – we actually listen to what our customers tell us and then move in a direction to assist them with their goals and support them in their needs. If we can make our customers successful, then we will be successful."
ITI President and CEO Patrick Hjelm explains the newest Maruka USA division is working to strengthen those partnerships even further. "As an engineering firm, we don't sell a standard product, we sell engineering solutions," Hjelm says. "We help the different Maruka divisions support their customers and we bring our engineering horsepower to the product lines Maruka sells. We help to add value to the machines the other divisions sell, and that allows Maruka to go to customers with a complete value-added system. Instead of working with three or four different companies, we are enhancing what Maruka can do in the market by making it a complete single source solution."
Further Support
The offering from ITI is especially important to Maruka now that so many of its clients are looking into automation. Manufacturers need greater efficiency and machines that will help them deal with the workforce shortage, and Maruka's offerings are helping clients adapt and remain competitive.
"When we're doing turnkey work, or fixture work or helping create a custom machine, robotics is requested in almost every project," Hjelm explains. "It could be for loading and unloading, or system development with provisions to add robotics later. Our clients are having difficulty finding skilled workers, so robotics is a major focus. That is the way for success in the future.
"We are moving toward doing more preventative maintenance, which also is tied to the labor market," Hjelm adds. "The skills gap limits the maintenance staff at the plant level, so customers are looking for preventative maintenance in their machines and on-site staff to give them support. With predictive maintenance and Industry 4.0 tools, we're using data from the equipment to predict wear on the machine and get components replaced before they fail. The push is for zero downtime."
Bruce notes Maruka is adding staff to further help customers in this regard. "We are always talking to our customers and listening to their needs," he says. "In recent years, we have noticed some customers are losing their inside maintenance and engineering support staff, and this is putting a burden on their ability to support the equipment in their plants. We have been adding staff in our customer service group, so now we can provide in-depth training, extra service support and even offer custom-built machines where we can add all the extra items a customer would normally add when a machine gets to their plant. This has reduced the machine install time at a customer's plant drastically and typically saves the customer multiple days of added production time."
Eagleburger notes Japan and Europe have had a much higher level of automation than the United States in their plants for years with automated cells and automated production lines. Providing solutions in these areas is keeping Maruka USA and its customers competitive.
"Most businesses need to automate at some level and that need will only increase as time goes on," he says. "Customers need better-quality parts, are machining much tighter-tolerance parts and cutting exotic materials more than ever before. Some of these parts require super finishes and sub-micron tolerance call outs. We are providing unique machine technologies that will allow our customers to not only machine ultra-hard materials such as ceramics and carbide, but do so with extreme accuracy.
"We are seeing a big trend in software advancements in the machines themselves and off-line systems that generate programs, create designs and process verification," he continues. "We are helping to program parts or design parts, and that allows a customer to be more competitive. There is more work coming back from China, and companies that are not in this level of technology are really struggling."
Maruka USA also remains dedicated to selecting the best partners that are providing quality equipment while also having good support for their distribution. Lowery says suppliers help to train its service staff and help salespeople understand the new advanced technologies on the market. He says working with suppliers and remaining as educated as possible will be key in Maruka USA's ongoing goals.
"I'm proud of the fact that we take a sincere approach to satisfying the customer," Lowery says. "Our motto is sincere service and our mission is customer satisfaction. To be solution providers and technology consultants for forward-thinking companies, that blends with the core values of Maruka globally. I've been here since 1980, and that's why I've been here so long. I'm proud to be part of a company that works very hard to make our customers successful. It's not that we're perfect, but we work very hard to make sure that at the end of the day, customers are satisfied with what we've provided them."