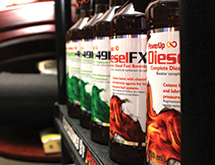 Some companies stagnate in their old business models, but not MARYN International. Co-owner Mark Bishop says the company continuously focuses on improving and reinventing itself. "It's worked out well for us," he asserts.
Calgary, Alberta, Canada-based MARYN International manufactures performance lubricants and hydraulic oils. Bishop says he started at the company 36 years ago as a salesman of lubricant additive packages.
At the time, "This was a summer job," he recalls, noting that he planned to go to law school. "After the first year of doing this, I realized that this was probably a good thing to continue."
As Bishop stayed with MARYN International, it added innovations to advance its lubricant technology. Many lubrication producers approached the company about developing products that performed under demanding applications.
Since its start, MARYN International has grown its SKUs from one to 116. "We've changed from additive packages to finished fluids," Bishop says, adding that it makes customized products, as well.
"If they're looking for specialized products to accomplish [a specific] purpose, we can do that for them," he says. "We're not tied down to a specific product blend. One of the things that makes us unique and successful is our willingness to provide clients exactly what they're looking for."
A Broad Reach
MARYN International serves a customer base that ranges from owner/operators to large multinational clients and businesses, Bishop says. For instance, "We manufacture biodegradable, hydraulic oil for the world's largest oil company," he says. "We take perfectly good, salad-grade canola oil and turn it into a hydraulic oil that meets the OEM standards."
Additionally, MARYN International provides aviation grease for Bell Helicopter. "That's working out very well for us," he asserts. "We anticipate that we can maintain a good place in the aviation market."
The company also has strong positions in the agricultural, trucking and exploration industries. "We have products that are going into oil and gas development in triplex pumps," he says.
Its products can help prolong the life of its clients' equipment, Bishop adds. When one customer anticipated that it needed to replace a bearing on a pump, it found it didn't need to after all because it was using MARYN International's lubricants. "It looked new," Bishop recalls, noting the customer found no wear on the bearing. "They finished their inspection, put it back together and kept it running."
Changing With The Times
MARYN International regularly copes with marketplace changes, including the way information is shared with clients and products are sold, Bishop says. "In the past, we've run direct sales programs where we would have independent sales agents knock on doors," he recalls.
Since then, the company has pursued retailers and industrial supply houses. "We're also using social media more and using channel marketing," he says. "We're looking at different channels so we can market to our clients effectively."
The changing standards from the American Petroleum Institute and the Society of Automotive Engineers also keep MARYN International on its toes, Bishop says. As the company stays on top of these measures, it looks for opportunities for both energy efficiencies and ways to cut down on emissions.
"We want to be in alignment with those governing bodies," he  asserts.
ISO Experts
MARYN International also has aligned itself with ISO regulations for manufacturing quality, Bishop says. "Today, we are ISO 9001:2008-certified," he says. "That's been a continuous certification since 1997."
Staying in tune with these regulations has not been a struggle, he asserts. Instead, "It's just how we operate here," he says, adding that the ISO system has been applied to other aspects of its business, including accounting and sales.
"Everything we do is monitored, compared and processed through our ISO systems," he says. "With audits, we determine where improvement is available to us."
Checking Up
MARYN International's focus on the ISO system has led it to implement a system where it physically and chemically checks raw materials and its finished products. "We test every batch of incoming raw material with our statistical sampling against a template of what those previous batches were," he describes.
By using Fourier Transform Infrared Spectroscopy analysis, MARYN International checks each batch against a "chemical fingerprint" to verify the product's quality. After it passes, "We do physical testing of the properties," Bishop says.
In this process, MARYN International checks properties such as the fire point, viscosity and the ash content. "We do a whole gamut of testing," Bishop says, noting that he recalls one incident where a supplier's product passed the chemical test, but failed the physical.
"We called the manufacturer, [which was] a refinery, and said, 'This is well outside of the viscosity range,'" he recalls. "They looked at their documentation and said, 'It's what it's supposed to be.'"
But MARYN International sent a sample back to the supplier. "They confirmed what our findings were; that somewhere along the chain of custody there had been a problem," Bishop says.
"If we would have blended that without testing, all of our products would have been out of spec," he says. "That's why we have to test [everything]."
In case a product needs to be traced, MARYN International also retains samples of its raw materials and its finished products. "We're able to back it up and prove [where it came from]," he says. "We have 100 percent traceability."
Pushing Forward
After his nearly four decades with the company, Bishop remains proud of MARYN International. "We have a long-term staff, long-term relationships with our suppliers and we have developed a business that is integrated within the industry," he says.
He also highlights the work of co-owner Jim Ochitwa, who has been partners with Bishop since 1977. "Jim and I have been doing business together for a long time and we just have a solid understanding and relationship," Bishop says.
Ochitwa has played an important part in the company's commitment to excellence, which was woven into its DNA with the ISO program. Additionally, "We're passionate with [the business] and we certainly share a vision of the future," he says. "We discuss it frequently."
That vision includes MARYN International doubling its sales in the next five years and growing its business in three of its markets, Bishop says. "One is our aviation product line," he declares. "We have great confidence in that."
The other two, he notes, are its fuel additive and finished fluids products, including hydraulic, engine and gear oils, as well as biodegradable hydraulic oils. "We look at those three [markets] as being significant for us," he says. "We're pushing towards [these goals with] manufacturing excellence."