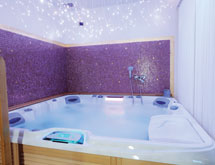 All products, especially when made for the general public, are always fashioned with the ultimate goal to be user-friendly. That term encompasses many things – high-quality, efficient, reliable, versatile and safe are just a few of the characteristics associated with user-friendly products. Master Spas Inc., a manufacturer of spas and hot tubs, has spent the last 30 years perfecting the user-friendliness of its products.
In its 250,000-square-foot manufacturing facility in Fort Wayne, Ind., Master Spas manufactures four product lines that fit a variety of needs. Its Legend Series includes seven models, from the smaller LSX 557 to the new LSX 1000, with a built-in lounge for sunbathing or relaxing. One of its most versatile series, the H2X, is a line of jetted swim and fitness spas for aquatic fitness, therapy, swimming or recreation. The Twilight Series Spas features several hot tubs that engages the senses, combining hydrotherapy and gently glowing lights accompanied by music for a therapeutic and relaxing effect. Its Michael Phelps Signature Swim Spas by Master Spas, designed with the gold-medal Olympic swimmer's input, is a line of European-inspired style spas for swimming, fitness and therapy.
Though each line has its differences, Master Spas says the lines are designed to set the industry standard. "At Master Spas, we worked for nearly 30 years to perfect your spa experience," the company says. "Each hot tub is master-crafted to achieve enhanced, innovative therapy and high-tech advancements in construction, performance, insulation, filtration and heating systems."
Beginning with its powder-coated box steel reinforcements, which provides the most durable frame available, the company says, each component of a Master Spa works together to achieve prime results. The frame is finished with a high-density polymer base that keeps heat in and pests out. Behind that, each Master Spa includes icynene foam insulation, making these spas some of the most energy-efficient in the industry, according to the company.
"Master Spas meet the stringent energy standards of the California Energy Commission," the company says. "The Advanced Insulation System with icynene has dramatically raised the bar on standard urethane foam insulation systems used by almost all U.S. spa manufacturers. The Icynene Insulation System expands to 100 times its initial volume in seconds to insulate and air-seal the spa envelope. The resulting blanket of soft foam insulation forms a continuous thermal barrier that eliminates cold spots and significantly reduces energy costs. A consistent, comfortable temperature is maintained inside the spa, while cold air is kept outside."
The insulation also helps support the weight of the spa's plumbing system. The plumbing systems are designed to distribute pressure equally among the spa's jets and the built-in heater and filtration system eliminates the need for any special plumbing systems.
Users fill the hot tub or spa with a garden hose and drain it with a hose bib connection or an inexpensive submersible pump. The water can remain for up to four months.
Every hot tub comes with the Master Spas patented Eco Pur Water Filtration System that uses a multi-stage filtration and purification process that circulates every drop of water 10 times per hour for less power than the standard system, the company says. "That means your Master Spas portable hot tub conserves both water and energy without skipping a beat of providing pure hydrothermal therapy and relaxation enjoyment."
The first step is its Macro Filtration, which uses a macro of coarse filter, similar to natural gravel filter, to remove large contaminants and debris. Next, the Eco Pur Polishing Filters polish the water to a "sparkle." During the ozonation stage, a high output Corona Discharge Ozone generator destroys any remaining bacteria or metals.
Master Spas applies the same detailed attention to its safety standards. Each spa is built to ETL Safety standards. "Safety is absolutely the top priority at Master Spas," the company says. "That's why Master Spa is built to stringent ETL safety standards. ETL is the worldwide leader in safety testing. Each Master Spa model has been submitted to ETL for testing and approval. Additionally, ETL performs several surprise inspections annually at the Master Spas facility. This gives [customers] peace of mind."
All of these factors combined achieve the user-friendliness manufacturers strive for and Master Spas has received numerous awards backing the user-friendliness of its products. It has received the Consumers Digest Best Buy Award for its Twilight Series 8.2 and the Legend Series LSX 800 and the company's dedication to superior products doesn't end on the manufacturing floor.
"At Master Spas, we never just sell [customers] a hot tub and send [them] on [their] way," the company says. "When [they] get a Master Spa, [they're] getting the full support of our nationwide network of hot tub dealers and contract service centers. Plus, our professional customer service representatives are only a toll-free phone number away." mt