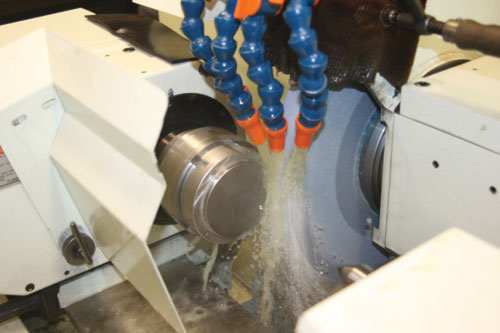 In fact, the producer of custom precision tooling and components for the tool and die industries has so many orders that it has to turn some business away.
"Customers have been holding off on buying tooling, but now they're coming back," co-owner Tore Arvidson explains. "Our customers are putting orders in now, but they need even more, so we are good and busy."
Of course, there are a number of reasons why customers are flocking to MasterGrind/EDM, as opposed to other tooling producers.
Arvidson and his two co-owners have been in this business for more than 30 years – they were employees who purchased the company from the previous owner when he retired – and they've used this expertise to ensure the operation remains a formidable competitor.
"We remain competitive because of our lead times and quality," co-owner Randy Johnson stresses. "We give the customer a delivery date when we quote the job, and we do our best to meet it.
"Also, we don't outsource much of our work – we have the capabilities to do the majority of our work internally – so we can consistently provide a high level of quality and meet our customers' needs," he continues. "That keeps our customers coming back to us."
From its base of operations in Jamestown, N.Y., MasterGrind/EDM provides precision-machined, turned, hardened, ground and EDM parts for OEMs or as replacement parts. Its other products include precision punches and dies – standard and custom – for class-A progressive dies. The company also produces precision custom core pins, dies and inserts for simple and complex plastic and die-casting molds.
Small Shop, Big Abilities
MasterGrind/EDM's operations cover approximately 15­­­­,000 square feet and are divided primarily into turning, machining, grinding – cylindrical grinding, surface grinding and inside diameter grinding – and EDM work cells. The operation also is equipped with a climate-controlled inspection department to ensure accuracy, Johnson notes.
"We stay updated on technology with ongoing capital upgrades," he explains. "We will add one or two
new machines each year and then retire some of the old equipment." Arvidson adds that the company has spent approximately $300,000 in capital upgrades in recent months.
To ensure consistent quality in its precision parts, MasterGrind/EDM employs frequent process inspections throughout its organization. To start, workers monitor the CNC lathe and soft machining operations, as well as inspect the first few pieces as they are finished.
During and after the run, components undergo final inspection before an order is shipped out.
The company's owners are quick
to add, however, that all employees make quality their responsibility, and everyone is mindful of ensuring only the best items are produced and sent to customers.
"Our employees are as responsible for their own job as they are for anyone else in the operation," co-owner Dave Thor says. "They work hard and we provide a good atmosphere – it's like a family here. They know jobs like this are hard to find, so we have low turnover and everyone works hard to do the best."
New employees are evaluated for efficiency and quality while they are being trained, the owners say, and it's usually apparent within the first month whether a new employee will fit in with MasterGrind's quality-minded culture.
Arvidson notes that some employees have left for what they thought would be better positions elsewhere, but came back to MasterGrind when the new position didn't stack up.
"We have about 25 employees, and there's a lot to be said for being part of a small shop," he says. "We are less regimented and more flexible than many other shops, but you can't hide in the wood work. Our people know the quality that our customers expect and they deliver on that."
The owners add that having at­tracted some of the most experienced and talented machine technicians in the business, and providing them with state-of-the-art machine tools, helps MasterGrind/EDM consistently meet customers' most demanding tooling requirements.
Willing to Jump
Customer service has been the key
to MasterGrind's growth since Arvidson, Johnson and Thor took over the business in 2001 – they have doubled the company's sales since then, they explain. The company's strength, they agree, comes from its production of "superior tooling at competitive prices" that is consistently delivered on time.
"We will jump through hoops for our customers," Arvidson stresses. "If we keep their customers happy, our customers are happy, and then we're happy."
MasterGrind works with its suppliers to keep its costs in line, and it passes any savings on to its customers. "We have many long-term suppliers, and they give us the best prices on materials, always," Thor says. "Additionally, our heat treaters are very competitive, and they take good care of us."
Continuously improving its efficiency and methods of manufacturing, Johnson notes, also allows MasterGrind to remain competitive on price. "We haven't had a price increase with some customers since 2001," he says. "We do all we can to work more efficiently and make the investments to buy better equipment, and by improving we can keep our costs down."
The key, they agree, is to anticipate customers' needs and meet them. MasterGrind accomplishes this by holding stock for its customers, en­suring fast delivery even when it is busy with other orders. This isn't something customers request, Johnson says.
"It's about taking an educated risk and taking the initiative to make the parts ourselves," he says.
It is the employees, the company stresses, who allow Mastergrind to deliver on customers' needs in a quality and timely manner.
"Our employees – their skill level and dedication – really cement our place in the market," Thor says. "We truly value them, and that is why we run this company like a family, and not like an impersonal corporation. We like to see faces and not a bunch of numbers. It is their strength that will allow us to keep going, as well as we've been doing and farther."