Riding the 3D printing wave
Recently acquired by Siemens, Materials Solutions is increasing its capabilities by moving to a new facility later in 2018, as well as exploring its opportunities for the adoption of new additive manufacturing techniques
As 3D printing gained in significance, Europe's largest industrial manufacturing company, Siemens, demonstrated an inevitable interest in strengthening its services in the area. This led to the acquisition of Materials Solutions – one of the most reliable specialists in additive manufacturing, in the summer of 2016. The synergy between the two has already shown encouraging early results and has given Worcester-based Materials Solutions the space, both physical and creative, to set up its future growth.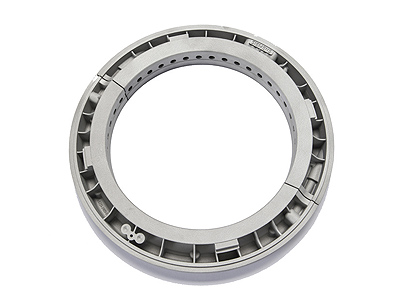 "Materials Solutions is particularly strong in the use of selective laser melting (SLM) for the manufacture of high-performance metal parts and Siemens was interested namely in finding a partner capable of producing high-quality components. Materials Solutions has over ten years of experience and has proven its very solid attention to providing top-class parts. Now as part of the Siemens company we want to set ourselves apart by creating something that the customers will be comfortable putting into their car or toolset. In fact, more often than not, when a part leaves our factory, it is hard to tell that it has been additively-manufactured, because it is so well-made. Naturally, our capabilities involve the machining and the finishing of a product, if the customers want that," Phil Hatherley, General Manager of Materials Solutions – a Siemens business, explains the virtues of the business.
He joined the company when Siemens made the acquisition with the task to help the quicker integration of Materials Solutions into the wider group. Having done that, he took over the role of General Manager just over a year ago. Phil insists that the acquisition did not aim just to support Siemens' activities, but also to aid Materials Solutions to develop its own thirdparty business. "It is not a matter of Siemens tucking it under its big wing. Instead, we actively finance Materials Solutions and offer out it its large network of partners and customers, thus helping it, and ourselves alike, broaden our proposition. A lot of our customers are happy with the takeover, because this is a guarantee for them that Materials Solutions is stable and will be around in the future, as it is backed by a big company like Siemens."
A fine example of Siemens' commitment to grow its new asset fast, is the £27 million investment the company made in Materials Solutions' new 3D printing factory in Worcester Six Business Park. "We are moving to the new site later in 2018 and we see this as an excellent opportunity to increase our capabilities. We will be able to introduce some new innovative manufacturing solutions and we want to take the number of 3D printing machines that we operate from 15 to 50 in the next five years," Phil reveals. "When Siemens bought the company, it quickly invested in a couple of new additive manufacturing machines, but it soon became clear that there was not enough space to add more, so we decided to move to larger premises. At the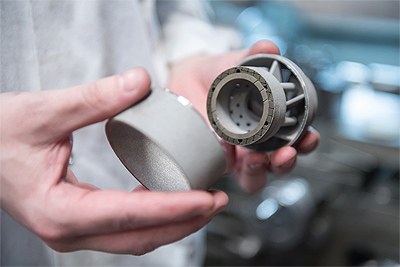 same time, we knew for sure that we want to stay in Worcester, in order to keep our talented local engineers and technicians, who make the magic happen.
"Relocating to the new facility will also help us expand our range and we are constantly discussing with our customers what sort of new technology we can adopt. I see that desktop printing is an area of particular interest for clients, but there are other additive manufacturing techniques we will be keen to add to our services if there is a noticeable growth in demand. This is the real benefit of being part of Siemens. We can now guarantee to the customer that we will be able to cope with their requirements for the use of a trending new technology and can invest in the necessary machines to help us satisfy these requests."
Phil finds the aerospace sector a big driver of business in the near future and Materials Solutions – a Siemens business is now trying to position itself in a way that will enable the company to make the most of the opportunities when they present themselves. "The challenge involves getting confidence in the newly emerging technology and obtaining the required qualifications and approvals to serve this sector," he reckons. "We're identifying the possibilities for a larger use of additively-manufactured components and are already looking for capable suppliers to enhance this activity. We are still predominantly focused on rapid prototyping, but the production demand is clearly beginning to rise."
Finally, the General Manager praises the excellent working relationship Materials Solutions – a Siemens business has built with 3D printing manufacturer EOS. "We became the first UK company to have EOS' M270 installed and also the first business to test its M400 machine. This gives us the confidence to make suggestions as to how OEMs can make their products better, because it is of utmost importance for us to rely on strong suppliers. I am very interested to see what the next generation of innovation will bring about. For example, there is a certain possibility that multi-layer printers will grow in popularity, even if they are still pretty costly at the moment. As the interest in additive manufacturing grows, so will the need to launch new technologies that will optimise the process and make it quicker and more efficient," Phil concludes.
Materials Solutions
Services: Additive manufacturing