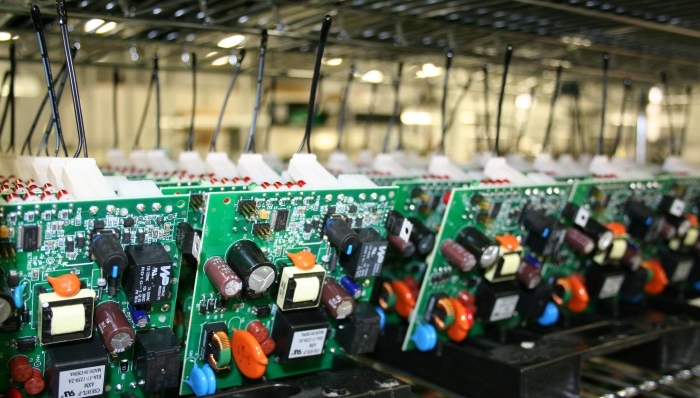 Western Pennsylvania is likely not the first place in the United States most people think of when it comes to technology. The knowledge and dedication of Matric Group's engineers and other staff, however, have made the company a go-to manufacturer of electronic components used in a variety of important applications.
"I'm very proud of the people we have working for us," says Rick Turner, president and CEO of the Seneca, Pa.-based contract manufacturer. "We're located in a rural area that's not necessarily the heart of Silicon Valley, but the capabilities we have and the things we are able to design and build for our clients are remarkable."
The company, which was incorporated in 1979 but dates its history back to 1971, has a less than 1 percent voluntary turnover rate. This is a reflection of the company's positive internal culture and focus on safety and employee well-being. "Our very first employee still works here," Turner adds.
The Matric Group consists of three divisions: Matric Limited, which operates in an 80,000-square-foot facility in Seneca; Dynamic Manufacturing, which manufactures products in a 25,000-square-foot facility in Freeport, Pa.; and Windurance, an engineering and design firm of pitch control systems for utility-grade wind turbines and other wind energy components that operates a sales and engineering office in Pittsburgh.
The state of Pennsylvania gave the Matric Limited facility its Governor's Safety Award in 2015. The Dynamic Manufacturing facility earned the same honor in 2014. "This is a prestigious recognition that less than a dozen companies [in the state] receive in any one year, and both of our manufacturing facilities have won it," Turner says.
The Dynamic Manufacturing facility in Freeport has gone seven years without an associate having a work-related medical insurance claim; the Matric Limited facility has gone a year without such a claim. "This is a much higher standard than lost-time accidents, which are reported to OSHA," he adds.
Critical Applications
Matric Group is a contract manufacturer of electronic assemblies used in the commercial, industrial, medical equipment and aerospace markets. The company's capabilities include circuit board and cable assemblies as well as complete systems of electronics and other components that are pre-assembled, connected and placed in a ready-to-use enclosure.
Applications for the electronics produced by Matric Group include use in heavy industrial equipment, high-precision laboratory equipment and measurement devices, life-saving medical devices and aviation components. Many of the components manufactured by the company are used in critical applications including in wearable defibrillators worn by heart patients, Turner says. The company is ISO 9000, AS 9100 and ISO 13485 certified.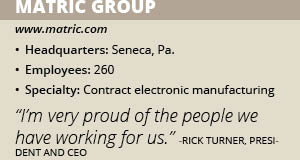 Matric Group maintains a wealth of knowledge to design and manufacture products to meet regulatory requirement for many regulatory agencies including MSHA and the FDA. The company holds certifications for regulated products including ATEX, IECEX, CSA, ITAR, ROHS, REACH and UL.
The vast majority – more than 90 percent – of the circuit boards produced by Matric Group are manufactured using the surface-mount technology (SMT) method. SMT involves soldering electronic components directly onto the surface of a circuit board as opposed to using leads that are inserted through holes drilled into the board before being soldered into place, known as the through-hole method. The SMT method has largely replaced through-hole assembly on circuit boards because it allows electronic designs to compress circuits into extremely small footprints, Turner says.
"When I purchased the company in 1993 from its founders, I would say that around 60 to 70 percent of our business was through-hole components; today, I would say that 90 percent of the electronic components we place are surface mount," he adds.
Trusted Partners
The work of Matric Group's engineering staff distinguishes it from many of its contract manufacturing peers. "We can not only help our clients in the design aspects of their products, but because of the way we are structured we can help customers maintain the full lifecycles of their products," Turner says, noting the company has employees dedicated to aftermarket service as well as engineering and manufacturing.
Once a circuit board or box-build assembly is designed and engineered by either Matric Group or its customers, the company's staff orders all of the components needed for the product to be manufactured. "We always tell people that we are as much in the materials management business as we are the electronic manufacturing business," Turner says, noting the company makes circuit boards containing as many as 2000 components. "All you need is to be short one chip, and you wouldn't be able to assemble a complete product."
The company manages its inventory of parts using an enterprise resource planning (ERP) system. Once parts are received, circuit boards and other products are assembled and tested before being sent to customers.
Some of the parts used by Matric Group on the circuit boards it assembles are extremely small. One of the smaller SMT components used by the company in routine production is .6 by .3 millimeters in size – "roughly the size of the knot on the bowtie on a Lincoln head penny," Turner says.
Following assembly, each circuit board manufactured by the company goes through an automated optical inspection process that compares the components and soldered joints against a master board and product design specifications. Matric Group also uses X-ray equipment to inspect leadless devices on circut board assemblies and conducts functional in-circuit testing of its products.
The company continues to invest in manufacturing and other equipment to help it better serve its clients. This includes recently adding inspection and laser etching equipment, as well as equipment that allows the manufacturing staff to place extremely small components. "We operate with the understanding and expectation that we are being entrusted with our customers' intellectual property, and know we have to take great care in maintaining and managing that on their behalf," he adds.