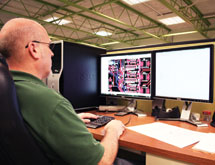 Whoever said manufacturing is dead in the United States obviously didn't bother to check with Matric of Seneca, Pa. Since 1971, Matric has built a reputation for its provision of electronic manufacturing, contract design and aftermarket services to a number of commercial and industrial markets. Judging by its performance over the last two years, there is little reason to doubt the company will experience many more decades of success.
"It simply is not true that manufacturing can't be competitive unless it is done outside North America," President Rick Turner says. "Many companies are concerned with experience and engineering support, and those are some of the keys that set us apart, along with our strong engineering group. We can provide the kind of support that is often difficult to find with faraway offshore manufacturers."
Flexible and Capable
As a full-service electronics manufacturing services company, Matric is ISO 9001, ISO 13485, AS 9100 and RoHS certified, as well as ITAR registered. In addition to Matric, the company counts Dynamic Manufacturing and Windurance as pieces of the Matric Group portfolio. After enduring a downturn in 2009 that saw revenue slip by 12 percent, the company saw 17 percent growth in 2010 and 27 percent last year.
"The electronics industry moves fast as technology and components change and become obsolete," Turner says. "Reconfiguring and reengineering are needed to maintain a product's lifecycle, and that can be a problem when dealing with someone on the other side of the world. Many clients like that our people here can find substitutes and redesign products to extend their lifecycle, and we are also seeing a lot of offshore companies coming to us to help them enter the North American market and increase their business here."
Many of Matric's clients are low- to mid-volume consumers of electronics. They typically are focused on commercial or industrial applications. Some of the advantages the company possesses include its experience in working with tough industrial applications that need highly reliable and precise electronic equipment, its many certifications and the fact that it is privately held.
"That is significant because public companies with stockholders expect immediate returns and often make decisions for the short term," Turner says. "Our aim is slow, deliberate and profitable growth. We have a strong balance sheet and continue to reinvest in the company."
Always Aiming High
Investing back into the business is one of Turner's main concerns. In recent years, the company has installed a new Mirtec MV-7xi Series Automatic Optical Inspection (AOI) machine, added a fourth fully automated surface mount technology (SMT) line and a second selective soldering machine.
"Added capacity and new inspection and test equipment broadens our capabilities," Turner says. "We often invest in adding new equipment on behalf of the needs of one of our customers. But we don't just look at it as payback for only that customer. We see those investments as providing us with an added capability that we can use to demonstrate the full breadth and depth of our services to other potential clients, which opens up more opportunities to serve both existing and potential clients."
Equipment isn't all the company invests in. Education is another critical aspect of the company's investment strategy. Turner says it provides employees with financial support, whether they are entry level or management, to pursue higher levels of education if they choose.
"If they get 'A's', we pay 80 percent of tuition," Turner says. "For 'B's', we'll pay 70 percent, and for 'C's' we'll pay 60 percent. That benefit is open to all of our associates. Right now, we have about 350 people working for us. Not a lot of companies support education in that way, but I believe it is important that we do so."
In the years ahead, Turner says Matric remains deeply interested in continued growth and will explore various pathways that will help it add new clients and new capabilities. In fact, the company is looking at investing in new technologies that would allow it to manufacture some products directly.
The company has some experience with this, as 10 years ago it got involved with Windurance as a joint venture. Founded in 2000, that company is now a global supplier of wind turbine blade pitch control systems. Matric was interested in the joint venture because the company recognized the possibility of providing services to the wind energy industry. Now the company is the majority owner of Windurance, and builds the electronics that go into the wind turbine blade pitch control systems.
"There are always opportunities like that out there, and we must be thoughtful about which ones to get involved in," Turner says.
Matric's main business will remain focused on building electronics. The company knows there are a great many ideas and concepts out there focused on the control of equipment and processes that are driven by electronics. Turner says many companies have come to Matric with new developments, but they need help because they are controlled by electronics.
"The possibilities will continue to expand, and I see a great future for electronics and smart, intelligent products being used everywhere," Turner says. "My vision is to help the smart people who work here to be successful, because they do a great job for our company."