Mats Lundberg, Head of Sustainability at Sandvik Group, explains how sustainability is reshaping the manufacturing and engineering sectors
Thinking outside the box
Sustainability, according to Mats Lundberg, Head of Sustainability at Sandvik Group, is big. So big, in fact, that for many companies looking to incorporate sustainability into their business model, it can be difficult to know where to begin.
"It's important to focus on critical areas," Mats comments. "Within manufacturing, we traditionally talk about productivity. Translate that into the language of sustainability, and at its core, it's about consuming less energy, using materials more wisely, and reducing waste. These are things that many companies have been doing for some time, but perhaps haven't discussed in a sustainability context."
Mats' own journey into sustainability isn't exactly conventional. A chemical engineer by trade, he initially specialized in materials, and worked as a postdoc, and then a scientist, at the Risø National Laboratory for Sustainable Energy in Roskilde, where he played a key role in the development of materials for fuel cells and hydrogen applications. It's through this role that Mats was connected with Sandvik, where he continued in research roles for seven years, and was responsible for leading the company's installation of a hydrogen filling station in the Swedish town of Sandviken, 200 km north of Stockholm. Off the back of this success, Mats took the decision to focus his career within sustainability.
"The sustainability work at Sandvik has evolved tremendously over the last five years alone," Mats reflects. "Today, we have a clear connectivity between sustainability and business, which coexist as two sides of the same coin. As part of our strategy, we've identified four key areas: circularity, climate, people, and fair play.
"Our goal as a company is to advance the world through engineering, and we can't do that without making the world more sustainable," he comments. "In pursuing these goals, we take a holistic approach that includes our own operations, but also looks downstream to think about our customers, and considers the upstream, looking at our suppliers – because the products we provide to our customers are the sum of everything up to that point. It means asking questions such as: what's our footprint? How can we improve the type of materials we purchase? How can we provide better solutions for our customers? And finally, how can we measure the difference we make?"
As Mats insists, this last point is especially crucial. "You need to be able to prove your work with numbers," he points out. "By applying metrics, it gives you a start point, an end point, and you can place targets along the way. At Sandvik, we've said that we want to reduce our CO2 impact by 50 percent by 2030, and within that, we have targets for different pillars of our business, such as products and packaging. To achieve those targets, we need to collaborate with our key suppliers, integrating them into our decisions – beginning with small changes, and scaling them up continuously over time."
Award-winning innovation
In June of this year, Sandvik announced the winner of its annual Sandvik Sustainability Award. The award is held in memory of Sigrid Göransson, a champion of social responsibility and improved working conditions within Sandvik – as well as the granddaughter of Sandvik's founder, Göran Fredrik Göransson, and daughter of Anders Henrik Göransson, the company's incumbent CEO. First distributed in 2020, it celebrates the best innovations within Sandvik's team to have demonstrated impact for environmental, economic, or social sustainability.
The winner of this year's award was a cooperation between the two Sandvik business areas: Sandvik Mining and Rock Solutions, and Sandvik Machining Solutions. The teams, which consisted of Petter Nilsen, Dean Kangleas, Gary Tully, Annegret Bicherl and Thomas Zimmerl, successfully created a unique circular solution for the recycling of tungsten inserts, which are used in the production of modern mining drill bits.
"Drill bits typically consist of more than eighty-five percent tungsten, drawn from mineral that contains less than 0.5 percent tungsten," Mats explains. "As a result, a large volume of material is required for the production of each insert, of which up to 30 could be included on a single drill bit. After drilling has taken place, lots of tungsten is left inside the body of the bit, which usually goes to waste."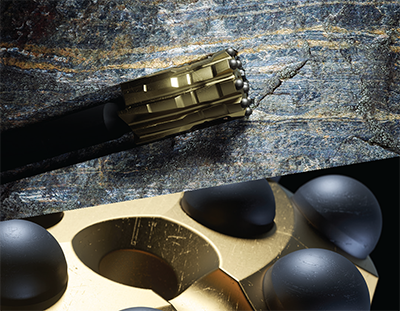 But the teams at Sandvik didn't take that for an answer. "The question was, how can we separate the insert from the mining bit?" Mats states. "So, they bought a plasma burner and applied heat to the drill bit, which caused the tungsten to fall out. From this, we knew it was possible, but it still wasn't an effective way to retrieve the tungsten. Instead, they began looking at induction heating, and the possibility of vibrating the drill bit in order to make the tungsten fall out – which they achieved."
With the tungsten retrieved, the challenge facing Sandvik's teams was to recycle the material back into the drilling process. That's where Sandvik's Mining and Rock Solutions team came in. "They ground down and refined the recycled tungsten in order to produce tungsten and tungsten carbide powder," Mats notes. "This can then be used for the production of new mining inserts, to give a circular production cycle."
The method delivers a number of sustainability benefits. With a reduction in the use of virgin material, a greater proportion of tungsten can be supplied internally. This delivers cost savings, and reduces the need for supplier auditing. With the inserts divorced from the mining bits, outstanding steel can also be recycled locally, rather than transported across the globe. By introducing a separation process at individual mines, Sandvik also believes the solution can provide a reliable source of local employment.
"The beauty of this is that it's already working," Mats notes. "It's been trialed in Australia and Sweden, and we're looking to extend it to other parts of the world as well. We're now developing a dedicated machine with induction heating that can be placed at the customer's site to perform the separation process."
Sandvik's tungsten solution is set to reshape mining and drilling operations in the years ahead. But the manufacturing and engineering sectors can expect yet more innovation, be it new ways of capturing and deploying data, or an increasing embrace of digitization, that will pave the way for a more sustainable way of doing business. As the Sigrid Göransson Award reflects, it's a future made possible thanks to the hard work and commitment of those within the industry. Or, as Mats describes them: "a few people thinking outside of the box to discover what's possible."
www.home.sandvik