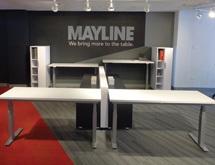 Steve Coder is well into his second year as president of Mayline – a precision manufacturer of office ergonomic products – and he is pleased with how the company is looking these days. He admits Mayline still has areas where it can improve, but he is proud of how the company is performing and excited about the strategies that are in place to move it forward.
"We are on a back-to-basics strategy," Coder explains. "We are developing standard work processes and investing in people, equipment, tooling and further development of our processes. We are driven by metrics in safety, quality, delivery and cost reduction, and our priorities are in that order."
The Sheboygan, Wis.-based company had two plants a while ago, but they both had excess capacity, he says, so Mayline shut one down and consolidated its operations into its Sheboygan site. "We have been going through the pains of the consolidation process, but the plant is getting much, much better," Coder notes.
Safety & Quality
Mayline's first priority in its operation is safety. Coder explains the company stresses safety awareness to everyone through a number of initiatives. Supervisors, for example, have daily huddles with their teams to talk about safety issues and/or ways to improve, and management is performing mock OSHA inspections to bring different safety concerns to people's attention. Mayline also formed a safety committee with supervisors and employees to fix any safety issues that are discovered.
"We want everyone to feel empowered to improve their work space," Coder emphasizes.
Safety goes hand-in-hand with quality, which is the company's second priority. A big part of this, he says, is setting high standards throughout the operation. "We have to let everyone – our people and our suppliers – know the quality we expect," he says.
"When I got here, the company was suffering because of quality issues with some of our sourced items. Internally, we are focused on ensuring the tooling is correct and machining is correct. We have been developing standard work practices, measurement standards and first-piece inspection practices. We still have to source some items from China, but we've improved there, too. We have invested in increasing our staffing in China. Communication between China with us has vastly improved about the status of orders and our Chinese employees are doing random on-site inspections so the quality meets our standards."
He adds that another important part of Mayline's quality emphasis is that customer service is apparent throughout the process. From working with suppliers, to processing, shipping and finally to installation, the company wants customers to have excellent experiences with each and every order.
"One example that comes to mind is during NeoCon, we introduced a new product – e5TM – which is open-plan desking," Coder says. "Our salesperson landed a nice opportunity with a company in Madison, Wis., and installation is happening now. It's going extremely well – a field technician is on site and the end-user is pleased, primarily because the installer took 20 percent less time than was planned.
"We always ask for feedback on how to make things better," he continues. "We review those ideas with our engineering, manufacturing and sales teams and implement the ideas that work. We always work to ensure our customers and end-users are extremely pleased with what we've done."
Delivery & Cost
The third metric that Mayline measures is delivery. The company has the lead times for most of its products listed on its website, and to ensure it can meet those times, Mayline needs its own manufacturing operations and those of its supplier partners to be "very nimble," Coder says. He notes that Mayline's suppliers have been very helpful in the company's ability to turn orders around quickly.
"We keep beating down our lead times to be as short as possible," he says. "Historically, short lead times have been a competitive advantage for us. During our consolidation our lead times stretched a bit, but they are coming back down now. We are dedicated to shipping an order completely when we say we will, and we maintain open dialog with all parties involved to ensure that happens."
Mayline's fourth metric is cost reduction, and its main concern here is continuously finding new ways to eliminate waste. The company wants to eliminate any non-value-added activity in processing and ensure it is not generating scrap. It is focused on making its goods right the first time, and the development of its standard processes is a large part of this. Mayline also is implementing some lean manufacturing principles in its operation to cut costs.
"We are in the process of cross-training to achieve a more flexible labor force," Coder says. "Our employees are absolutely key to our success and are very valuable to our operation, and this cross-training is only increasing their value and the strength of our operation."
With the major improvements Mayline is making in all four of these areas, Coder is confident of its continued ability to adapt to the market and produce quality office goods for a diverse customer base.
"I am really proud of how our team has been responding to everything," he stresses. "We've changed a lot recently and people are working differently, but they're working smarter and working better with each other. We really have a dynamic team in place and they are seeing how much more enriched they are, which helps us overall."