Mayville Engineering Co. Inc.
Mayville Engineering Co. (MEC) Inc. may have its operations spread ac­ross the state of Wisconsin, but it offers its customers a one-stop shop for all their metal fabricating needs. With six divisions under the MEC um­brella, the company offers a diversity of complementary services that give customers the ability to consolidate their product needs to a single supplier.
MEC offers turnkey mechanical and electro mechanical manufacturing service to support the entire product life cycle. At the front end, MEC supports clients by offering design for manufacturing (DFM) support and rapid prototyping, aiding their clients with design validation and speed to market.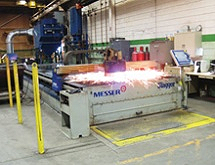 As the product migrates to production MEC offers a complete range of production fabricating manufacturing capabilities which include laser and plasma cutting, NC punching, metal stamping to 800 tons, brake forming, welding including manual and robotic solutions, turning and machining, premier coating services and assembly services that include the ability to take a product to its final state and ship directly to its customer end customers.
"This turnkey manufacturing capability is what customers today are looking for," says Ryan Raber, MEC contract and prototype sales director. "Customers are reducing their supply base and they want a company that can build product to a higher level, build it to the quality specifications and deliver just when the customer needs it."
The company boasts six manufacturing facilities in four Wisconsin locations – Mayville, Berlin, Beaver Dam and Neillsville, serving markets such as agricultural, const­ruction, military, recreational, medical and industrial. While MEC is a Mid­west-based company, MEC ships product throughout the United States as well as international markets.
Catering to Demands
As part of its continuing efforts to remain the industry leading turnkey one-stop shop for its clients, MEC is building a new $20 million facility for its Phoenix Coaters operation in Beaver Dam. The 303,000-square foot structure will house a new electrocoat (e-coat) and topcoat paint system. This facility will be fully operational by June 2010 and is expected to add 150 new employees within the first year of business.
"Currently we see some original equipment manufacturers (OEM) bringing their product in-house in a raw or prime finished state, doing their final coating internally to help control color variation and variance in coating quality," says Tom Verbos, vice president and general manager for the MEC contract and prototype business unit. This causes customers to bring in more parts at a lower level of completion and ties up manufacturing floor space that could be better utilized completing their final end products.
"MEC has state-of-the-art coating capabilities allowing us to build customer's products to a finish coated state and offer full turnkey kitting, assembly and just in time logistical delivery services, improving their available manufacturing floor space, working capital position, inventory turns and reducing the amount of product to be managed."
According to MEC, the latest paint system being added is a combination cathodic SST e-coat and topcoat system – offering liquid and powder – for coating steel and aluminum parts. The company says 15 pre-treatment stages can be run on the SST e-coat system in random sequence without an impact on throughput. The system can accommodate products up to 6 by 8-by 14.5 feet in size and 3,200 pounds per load bar. To give people a perspective of the capacity of this system, it is capable of coating 32 tons of product per hour.
"One of the many things we're hearing from our commercial and military vehicle customers is a demand for e-coat prime prior to other applications," Verbos says. "This eliminates premature corrosion on many products that normally do not have a base e-coat prime. It can be difficult to get complete coverage inside the seams and panels with conventional liquid or powder paint, but an e-coat base covers where conventional coatings can not. We believe that from a capacity perspective, this latest investment will allow us to grow our business by 80 percent, which represents a significant opportunity to continue our growth.
Improved Quality
MEC must cater to demanding clients who expect no defects in their products. Verbos says MEC has responded by implementing a Six Sigma program dedicated to continuous improvement. "We have a dedicated a continuous improvement team and we utilize that process to identify opportunities for improvement and to facility greenbelt projects, engaging people from across the enterprise to drive improvement into the business," he says.
MEC's continuous improvement team shares its improvement successes through all of MEC's facilities, hosting monthly department meetings to communicate and identified addi­tional opportunities for efficiency up­grades. MEC has 15 green belts on staff and continues to expand this culture throughout its business.
"Our ideal would be 50 parts per million (PPM) or less, and that's very challenging," Verbos adds. "We focus on productivity process improvements as well, which correlate to cost savings. Our goal is to identify and implement through value engineering and continuous improvement activities savings in excess of $2 million annually."
Latest Launch
In April 2009, the company launched MEC Engineered Products to better leverage the group's manufacturing capabilities. This division can help customers with product development, mark­eting and product sales, which complements MEC's existing capabilities such as assembly, testing and final shipment.
Ed Paradowski, vice president of engineered products, sits at the helm of this new division after joining MEC in 2009. He says MEC Engineered Products can specifically serve the power generation industry's needs with its bevy of services. "Historically, what MEC has brought to the market has been manufacturing or signature coatings for other people's products. Other than our shotshell reloader, we primarily sold processes, not products," Paradowski says. "The launch of the Engineered Products business adds to the front end of the value stream, especially proprietary products specific to the power generation industry."
This is a big change for MEC, where it typically took a customer's de­sign and developed a product. MEC Engineered Products allows the company to be truly turn key. "In the 1990s, any metal bender could get into this segment and sell products," Paradowski says. "As the power generation market evolved and regulations for fuel tanks came about, metal fabricating and welding are required competencies, but fabricators also have to be adept at coating and protecting steel, electrical wiring and large complex assem­bly, etc.
"With this in mind, the mom and pop metal bender can no longer be a serious player," he adds. "As the industry has evolved, it has required a wide range of capabilities beyond metal fabricating to be viewed as a serious competitor. I believe Mayville Engineering has every necessary capability, making the power generation market a perfect fit."
Verbos added: "We continue to explore organic as well as acquisition opportunities that will complement our business and or expand our reach. We are committed to growing our business and we'll take advantage of opportunities as they make themselves available."