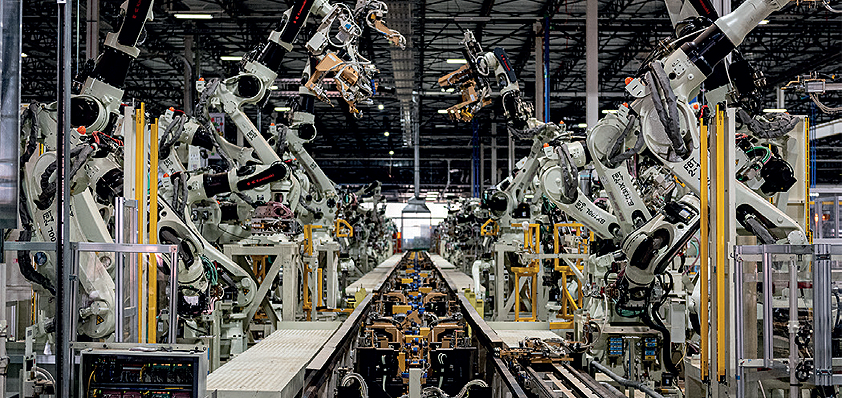 Mazda Toyota Manufacturing
The perfect partnership
The product of a strategic alliance between automotive giants Mazda and Toyota, the multi-billion dollar Mazda Toyota Manufacturing (MTM) automotive production plant will soon see up to 300,000 vehicles a year rolling off of its state-of-the-art assembly lines
Located in Huntsville, Alabama, Mazda Toyota Manufacturing (MTM) is a jointly owned and operated automotive production plant, making up one facet of a strategic alliance between Mazda Motor Corp. and Toyota Motor Corp. Representing an investment of approximately $2.311 billion, the facility is expected to create up to 4000 jobs, and will have the capacity to assemble up to 300,000 vehicles a year, beginning in 2021.
It was on May 13th, 2015 – to be precise – that Mazda and Toyota entered into an agreement to build a continuous partnership that would allow both to leverage their respective resources and complement each other's technologies, with the end goal being to manufacture ever-more appealing vehicles. "As far as MTM is concerned, the most important aspect of this strategic alliance is the establishment of this joint venture manufacturing plant in Alabama," explains Mark Brazeal, MTM's Vice President, Administration. "The idea behind the joint venture is to utilize the creation of a collaborative production process to improve the manufacturing competitiveness of both companies."
The facility itself is a 3.7 million-square foot plant, with two production lines from which it will produce two new model SUVs for Mazda and Toyota, with the plan being to produce 150,000 units of each per annum. "Our manufacturing plant will consist of stamping, body weld, paint, assembly, and quality inspection shops, and it will also feature its own small test track," Mark reveals. "One of the major unique features of MTM, which has been a focus item from the planning stage of the new factory, is the layout that considers efficient internal conveyance of parts from the docks to our production lines. To achieve this objective, we have separated our manufacturing shops so we could add additional receiving docks around the assembly shop. The
assembly lines need to receive many parts from suppliers, so to help improve internal conveyance we have arranged receiving docks on three sides of our assembly shop. This reduces the distance the parts are conveyed from the dock to the production line, thus reducing the travel time and the number of conveyance processes.
"Additionally, the three on-site supplier partners that supply particularly bulky parts to MTM are directly connected to our production line via an enclosed Breezeway that connects the supplier partner's facility to MTM. Therefore, parts can be transported without the use of a trailer and are supplied directly to the side of our production process."
From the early stages of the strategic alliance between the two companies, Mazda and Toyota engineers have been discussing the idea of production flexibility. "The reason for this is because it is very important for us to adjust the production plans of both SUVs using two lines as one vehicle manufacturing company," Mark states. "However, producing platforms with completely different development concepts on the same line is a big challenge. We brought in Manufacturingstandards that regulate the structure of both companies' vehicles and the order in which parts are assembled. In some cases, the vehicle design departments of both companies worked together to determine the specifications of the MTM production line. As a result, we were able to standardize the specifications of the production line for the press, painting, assembly, and quality inspection line."
The incorporation of new technologies is also central to the operation of the MTM facility, and there are several examples of this that Mark is keen to highlight. "The first," he details, "is Mazda's Multi Die Cushion servo press, which can produce up to eight parts in one shot. We have introduced two new large press lines that use a direct servomotor-driven mechanism, which Toyota is good at, to this forming technology of Mazda instead of hydraulically controlled technology. The servo motor enables precise control, and stable production of high-quality pressed parts.
"The second technology advancement of note involves the painting line. MTM has adopted Mazda's 'Aquatech' method, which uses water-based base paint, and is a technology that can shorten the process by eliminating the primer process in the painting booth, while maintaining high quality. It is possible to shorten the process length by 11 per cent compared to the recent mainstream 3wet on coating process, and about 30 per cent compared to the conventional coating line. This helps MTM further reduce VOC and CO2 emissions significantly."
In addition, the robots in the painting booth use a 'High Transfer Efficiency Air-less paint bell' developed by Toyota. "This has a higher efficiency of fixing the paint to the body and can greatly reduce the residual paint material in the booth," Mark continues. "Finally, instead of using the conventional sludge pool that uses water to recover the residual paint, we have adopted a 'dry booth' that collects dust with a cardboard filter. In combination with the High Transfer Efficiency Air-less paint bell technology, which can reduce the residual paint itself, it is possible to reduce the frequency of cardboard filter replacement, which is also a great advantage to reduce environmental impacts. Therefore, the MTM painting line, which combines the three technologies of Aquatech, High Transfer Efficiency Air-less paint bell, and dry booths, can be said to be a symbolic process realized through collaboration between Mazda and Toyota."
Sustainability is another important component of the facility. "Our environmental concept is to be an innovative manufacturing company that can create new value, be trusted by the community, and grow sustainably, by combining the wisdom, technology and skills of both companies," Mark enthuses. "As I mentioned, we have a water borne paint system and the biggest environmental contribution of that system is VOC reduction. Not only this, it also contributes to reduce energy (CO2) because the VOC incinerator at MTM can be minimized due to less VOCs and due to the elimination of a primer oven.
"Another big item is that we are using recycled air-conditioned air from the manual zones for the paint robot zones, which will result in reduced paint HVAC energy usage. Finally, MTM has established a Zero-Landfill approach for all materials. Select approved disposal facilities that are rigidly audited and approved that their methods ensure material reclamation, recycling, or waste to energy programs are utilized."
An interesting and somewhat unique challenge that MTM has encountered in the process of bringing its facility to life has been the high volume hiring plan that it has enacted. "To put things into perspective," Mark points out, "no Toyota plant in North America has hired as many team members in one hiring phase as MTM will do in 2020 thru 2021, making it an unprecedented hiring plan. In 2021, we will average hiring 160 team members each month and that means we will on board 40 new team members each week. MTM could not achieve this type of hiring and training plan without the support of multiple business partners including a state of Alabama agency (Alabama Industrial Development & Training), local community colleges, local high schools including career tech schools, and North Alabama Works which is a regional workforce development state agency. All of these partners are assisting us and we greatly appreciate the support of this workforce development ecosystem."
The hiring and onboarding of 4000 new team members is just step one and the next step is to establish a healthy successful culture at the plant. "Our mission statement is to 'Build trust and loyalty through innovation and collaboration'. I think this speaks to the most important job, which is building trust and loyalty with each other, with our business partners, and with the local communities, especially our customers," Mark imparts. "One specific example of what we are doing as a leadership team is we participate in the new hire orientation every week. This participation includes providing training that is designed to help set the culture. Our executive vice president, Hiro Kagohashi, gives a presentation that is designed to empower our team members to stop the production line if they see or experience any type of situation that could lead to a safety incident or a quality defect. We want our team members to feel completely comfortable to stop the line so one of our top leaders gives the presentation to set the culture.
"This is just one example of an active, hands-on style of leadership. Our management leaders, supervisors, and administration support team work each day to actively demonstrate the spirit of Mendomi, which means taking care of our production team members as if they are a family member. We are actively engaged in working to set the culture, but we also understand it is an ongoing journey as we continue to hire through 2021. Every new hire group is an opportunity to strengthen or weaken our culture and it is up to us to continue to strengthen it. It is not something we take for granted at all."
Bringing our conversation with Mark to a close, the topic turns to what he hopes will be the longer-term legacy of MTM and where he thinks we will find the facility three-to-five years from now. "As you can probably imagine, there is no simple answer to that, but what I can say is that all of us here at MTM are focused on three things," he says. "Firstly, we want MTM to be considered as being a strong, industry-leading business when it comes to its production fundamentals. This will require us to bring real, consistent added value to our parent companies.
"Secondly, we want MTM to be recognized as being a true, 'hometown' company in North Alabama, and one that our local communities can be proud of and our employees are proud to work for. Last, but by no means least, we of course want to produce vehicles that our customers trust and love. Those are three of the most important factors that will help to shape the future of MTM."
Mazda Toyota Manufacturing
Products: Jointly owned and operated automotive production plant
www.mazdatoyota.com