A customer centric approach
Whether a product design seeks differentiation or enhanced cost efficiency, McGavigan combines technical capability with the ethos of listening to deliver engineered plastic components that meet its customers' needs and the markets they serve
From its origins in 1861 through to present day, McGavigan has remained focused on product and process innovation. From its development of the airbag horn switch in the 1990s, the company has used its know-how to develop many new applications and processes, the most recent being the integration of electronic surface technology now being designed for new surface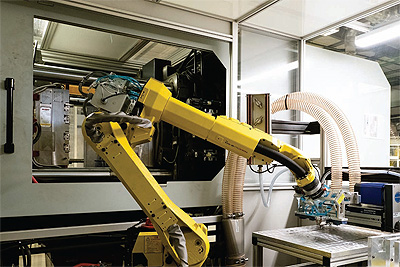 activated products. Operating from two main manufacturing sites, one in Scotland and the other in China, the company uses its processing expertise to deliver high-quality decorative and functional plastic components and assembly modules.
"More than 150 years old, John McGavigan started as a supplier of screen printed materials such as signage and religious materials. Since then, the business has evolved considerably. Where back in the 1970s it was one of the largest producers of membrane switches; in the 1980s it developed extensively into the automotive market where it supplied printed instrument dials and appliques and in the 1990s its was highly active in the then mobile telecommunications market, where it supplied key pads and cell phone covers. Today the company supplies a broad range of technical and decorative plastic components and assemblies that are commonly seen within the car interior," begins Steve Mathers, Director of McGavigan.
With more than four decades of experience in the automotive interiors market, the company's range of products for this segment can be found within the instrument cluster, where the printed decorative and sometimes thermoformed dials are produced. Products can also be found in the main centre control where the company manufactures assemblies such as the climate controls, audio units, gear shift surrounds; and within the doors and IP where the company manufactures and supplies decorative interior trim and window lifter assemblies. "For future vehicles we are also producing the interior lens covers for touch screens, in some cases incorporating the capacitance sensor and separate touch activated buttons," says Steve. "Although automotive interiors is our largest market, we also supply products into the medical and dental health market where we are seeing further growth opportunities."
Proud to convert its customers designs into well-engineered, high quality products at the best possible cost, the company works from its client's design and develops the product via the latest manufacturing processes to ensure requirements and expectations are met. A customer-centric organisation, McGavigan believes in being open, honest and accurate in the advice it provides, as it uses its expertise and experience to select the most appropriate manufacturing techniques and then implement them with precision and efficiency. By setting and agreeing project objectives early on, the company can then focus on delivering the project through a systematic process of product introduction, making sure every aspect of the project is managed in an efficient and simple manner.
Having accumulated an enviable customer base that includes BMW, Daimler, Nissan, Jaguar LandRover and Volvo, the company has confidence in its capabilities and manner of working as it continues to increase in demand and achieve further growth in the market. In response to this, the company has invested in a number of areas throughout the group; for example, it has ensured the company is equipped with the ability to handle large formed and moulded components and assemblies, particular for the interior trim decoration, which is an important growth area for clients.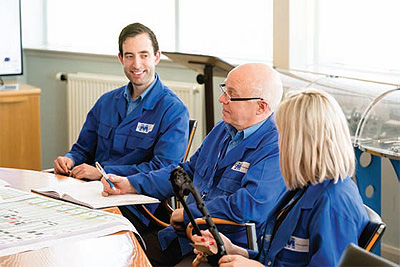 Alongside in mould decoration (IMD) and injection moulding activities, the company also provides painting and laquering, laser etching, screen printing and integrated electronics capabilities at its sites. "Our range of manufacturing and processing technologies is broad, ranging from various industrial printing technologies, precision thermo and thermomechanical forming of polymer materials, to cutting and lasering processes. Other technologies include single and multi-shot injection moulding of up to 600 tonnes, in-mould decoration, including more than two decades of experience in FIM (film insert moulding), in-line painting and lacquering processes and a wide range of assembly technologies; these include semi and fully automated assembly of complex assemblies," highlights Steve.
Keen to further enhance services for customers and boost efficiency, Steve says McGavigan has in recent years invested heavily in robotic automation across all of its production plants. "This will drive efficiency and consistency across our operational activities and increase performance. Additionally, we are also developing areas where manual and robotic processes are interactive through the deployment of cobots that are able to handle routine and repetitive work, which leaves operators free to focus on more task-specific processes."
Confident that the markets it operates in will enable McGavigan to double its scale of operations over the next five years, the company will focus on strategic investment in smart surface technologies as well as the manufacturing capabilities and geographic footprints that are needed to achieve this growth. "It has been encouraging to see the level of success achieved through our team over recent years, turning what was a capable business into a highly successful and effective business in a relatively short period of time. This success has not gone unnoticed, with the company receiving industry awards such as HSBC Exporter of the Year and Scottish Large Exporter of the Year," says Steve.
"Based on past performance, doubling our scale is well within our grasp. To drive this continued success forward, we will respond to the demands of customers in ways that support our cost competitiveness and generate value for investors," he concludes.
McGavigan
Products: Technical injection moulding and decorative plastics