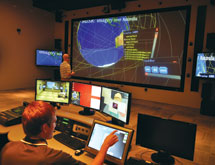 McKechnie Vehicle Components
In 2008 and by the end of 2012, McKechnie Vehicle Components (MVC) will average nearly the same number in annual sales, $80 million and $85 million, respectively. To some, that may signify fairly static growth, but in analyzing the years in between, those revenue numbers actually signify a hard-earned comeback and a strategy to grow well into the future.
In the annals of history, 2008 will long be remembered as the year of bailouts and shutdowns. Although that story is etched into history books, for MVC owners Mike and Linda Torakis, 2008 is the beginning of a turnaround story that has been heralded even by the White House. That year, the husband-and-wife team saw the opportunity to own their own business and purchased MVC.
Mike Torakis has spent more than 30 years in the automotive supply industry, including leadership positions such as CFO and CEO. Linda Torakis boasts a 20-year background in human resources and organization development strategies.
When they purchased MVC, coinciding with the fast and dramatic decline of the automobile industry, the manufacturing company was losing $1 million a month. "At that point, we just wanted to survive," Linda Torakis explains. "In November 2008, the company is losing money, the economy tanks, the auto industry tanks. We were a company with one foot on the banana peel."
But in the midst of industry turmoil, Mike Torakis explains the company did form a strategy. "All our major customers were going bankrupt – GM, Chrysler. We knew we needed to get through that," he says. "We reengineered the company to change our product line and be more diversified and also add more customers."
Previously, MVC was locked into wheels and wheel trimming for the automotive industry. Nine months into the new ownership, Linda Torakis says people began to notice "we weren't going anywhere." MVC, which hadn't introduced any new programs in the last four years, rolled out a list of several new products and services. Today, in addition to wheel assembly, the company offers the following:
DuraClad;
Exterior and interior trimming;
Second surface acrylic;
Chrome plating of plastic and stainless steel;
Injection molding;
Painting;
Stamping;
Tooling design and manufacturing.
Try With a Little Help
Diversifying the company required large capital investment. With the help of a U.S. Department of Agriculture (USDA) Rural Development program dedicated to helping rural business, MVC was able to secure two $5 million loans through the American Recovery and Reinvestment Act. The company's largest manufacturing plant – based in Jessamine County, Ky. – is one of the largest employers in the area and key to the county's economy, according to Jessamine County Economic Development Director Wayne Foster. "They were probably teetering on the brink and may not have been able to put together the restructuring of the financial packages without the USDA guarantee," Foster told The Jessamine Journal.
"They were owned by an investment company in England," he continued. "They [new ownership] seem to have knowledge on how to operate an automotive supply plant. They are an outstanding team at McKechnie right now. They know the business, they have good management."
The numbers are backing up Foster's claim. MVC ended in 2008 with $80 million in sales, but in 2009 and 2010, while the company went through its diversification process, the company averaged $45 million in annual sales. The next year, sales increased to $65 million and the company projects to come full circle by the end of 2012 with $85 million in sales.
"That's the dip that we took to realize these sales," Mike Torakis says. "In the middle of 2009, we started to get noticed as having turned the company around, and we started to get different business and different customers like Volkswagen. They built a plant in Chattanooga, Tenn., and we were awarded with a contract and today supply their exterior chrome on the new Passat, which was the Motor Trend 2012 Car of the Year."
No Place Like Home
The chrome plating is done out of the Nicholasville, Ky., plant, which also provides injection molding, painting and wheel assembly. Its other three facilities are also located throughout the Midwest and Southeast in proximity to its end-users. At its Newberry, S.C., facility, the company conducts stamping and painting services and is capable of producing in excess of 100,000 parts per week. The tooling shop is housed in MVC's Staples, Minn., facility where the company manufactures medium-to-high complexity plastic injection molds, auxiliary assembly equipment and other related tooling. At its corporate headquarters and product development center in Roseville, Mich., all of the design, engineering, sales and support departments are housed in one facility just 20 miles north of Detroit.
Although each facility possesses unique capabilities, they do share a common factor, a factor that the Torakis's explain has been vital to MVC's success. "Mike is a vertical-integration junkie," Linda Torakis admits. "We make everything. We make 85 percent of every thing we can ourselves. From engineering to design to manufacturing, we do much of it in house."
"The most important reason [for vertical integration] is that these parts have got to be perfect," Mike Torakis explains. "In order to make a perfect part, you need a perfect tool or mold that is designed to make that perfect part. When you outsource those things, you lose that commitment to quality of the end product. So we have our own tool shop in order to get the good tools we need and we have our own designers.
"The second reason is for costs," Mike Torakis continues. "When you do these things and you do it well, you're able to leverage that profit margin that otherwise another person would make."
So, while MVC diversified, it also imported a number of services to transition into a one-stop-shop entity. One example is the rack-hanging process for chrome-plated components. Mike Torakis explains it is one of the most expensive things to build, and, like many of its competitors, it was something the company once outsourced. The company invested in the training and equipment to build its own rack for chrome-parts hanging and "as a result, we have a better product and better maintain those tools," he says.
The company is also monitoring future trends to position itself to quickly absorb changing market demands and still keep processes in house. For instance, European manufacturers are leading the way in switching from traditional chrome plating to trivalent chrome, which has proven to be more environmentally friendly while still allowing for design flexibility. The company is investing in a small trivalent chrome plating line and in the next five to six years, as the demand grows, hopes to convert all its chrome plating lines to trivalent.
"We brought in several things," Linda Torakis says. "We do our own wire bending. We used to outsource stainless plating, but we put in our own stainless line. We've really focused on bringing in as much in house as we can and to rely very little on the outside world."
With some monetary help from the USDA and a thorough strategy, MVC has taken itself off of life support and turned itself into a self-sufficient company poised for further growth. The couple, both Detroit natives, are happy to call the city its headquarters, but would like to open a Motor City manufacturing facility in the next 12 to 18 months – even if only to pay it forward.
"From a growth standpoint, we could probably manage with not being in Michigan," Linda Torakis admits. "But for me personally, we both grew up in the city of Detroit. It's about bringing manufacturing back to the state and helping to rebuild Michigan, which really was hit hard by people moving out and the auto industry and the loss of jobs. We could survive if we were not in Michigan, but it's about rebuilding Detroit and Michigan."