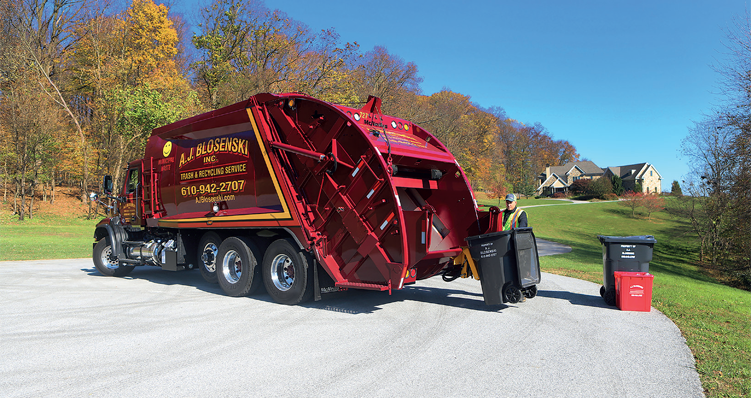 McNeilus Truck and Manufacturing
Refusing to slow down
About four years ago, McNeilus began a simplification journey that resulted in the reorganization of the business into three groups, allowing it the opportunity to leverage the McNeilus brand, its products and direct-to-customer business model with a fresh approach. "We did some deep data analysis with our products and customers and realized we were over-extended in some areas and needed to refocus, so we tightened up our product offerings, which helps our team members start from a winning position on the manufacturing floor and in the field. We created multiple custom programs to help clients with strong growth models, who value a long-term total cost of ownership approach, and who understand the importance of building a mutually beneficial partnership," says Jeff Koga, the Vice President and General Manager of McNeilus Refuse Collection Vehicles
As a business that produces a complete line of rear, front, and automated side load vehicles to augment any refuse collection fleet, McNeilus Vice President of Operations Chad Barnett informs Manufacturing Today of the strengths embedded within the company's operations that have made it a leading contender in the industry. "With McNeilus, our clients receive premium materials, purchasing power, strict welding processes, and a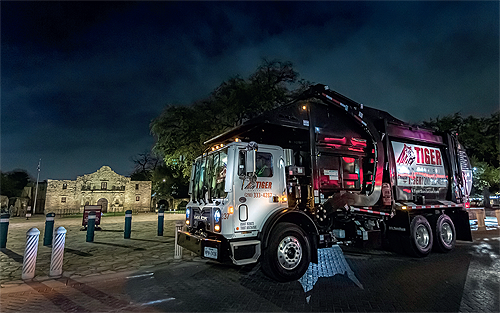 strong focus on quality, to keep their refuse collection vehicle at optimal level. We are the only factory-direct garbage truck manufacturer in the industry, meaning there's only one point of contact for everything from sales and service, to parts and support. Our customers can reach out to our team of refuse vehicle experts to get their questions and needs answered directly from the source," he shares.
The business, which is a subsidiary of Oshkosh Corporation, has its roots planted in building severe duty vehicles for the most demanding environments. "We are able to tap into that expertise for heavy duty trucks to develop and deliver technology and solutions that break new ground and help set the standard for the refuse industry. The McNeilus Fleet Solutions™ program provides our fleet customers with customized support based on their specific needs across their operations. We serve as their dedicated partner in helping plan for truck replacement, future growth and full lifecycle service plans. We also provide customer data and insights to improve the client's business and fleet performance. The McNeilus On Demand™ program offers them fast access to route-ready trucks available when they need them. Through this program, customers can find trucks that meet an immediate need to help fill gaps in their fleet as they plan for future expansions, or to convert a route from manual to automated with greater simplicity," says Matt McLeish, Vice President of Sales and Marketing at McNeilus. These, he adds, are only a few of the extensive abilities the business possesses.
Technology development
Recently the business launched the latest in refuse vehicle automation technology in partnership with Eagle Vision Systems, which incorporates CartSeeker Curbside Automation into McNeilus' Zero Radius™ Side Loader. This feature uses patented AI-based cart recognition technology that identifies and locates curbside waste carts and fully automates the operation of the truck's lift arm without any joystick manipulation. "This helps cycle times, training time, safety, predictable scheduling and maintenance. The side loader also offers a unique and innovative zero-radius operation to combat clearance issues, narrow streets, and alleyways. The arm reaches, rather than swings, to grab cans from 30-to-110 gallons. The McNeilus CODE™ controls system provides complete vehicle diagnostics, and the Zero Radius is also now available with tailgate compressed natural gas (CNG). This easy-to-service, efficient CNG system is field-tested and stands up to the demands of refuse collection. Other upgrades include arm carriage enhancements, upgraded finger pins and finger weldments bushings. The new bolt-on wind guards mean you can replace them as often as needed, and maintenance and servicing are now so much easier thanks to a larger access door on the truck's street side," Jeff shares.
Earlier this year, McNeilus also unveiled a lower cost, lower weight option of its reliable rear loader: the Metro Pak Plus® Rear Loader. This tough truck is said to be well-equipped to withstand rural or condensed areas and helps fill fleet or route gaps. Its compact body size is ideal for weight-restricted roadways, smaller routes, and tighter areas.
Moving to electric
It is imperative that such a wide offering of operations is complemented with an equally extensive range of facilities. With its headquarters based in Minnesota, additional production facilities can also be found in Riceville, Iowa, which manufactures some of the major vehicle components, such as the tailgate for rear loaders. McNeilus also operates 14 branches nationwide, which provide comprehensive services and support to maintain, repair, refurbish and troubleshoot the client's fleet. Above that, McNeilus mobile technicians are also stationed strategically across the US to provide service and support its clients.
Above maintaining a reputation for top-notch infrastructure, the company is also staying neck and neck with the industry's adaptions to the call for more sustainable solutions. Considering the speed of electrification transformations happening within the refuse industry, McNeilus is determined to play its role in incorporating environmentally friendly practices into the core of its manufacturing, since the introduction of CNG. "Currently, there is only one manufacturer of CNG engines in the US and the push to electrification has forced traditional refuse chassis builders to escalate their electric vehicle (EV) strategies. But what many existing companies did not anticipate is the new EV chassis entrants into the refuse market. Some of them are trying to position themselves for a piece of the fast-growing zero emissions vehicle market.
"That being said, the integration of the refuse vehicle body and the chassis has always been a hot topic and is not as easy to implement as it may seem. With the introduction of several new EV chassis models, complexities with these integration projects have greatly compounded," he adds. However, according to Jeff, McNeilus has several advantages when it comes to electrification and electric vehicle integration. "We have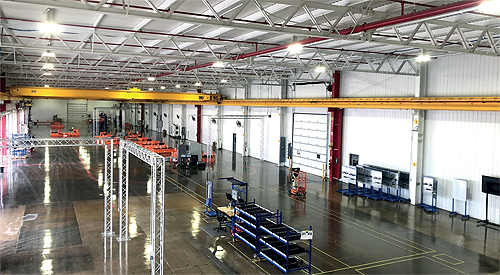 been able to leverage the valuable engineering expertise of Oshkosh Corporation as we go down the EV path. Oshkosh has been working with EV vehicles for more than a decade, which has been critical to understand the research and development around the energy capacity needed to ensure an electric chassis and a hydraulic vehicle body that can work together in the field to satisfy customer needs. McNeilus understands there are going to be many requests for our refuse bodies on EV chassis of all types. So, we took the next step in integration by developing our own electric power takeoff (E-PTO) system that is integrated into the body rather than mounted on the chassis. There are many benefits to this system, but most importantly it gives us the ability to be chassis agnostic with our integration efforts. That means our refuse body will be able to be integrated with any EV chassis regardless of make or model. We are currently piloting our E-PTO refuse body with a partner EV chassis manufacturer, and so far, the results have been great. We have many more of these trucks in the pipeline and expect the EV market to grow exponentially in the years to come," he explains.
Key partners
Despite its already impressive progress, McNeilus is determined to continue transforming its business to support its clients with innovative and trustworthy results. "We've expanded our Fleet Solutions program by adding a new building to our headquarters, which is now dedicated to our joint pre-delivery inspection process that we launched in partnership with our chassis partners. Improvements in lead times and delivery quality will continue to be realized with this unique, collaborative process," he says. These efforts are in attempt to prepare itself for a future in which it continues to surge forward. In early 2022, the business is excited to launch its first production line that features several industry 4.0 technologies, including autonomously guided vehicles for conveyance, a manufacturing execution system, connected tooling, and more. "We couldn't achieve this without our key partners Red Viking and Pro Planner. On top of that, we are employing advanced analytics into our core business processes and our future is looking promising," he adds. As it emerges from the pandemic, the company's tactical strategy to excel in its sector is giving it the necessary push to stay ahead of the competition. Regardless of the challenges, McNeilus continues to strive for excellence in its manufacturing capabilities to service the trucking industry with reliable and leading operations.
McNeilus Truck and Manufacturing
www.mcneiluscompanies.com
Primary service: Manufacturer of refuse collection vehicles