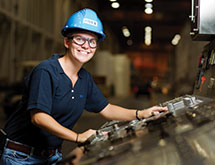 When brands like Procter & Gamble, Kellogg's or Unilever need a reliable source of packaging, they turn to MeadWestvaco (MWV) Corp. "We serve directly some of the largest brand owners in the world," Executive Vice President of Global Operations Robert Feeser says.
Based in Richmond, Va., MWV is a packaging firm that serves the food, beverage, tobacco, beauty and personal care, healthcare, and home and garden markets. Along with brands, "In some cases, we are also selling to converting partners who produce and sell finished packaging to those consumer packaged goods [CPGs] companies," Feeser says.
MWV was formed in 2002 from the merger of The Mead Corp. and Westvaco. Today, "We're either No. 1 or No. 2 in terms of overall position in the segments we participate in around packaging," he says.
The firm is also very diverse in its offerings. "We have both plastic packaging as well as fiber-based packaging," he says, noting the latter comprises the larger share of its business.
MWV has an international reach, as well. "Roughly 50 percent of our sales are outside of the United States, including Brazil and all parts of the Asia/Pacific region, and India," Feeser says.
This January, MWV announced it entered into a combination agreement with Rock-Tenn Co. to create a leading global provider of consumer and corrugated packaging. While that merger represents potential future changes for both companies, the merger is the culmination of MWV's 12-year transformation to become the premier global packaging company, Feeser says.
Although it was once a producer of coated printing paper, "We really have changed our portfolio … and we are now fully positioned to win as a high-quality producer of packaging products," he says.
Before the company made that change, 60 percent of its revenues came from paper. "Less than 20 to 25 percent of the revenues were in packaging," he recalls.
Since then, the balance has shifted and MWV has completely shed its paper operation. "Today, 85 percent of the revenues are in packaging," Feeser says. "The remaining 15 percent is in a specialty chemicals business, which is a very profitable segment of the company."
It is also one that has its roots in paper. "Basically, we're leveraging byproducts from the papermaking operations," he says, noting that the chemicals are used in printing inks, road paving and in oil drilling.
Subject to Change
MWV's end market focus allows it to shift along with the evolving needs of the market place, which recently includes a much greater emphasis on environmental sustainability, Feeser explains.
"Our customers are very focused on developing packaging solutions that are more sustainable and have a clear understanding of the end of life of the packaging," he says.
Having products that fill that need while still providing the same level of performance is important. A current example, Feeser notes, is a technology MWV uses that reduces the amount of fiber in its paperboard products but still maintains the same level of stiffness and product protection.
By having less fiber, "[It] has less packaging weight," Feeser explains. "All of that translates into a much more sustainable answer for our customers around packaging and additionally a lower cost through the supply chain."
The company also is seeing a focus on sophisticated, Western-style packaging in markets such as China and India. "You have a large customer base of over 1.3 billion people in both of those countries that are rapidly moving into the middle class and looking to buy products that are more consistent with premium, Western products," Feeser says.
"Our brand companies in those regions are really looking to 'premium-ize' the packaging as consumer disposable income grows," he says. "They're looking to buy more products that are more upscale and more consistent with what we see in the developed countries."
'Ongoing Cadence'
MWV has developed an excellence system to maintain manufacturing quality. "That really covers all aspects," Feeser says, noting "it incorporates lean and Six Sigma capabilities that drive continuous improvement in productivity, quality and safety performance. It is a holistic approach for how we run our operations day-to-day."
Thanks to MWV's system, "There's standardization in how we run the company," he says, noting that it incorporates visual management and key performance indicators. The process of implementing this system, he notes, has been ongoing for more than a decade.
Today, "We have many trained Black Belts and Green Belts within the company," he says. "At any given time, we have literally hundreds of improvement projects that are going on across all of operations.
"Many people are involved in those just as part of their normal job," Feeser says. "There's also an ongoing cadence of skill building that we have within the company around lean and Six Sigma."
So far, MWV has seen improvements in efficiency and safety. The company's safety rate is within the upper quartile of the industry, "But we're not happy with that," Feeser says. "We're aspiring to build a zero-injury culture.
"We have many operations where we have a long track record of experiencing zero injuries, but that's not true across all of our facilities," he says. "Our aspiration is for [each facility] to achieve that vision of operating injury free year after year."
An Industry Source
Feeser has 27 years' experience with MWV and is proud of its participation in the Technical Association of the Pulp and Paper Industry (TAPPI), a nonprofit association based in Peachtree Corners, Ga. With more than 7,000 members, the association focuses on emerging technologies and innovations for the paper and packaging industry.
Feeser has been a member of TAPPI for more than 30 years, and is a member of its board and executive committee. "It really does serve as one of the key professional education groups that we have within the industry, with programs that range from leadership development to deeper education around technical topics," Feeser says.
"Many people across our company are involved with TAPPI," he says, noting that this includes MWV's engineers. In addition, the company takes part in educational sessions at TAPPI's conferences.
This year is also the 100th anniversary of the association, which will celebrate the occasion with a gala event at the AMA Atlanta Executive Conference Center this April. "We're one of the major sponsors of the 100th anniversary," Feeser adds.
Well-Positioned
The future looks bright for MWV, in part due to "a tremendous amount of growth we see in the emerging markets of packaging," Feeser says. "Our company is extremely well-positioned to take advantage of that. We're positioning ourselves in the international market to be a key partner with major CPGs."
This strategy will include MWV making investments in its growth. Although the company is facing some headwinds in terms of foreign exchange with the U.S. dollar and some cyclically weaker markets, "We believe that those economies are going to continue to grow substantially in the future," he says.
"We believe that, globally, a large focus around packaging and materials innovation is going to be extremely important in all markets," he says. "We know our customers have been very focused on trying to upscale their packaging in the retail world."
Its customers also want to differentiate their products on the crowded retail shelves. One example, Feeser notes, is the personal care industry.
"It is largely a plastic-spaced business," he says, noting that MWV has provided sprayers for cologne and perfume for brands such as Chanel and L'Oréal Paris. "That would be an example of where we've leveraged a great deal of innovation."
Another example is the beer-packaging sector, where innovation is often needed to enhance the design and appearance of the product cartons, Feeser explains. When Anheuser-Busch Cos. LLC partnered with the NFL, its beer products required special packaging to promote that major union.
"There are many, many other examples like this of how we are leveraging insights driven innovation to help drive our customer's brand strategies," he adds.