Drive for growth
Reaping the benefits of a surge in growth in the UK automotive industry, Mecaplast UK Ltd has doubled its size and turnover in the past two years
Mecaplast Group is a worldwide Tier 1 Automotive parts supplier with a revenue of 734 million euros and locations in 18 countries across the globe. The 6000 strong Mecaplast has evolved over the last 60 years to be at the forefront of automotive equipment production activities. "Mecaplast was founded in 1955 in Monaco by Charles Manni and is today a European leader in
plastic injection moulded parts for automotive market applications. We design and develop parts and complete systems for vehicle engines and body applications and support our strategic clients as they go global," begins David Cann, Plant Director at Mecaplast UK.
He continues: "The parts we produce are split into three main categories, engine, interior and exterior, each of which accounts for approximately one third of the company's turnover. Examples of engine parts are associated with air, water and thermal management, valves and housings, while interior parts include pillar trims, garnishes, cockpit and trunk parts; the exterior portfolio includes body side mouldings, painted parts and functional black covers and under trays."
Boasting superior expertise and facilities when it comes to design and development resources, test, validation and measurement resources and calculation resources, the group is able to develop wholly compliant products that offer safety, comfort and performance to customers. Indeed, for testing of products alone, Mecaplast has nine testing and validation centres, additionally, for painting and decoration operations it has paint application facilities on three sites across the globe as well as one external finish development centre. Furthermore, its human resources complement the technical resources, with over 300 engineers and technicians able to take care of projects, from development through to product delivery, on a local basis.
Having achieved rapid growth when it comes to Mecaplast's number of employees and annual sales revenue over the last half century, the company made the strategic decision to divide its sales revenue into two fields of expertise during 2002 and 2003 following a surge in success during this period. The two business segments were Mecaplast's car body skills centre, which focuses on weight saving, CO2 reduction, acoustic, cosiness, safety and quality, and its engine skills centre, which focuses on CO2 reduction, weight saving, soundproofing and performance and reliability. In fact, from 2000 until 2002, the company grew to 580 million euros; this progressed further, with the company achieving revenues of 759 million euros (736 million euros for the automotive industry) by 2007.
Discussing the reasons behind the company's continued success, David comments: "Mecaplast has grown over the years via acquisition and organic growth; we also have a diverse client base and a client-centric business unit organisation that allows strategic product focus as well as for emphasis on innovation. Alongside the international footprint development, these customer focused initiatives have translated into a high level of business awards; this demonstrates the confidence of Mecaplast clients in the group and its strategy.
"As a tier one supplier, Mecaplast understands the needs of the industry to keep moving forward; to stand still is to fall behind in our world," continues David. "With this mindset, driving continuous improvement in all areas of our business, we strive every day to be competitive, with a high level of quality performance that is achieved in a safe environment from our workforce. These strengths perform as the cornerstones for our sustainability. We operate to a clear set of company values that are shared between all Mecaplast employees that have been designed to direct company activity in a positive way."
Alongside these developments, the company also set upon a 3000 m2 factory extension project and invested in four new injection moulding machines in 2013 in response to an increase in contracts leading up to 2016; the company also expanded its workforce at its site in Peterlee, County Durham, to ensure it could handle the increased demands in production.
"Since 2013 the UK site in Peterlee has grown from a workforce of 84 people to 145 due to a factory extension project which saw turnover increase by more than 100 per cent," highlights David. Not a company to rest on its laurels despite this major success, Mecaplast has continued this long tradition of improvement with investments in renewing ageing equipment and the adoption of new technologies to meet changing market demands and customer expectations, as David adds: "Mecaplast is investing in new technology linked to the light-weighting of parts to satisfy the ever-more stringent emission legislations as well as increased mileage needs from both fossil fuel and battery powered vehicle solutions."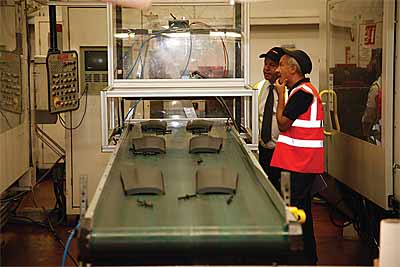 The company has also invested more than £3.5 million in 2016 in a further four injection moulding machines and a partnership with Access Training to enhance the skills of its growing management team after securing a major contract with Jaguar Land Rover. "In 2017, the workload will increase further as a new development project with new client, Jaguar Land Rover, begins production.
"Staff development is paramount to us staying competitive and remaining a leader in the automotive field; we need to be at the top of our game at all times. A pre-requisite to this is the continued improvement of our technical capabilities and process efficiencies through the development of our teams," notes David. "Meanwhile, when it comes to Mecaplast's investments, we do so with a firm eye on the newest technology from the major known brands of injection moulding machine builders and suppliers and will thus strive to bring this technology to our clients through co-operative development programmes. Through these collaborations we hope to serve our clients with the newest innovations in terms of quality, cost and delivery.
"We do not stand still and are already engaged with our clients to understand their needs and strategies for new and potential projects. We then make our internal plans and discuss our own strategies in line with our customers to ensure we are ready and agile enough to support the unique demands of customers, whatever they may be," concludes David.
Mecaplast Group
Products: Automotive parts and complete systems for vehicle bodies and engines