Medivative Technologies LLC
Diverse manufacturing capabilities, a strong management team and the ability to solve customers' problems help Medivative Technologies LLC stand out in the contract manufacturing field. The Indianapolis-based company offers engineering, prototyping, manufacturing, distribution and project management services to customers in the healthcare industry. Medivative Technologies produces products including drug delivery devices and plastic packaging components for the pharmaceutical industry as well as surgical consoles, orthopedic instruments and sterilization trays, President Bryan Bowman says.
Medivative was established in 2002 as a wholly owned subsidiary of family owned contract manufacturer Aircom Manufacturing Inc. Aircom, founded in 1960 as a sheet metal fabricator, since has expanded its capabilities to include plastic injection molding, tooling, electro-mechanical manufacturing, assembly, testing, calibration and packaging. The company also has extensive experience manufacturing equipment boxes for telecommunications companies.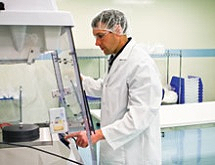 The company represented an effort by its parent company to further diversify into the medical manufacturing field. "Aircom looked at industries we thought we'd have an advantage in that would drive its component making ability," Bowman says.
Medivative operates out of two 15,000-square-foot buildings that eventually will be connected to a new warehouse facility that will begin construction this spring. Aircom's 150,000-square-foot headquarters is located on the same campus.
As Aircom and Medivative are in close proximity to each other, they are able to share resources and knowledge, which works to Medivative's advantage. "We're fairly unique in that we have access to a wide variety of manufacturing capabilities and a wide range of services," Bowman says. "I feel we are a dominant regional player in our market growing more into the national level."
Medivative is ISO 13485 certified and registered with the Food and Drug Administration's Center for Drug Evaluation and Research, which allows the company's operation to handle, ship and package pharmaceuticals. Aircom is ISO 9001 certified.
Manufacturing Operations
Medivative Technologies has the ability to produce both high cost and low volume products like surgical consoles, as well as lower cost, higher volume disposable medical components.
"Because of the diversity of what we do, we have to focus on the specific product's business model," Bowman says. "Some lines run the same product for a long period of time, others may only run four times a year; we set up manufacturing processes specific to each product."
Manufacturing efforts are focused on assembly and coordinating the supply chain of components received from Aircom and other suppliers.
Using the parent company as the chief supplier of component parts allows Medivative to reduce manufacturing costs and time to market for customers, Bowman says.
The company uses both manual and automatic assembly processes. Assembly processes include gluing, curing, and ultrasonic welding. Medivative also offers packaging and labeling services.
Medivative's medical device production capabilities will be enhanced with the recent addition of a new device assembly room and new injection molding facilities and presses.
The new assembly room features a controlled environment with positive pressure atmosphere, while the new presses give Medivative the ability to produce components in-house and handle higher volumes, he adds.
The company's manufacturing is driven by lean manufacturing, 5S and Six Sigma methodologies, depending on the product and client.
"We look at which tools are best utilized for each type of situation," Bowman explains.
"We're different from manufacturing companies that focus on a narrow niche; what's allowed us to evolve is our diversity in different types of manufacturing."
High Quality
Because of the industries Medivative's products are used in, quality control is of the utmost importance.
"With medical devices, quality is a given," Bowman stresses. "We de­velop and manufacture each product as if it's going to be used on one of our own family members.
"Our customers are looking for our products to ship on time with zero defects, and expect us to provide a great deal of additional value, service and responsiveness," he adds.
The company's quality control system is organized to emphasize continuous improvement and ensure accurate designs and products that meet or exceed customer and regulatory requirements.
The company's quality control system is powered by a product lifecycle management database that provides:
Management of documents and records;
Complaint handling;
Nonconforming material disposition and trending;
Closed loop corrective and preventive actions; and
Optional Web-based access and electronic approvals.
"Medivative Technologies em­ploys an integrated total system approach to quality management; our quality activities are not limited to inspection and test," the company explains. "Quality is considered at the earliest stages of design, product transfer and throughout the product life cycle."
'An Enjoyable Culture'
Medivative's strategy involves continuing to expand its capabilities, resources and facilities, while also retaining an open, family focused atmosphere throughout the operation, Bowman says.
"Being a family owned company, we're very family focused, and have had some employees who have been here for more than 30 years," he stresses. "Even as the economy has gone up and down, we've re­mained focused on being an asset to the community by providing
jobs locally."
The company's core values are learning, engagement, accountability and being proactive, or LEAP for short. "We have a very enjoyable culture to work in," Bowman says.
​