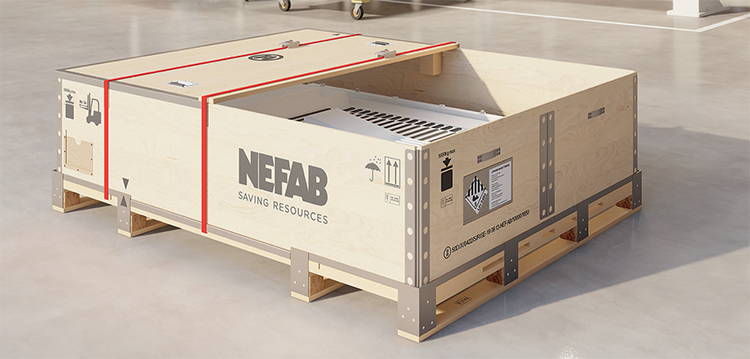 Meet Nefab Group, the global packaging and logistics company at the forefront of sustainable solutions
With more than 70 years' experience and an established presence in over 30 countries, Nefab Group (Nefab) is a global company that offers packaging solutions and logistics services to customers all over the world. With a strong engineering background and global capabilities, the business provides complete packaging solutions, logistics services, and optimization programs that save financial and environmental resources in its customers' supply chains.
Operating across various industries, including automotive, healthcare, aerospace, and telecom/datacom, Nefab produces efficient solutions by collaborating with its customers. We spoke to Christopher Fuchs, Managing Director, Nefab Packaging UK, about its sustainability mission and what makes the company so unique.
"We design our solutions with a strong focus on high performance transit packaging that offers superior protection for our customers' products, while simultaneously helping them to reduce their environmental footprint," Christopher begins. "We are one of a few global companies that manufacture, design, and distribute complete packaging solutions on an independent material basis, using a broad range of mediums, such as wood, steel, plastics, and paper.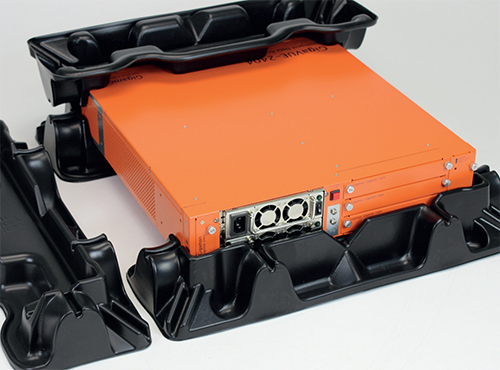 Innovative solutions
Nefab has brought numerous innovations to the market, including FiberFlute, a sustainable solution that serves as an alternative to foam. This internal packaging product effectively cushions items in both dry and humid conditions and can resist multiple drops. It is entirely made from paper, meaning it is 100 percent recyclable.
In addition, the company created EdgePak Straw, which is a fiber-based alternative to traditional sheet materials such as corrugated paper, plywood or OSB. Its strength performance is such that the material is used in the application of new UN-approved dangerous goods transportation of lithium-ion batteries. This straw-based solution is moisture-resistant, easy to assemble and load, and can be customized to meet specific requirements. EdgePak Straw is also as strong as typical plywood, meaning it can stack up to four tons. It was initially created for a global car manufacturer, keen to reduce its environmental footprint. Opting for straw-based packaging saved more than 1000 metric tons of CO2 every year. In 2022, EdgePak Straw won a German Packaging Award in the Sustainability category, with the judging panel impressed by the environmental savings afforded.
In partnership with German engineers, GelKoh, Nefab also operates the LiBa Rescue system. Designed to reduce financial cost and environmental impact, LiBa Rescue enables the safe recovery of damaged or crashed electric and hybrid vehicles, and specifically their integrated lithium-ion batteries. Prior to the LiBa Rescue system, in the event of a crash or accident, emergency services often had no choice but to submerge the vehicle in water to eliminate the risk of fires. This is often a precautionary measure, resulting in damage to the vehicle itself, high financial costs, and thousands of liters of water turned into toxic waste.
However, "LiBa Rescue is a water-free solution, so it protects emergency response teams from electrocution, projectiles and fire, as well as saving around 50,000 liters of water per rescued vehicle," Christopher explains. "It is easy to handle and maneuver, and two operators can secure a vehicle in as little as three minutes. It can be used throughout the process of transportation, allowing the experts the time they require to analyze the status of the battery." All potential risks have been considered so that LiBa Rescue provides safe, stable transportation; it includes a ceramic lining to prevent fuel from a hybrid vehicle escaping, and the woven material is self-extinguishing, with a gas-management system to neutralize harmful gases such as hydrofluoric acid.
Supporting the circular economy
Talking about solutions for customers in the lithium-ion battery segments, Christopher continues: "Our logistics and rental services are unmatched by any other company in the industry, and so attract a large proportion of our customers." By combining packaging needs and logistics services, Nefab ensures efficiency in the supply chain, as well as reducing financial and environmental costs. Its pooling services provide clients with extensive flexibility; instead of a client investing its own capital in packaging, it can rent returnable packaging from Nefab in many different sizes and capacities ranging from a few kilos to 3.4 tons of max gross weight. As well as increasing flexibility, Nefab's rental services are an environmentally friendly and profitable alternative to one-way packaging.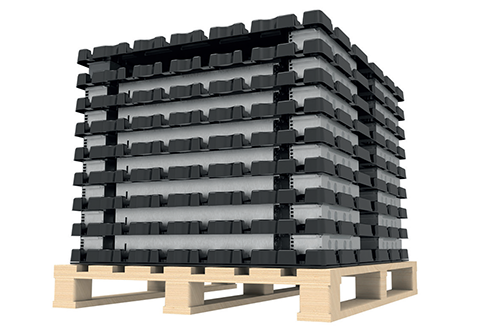 Turning to the people side of the business, Christopher says: "Considering that we have over 4000 employees spread across the globe, we still manage to maintain an intrinsic family feeling. We remain connected to our roots in the beautiful part of Northern Sweden where the company was founded and take inspiration from its blissful nature and sublime surroundings.
"Sustainability has been an integral part of the company´s DNA since the foundation. "We have been members of the UN Global Compact for around 12 years, for example. Our sustainability focus is increasing every day and we are one of the first companies of our kind to implement circular packaging products, meaning we can reuse materials to minimize waste."
Further evidencing its commitment to be a leading green industrial packaging company, Nefab has internally developed an environmental impact calculator, GreenCalc. Christopher elaborates: "We have life cycle analysis tools that assess the impact of proposed packaging compared to alternative solutions, and then our customers can make informed decisions." By providing a complete, transparent assessment of proposed packaging and logistics, Nefab can promote the advantages of its own sustainable solutions.
"Moving into 2023, I'd like to see increased uptake of our circular solutions, as they are a great way to save resources," Christopher concludes. "More and more of our customers are using our analysis tools and eventually swapping to more sustainable solutions, which is really great to see. I also want to maintain our reputation as the go-to company for lithium-ion battery transport. After working for Nefab for 26 years, across many roles in various countries, I am excited to support the company on this path of continual growth."
www.nefab.com