Expanding possibilities
At the centre of a range of demanding sectors, MEP delivers precision products and services to the highest levels of quality
A visit to the MEP website immediately gives an insight into the beliefs that drive this ambitious and forwardthinking company. Through the use of the clever strapline 'Beyond Making Everything Possible', MEP lays out its approach for clients – whatever they need in the way of moulding and machining, MEP will do its utmost to not only meet their expectations, but exceed them if it can.
Having successfully served the Aerospace and Defence sector for four decades, MEP's ability to deliver on this promise is predicated on a combination of vital experience, impressive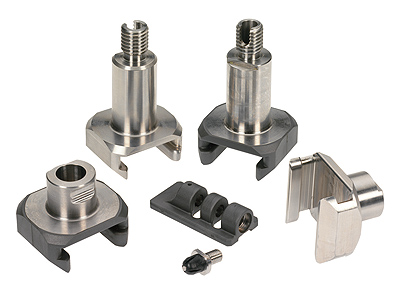 technology and an appreciation of customer needs. "We understand what is important and how we can best address the challenges and requirements of our demanding and highly regarded customer base," agreed Alan Fisher, MEP's Business Development Director. "We pride ourselves on delivering manufacturing excellence in both plastics and metal, offering customers a comprehensive range of manufacturing practices, ensuring high quality results at competitive prices. In fact, it's the wide scope of our manufacturing capabilities that attracts customers to MEP, as they can procure multiple components types from one organisation, therefore streamlining their supply chains."
Such has been the success of MEP's approach, that as Alan highlighted, the company is seeing a growing trend from its existing customers to look to MEP to deliver more, whether that be the machining of metals and plastics or moulding plastics. "Due to our high quality and performance, customers that traditionally bought plastic components from us are looking at us to supply machined metals, the same can be said of customers who traditionally buy machined parts approaching us for plastic solutions.
"Thanks to a forward eye on the horizon and working collaboratively with our customers, our on-site facilities now provide a complete manufacturing environment, from research and development to delivered components; while our highly-skilled, experienced workforce use best practices to deliver parts on-time and to specification – a vital requirement in this sophisticated sector," he continued.
Of course, maintaining the level of service and operation that MEP has established requires a healthy investment philosophy, and as Alan explained: "Our focus when investing is very much on making the best use of technology, buying new, advanced machinery to improve productivity, reduce costs, decrease lead times and increase agility/flexibility to be able to react to our customers' urgent needs. We are actively looking at new capabilities and technologies to enable MEP to add more value for our customers. "So, we work collaboratively with our clients to obtain a clear understanding of their strategy, and then we look to align our investment decisions to achieve mutual growth. A prime example of this is an investment we've made in advanced machining, where we've bought technology with multi-axis and lights out capability, which will drive improvements in productivity and work towards Industry 4.0."
This investment approach also extends to investing in knowledge, and this is undertaken through a combination of its own internal Research and Development programme and involvement in innovation projects – these help MEP to understand the challenges the industry faces and then work on solutions that meet, or better exceed, those needs. "A perfect example of this is our work with AEMTA – Advanced Electrical Machines Technologies for Aircraft – a large R&T project, which responds to a strong strategic market need that will establish the UK as a key future supplier of advanced high added-value products for the More Electric Aircraft (MEA) concept, and us as a key partner in the supply chain at this level of technology," Alan elaborated. "The project is led by Safran Power UK, working with an extensive supply chain and academic researchers, addressing high performance and environmentally robust electrical products."
Acknowledging the importance of MEP's role, the company has been awarded a top supplier award from Safran, across the whole of the Safran supply chain for implementing and delivering engineering and manufacturing excellence. "Recently we were also recognised by Safran for supporting their technology initiative to develop technologies leading to the More Electric Aircraft," added Alan.
Clearly this project has already brought multiple rewards, and these include the encouragement of creating alternative ways of considering the entire design process: "The activities undertaken in the AEMTA project (www.aemta.co.uk) have helped us to challenge conventional thinking about the current approach of metallic housings, lengthy machining and assembly processes through the encapsulation of complex assemblies, and advanced manufacturing and machining," confirmed Alan.
Given the success that MEP has seen over the 12 months since last being featured in Manufacturing Today Europe, it is no surprise to learn the organisation has seen significant growth and been successful in winning new business on multiple platforms, both in the civil and military sectors. "This new business will make good use of all of our manufacturing capabilities, to supply a wide range of componentry and sub-assemblies too," said Alan. "We have several strategic target customers that we have been speaking to over the past 12 months and we are now seeing that dialogue turn into orders. There are many areas where we see potential growth all based on the positive growing demand for passenger aircraft."
In order to ensure that MEP is advertising its extensive range of capabilities to the aerospace sector, the company is exhibiting at the Farnborough Airshow. Alongside continual promotion of the 'Beyond Making Everything Possible' ethos of the company, Alan highlighted another exciting development that will be announced: "We expect to have a formal launch of our new Virginia manufacturing facility at the Show," Alan revealed. "This is designed to aid us in working with our customers to provide the services they need, locally in the US.
"The more we promote what we can offer, and the customer base gains a better understanding of our vast range of capabilities, the more opportunities we see. It's true to say that we have been very humble about our capabilities and performance in the past. We have a great offering for both our existing customers and new ones – I believe we will see our new customer base grow over the next three to five years. Additionally, continuously improving our service produces increased orders, as we build even stronger relationships with our customers, though understanding their needs and expectations, then delivering on them."
Alan is confident that MEP has the right strategic plan in place to double in size by 2023. "We have the right foundations, team and growth opportunities to achieve this; through forging even stronger relationships with our customers, having a joint understanding of their strategy and them of ours, working collaboratively to achieve their goals and objectives, we will continue to grow in a managed and sustainable manner," he stated, before adding a note that MEP's growth plans also include a target for charitable activities: to generate £40,000, reflecting its 40 years as a successful aerospace manufacturer. "Over the past 12 months MEP has undertaken many charity activities as part of this target," Alan concluded. "To date we have raised over £20,000 from a variety of events including charity runs, dragon boat races, Three Peak Challenges and full blown marathons. All the money raised is going to local charities within our area." This money should help worthy causes Make Everything Possible for those that really need it – proving that MEP's dedication extends beyond its four walls and out into the community.
MEP Ltd
Services: Manufacturing business that specialises in moulding and machining