Judged on its merits
With innovative thinking and industry-leading technology at the core of its strengths, Merit continues to defy the odds by growing not only in size, but also in the strength of its capabilities
At its heart, Merit is and always has been seen as a dedicated engineering and construction company. Yet, as it is proud to confess, the skills of its people and its unrelenting drive to excel has allowed it to become a provider of an ever-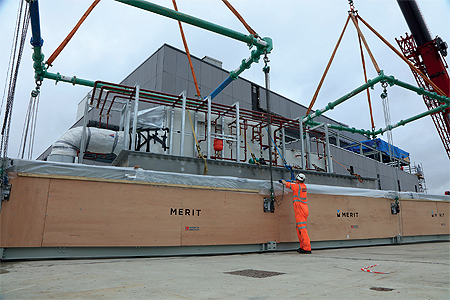 increasing range of services to its clientele. These range from design and to to prefabrication and modularization, and from installation and validation of process systems to mechanical and electrical services.
An award-winning business with offices located throughout the UK, Merit's Managing Director Tony Wells has been in the role since 2002. "Back then, I was actively looking for an existing business that had the potential to be turned into a tier one, clean room design and build entity, capable of taking on more complex, technical turnkey projects, and Merit more than fit the bill," Tony begins.
Together with an entirely new management team that he brought into the company, Tony and the team welcomed a dramatic growth period with turnover increasing ten-fold to approximately £20 million in the space of six Merityears, taking in work both at home and abroad in Europe, Asia and Australia. Following the financial crisis of 2008, Merit consolidated much of its activity back into the UK, focusing its clean room services on industries such as the healthcare sector, which proved profitable.
"In 2015, we undertook what I would call a complete rethink of our existing business plan in order to determine how we could best position Merit for significant future growth," Tony explains. "It was at that time that we made a commitment to only be a tier one contractor, working exclusively with project owners. This would give us the added security of payment and the ability to really affect the design of said owner's projects in a truly positive way.
"We also elected to eliminate two suppliers from our business model, meaning that today we only work directly with imbedded tier three suppliers or handle the supply element ourselves. Our capabilities include self-delivery of complex packages of work such as clean and dry room installation as well as M&E services installation. This has resulted in a significant ramping up of our BIM and offsite manufacturing capabilities. More recently, Merit has begun moving into the realm of CFD analysis, which will mean that we can effectively design buildings digitally, thus making us a fully vertically integrated company, which is something very few other players in our space can claim to be."
Among its growing list of contracts, Merit can today be found providing new build and refit projects for high-end manufacturing and clean services in the health, pharmaceutical and bio-pharmaceutical sectors. "Here, we are delivering design and layout solutions for clean room and dry room facilities, in a pre-designed and pre-manufactured format, three-quarters of which is created within a factory environment," Tony details. "This process is somewhat revolutionary within this area of the construction industry, and has allowed us the opportunity to greatly increase Merit's productivity."
To support this, the company has made sure to invest capital back into its own infrastructure. "One of the things we have done is increase the capacity of our factory by 40 per cent, and we would like to double our existing capacity again in the short-term," Tony adds. "As we are now also doing things like fabricating and manufacturing proprietary dryer delivery systems for HVAC duct work, we have also purchased a number of new pieces of equipment, such as a brand-new CNC bender to improve the efficiency of our fabrications. Meanwhile, to support the increase in BIM activities we have purchased a new factory building opposite to our existing facilities, which our team moved into recently and will be used primarily for tending and design operations."
Merit's efforts over the years have been recognized by a number of industry bodies in the form of several prestigious awards. Among these have been the North-East Business Awards' Northumberland, Tyne & Wear Company of the Year, in both 2008 and 2018, and the 2014 CIBSE Building Performance Awards' Refurbished Project of the Year (value over £5 million) for its work on the HVAC roof infrastructure of Harrod's flagship Knightsbridge store in London. "Obviously, receiving any award is a fantastic achievement, provides a wonderful morale boost for our people, and helps us to raise the profile of Merit to a broader audience of potential clients, and also allows us to attract new talent into the business," Tony enthuses, before revealing that the business had also just been shortlisted for the Offsite Awards in the category 'Best Use of MEP and POD Technology' – up against some very large contractors.
New business venture
Tony then returned to the topic of his staff and finding the best people. "When it comes to recruiting new members to our team, we are completely open as to whether they are male or female, young or old. Our focus is not so much on what kind of experience they have – although this can of course be taken into consideration – but rather whether they have a can-do attitude, are pro-active when it comes to their work, possess strong intelligence, and show a real passion for innovation. It is those individuals who meet that criteria that have shown themselves to be so integral to our increased productivity and growth. In short, if someone considers themselves to be hardworking, pro-active and keen for a
challenge, then Merit is definitely the place for them!"
Turning our discussion to some of the more recent projects that Merit has been involved in, there are two that definitely stand out in Tony's mind. "In a speech made by UK Prime Minister Boris Johnson back at the start of 2020, when he was talking up the country's drive to be at the forefront of new technology and innovation, he made specific mention of gene therapy and the electric vehicle battery market. As fate would dictate, Merit was already responsible for building the UK's flagship facilities for both of these sectors.
"In the case of the former, Merit was chosen to the deliver the second and third phase expansion of the Cell and Gene Therapy Catapult (CGTC) manufacturing centre in Stevenage, England. This has proven to be a tremendous opportunity for the company to demonstrate our offsite construction expertise in a bio-pharmaceutical environment, alongside a tremendous client to work for."
Merit also now finds itself in the midst of providing the fit out for the clean rooms and dry rooms within the UK Battery Industrialization Centre (UKBIC) near Coventry. This flagship facility for bringing battery manufacturing to the UK forms part of the UK Government's Faraday Battery Challenge, which is designed to ensure that the country leads the world in the global transition to a low carbon economy. "We have been tasked with building all of the technical spaces around the battery manufacturing process, and we currently find ourselves in the midst of the commissioning phase," Tony says. "As with our work on the CGT Catapult, this is being executed via higher levels of offsite manufacturing and construction, utilizing pre-designed elements that allow us to deliver facilities that would traditionally take one or two years to go from inception to completion, in a matter of months."
As mentioned in passing above, the focus of the business in the coming three-to-five years is to significantly increase its manufacturing volumes and thus also the number of projects it takes on. One of the ways it hopes to achieve this is through the forthcoming launch of a new business venture, Merit Health. "This will be a business that will be solely focused on our clients within the healthcare space and on providing whole hospital delivery," Tony proclaims. "We have high expectations for it, and hope that within five years' time it is turning over around £250 million, which would be a very sustainable, profitable level. Its success will also make a step change improvement in infection control in the hospital arena, delivered through 75 per cent offsite manufacturing. Together with our work in the gene therapy and battery manufacturing spaces, Merit Health will play a critical role in the expansion of the wider Merit operation, and we look forward to meeting our many aims."
Merit
Services: Offsite construction specialists
www.merit.co.uk