Metal Sales Manufacturing Corporation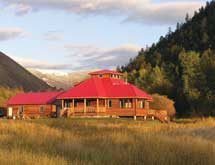 Aside from the nation's breadwinners, few deserve more credit for putting a roof over Americans' heads than Metal Sales Manufacturing Corp­or­ation. For more than 45 years, the company has been providing metal building products for residential, architectural, commercial and agricultural custom­ers with an emphasis on selection and service. According to President Jim Waldron, the company has the manufacturing capabilities and the know-how to hold onto its position in the marketplace while many of its competitors continue to struggle through the recession.
Founded by E.L. Stephens and C.L. Baird Sr. in 1963, Metal Sales was developed after the founders tried unsuccessfully to convince their former employer that custom roofing and siding products would be the wave of the future. At first, the company could not afford a roll former and concentrated on distributing siding and roofing products. Eventually, the company purchased a roll former and by 1969 was successful enough to open a second plant in Nashville, Tenn.
Today, Metal Sales is one of the most successful providers of metal roofing, siding, and building products in the nation, with 20 branches across the country. Waldron says the company's products are available nationwide and even in certain overseas markets. Nearly two-thirds of the company's business is through distribution to lumber yards and home improvement retailers including DoitBest, Home Depot and Lowe's.
"There are six or seven major players in our marketplace, and then there are hundreds of small players," according to Waldron. "By our best calculation, we are No. 2 in terms of tonnage [sold]."
The Local Level
Waldron mentions that there are numerous reasons for the company's success over the years, not the least of which is the broad selection it offers. "We have over 75 different profiles or shapes that we can make the panels look like," he says, adding that those styles and products are available in more than 150 ENERGY STAR® listed colors.
The company's manufacturing facilities are another competitive advantage for Metal Sales, according to Waldron. With numerous locations scattered throughout the country, the company can provide localized service even as it maintains the presence and strength of a national powerhouse.
"We have the largest footprint of manufacturing facilities, and that puts us closer to a number of our customers," Waldron notes. "We also have the largest sales force in the industry."
A big part of the reason why Metal Sales' branches can provide custom­ers with fast, responsive service is the fact that each branch is empowered to make key decisions at the local level.
Without the red tape that comes with having to check in with the corporate office, Metal Sales can turn around customers' orders in about one or two days, typically. "We try to be the easiest company to do business with," Waldron maintains.
According to Waldron, the corporate office doesn't get involved with dictating the branches' inventory, either. "Each branch decides what to stock based on what their customer base buys," he says.
Lean manufacturing principles have played a big role in helping Metal Sales maintain its competitive advantage in the industry, Waldron mentions. He cites the use of 5S, Six Sigma and other lean manufacturing tools as preferred methods of continuous improvement through­out all of the company's branches.
Competitive Edge
Due to a relatively low barrier to entry in the roll-formed metal panel market, one of Metal Sales' biggest challenges is dealing with the intense competition it faces from small up­start companies. Many of these small companies try to emphasize features other than quality to lure customers over the short term, as opposed to Metal Sales' focus on customer satisfaction.
According to Wald­ron, some of these small companies try to differentiate themselves by emphasizing extremely fast turnaround on specific products. In these cases, it can be hard for customers to turn down a quick turnaround, even when the quality of the finished product leaves something to be desired.
"So even our one-day lead time sometimes isn't enough relative to the competition," he adds.
However, most of these start-ups cannot provide the added service Metal Sales is capable of, including its wide selection, extensive panel testing and ability to stand behind its products. For example, the company provides a 45-year paint warranty on many of its painted products.
"A lot of times, these smaller companies aren't able to [provide that warranty]," Waldron maintains.
Although many of Metal Sales competitors have responded to the recession by laying off salespeople or centralizing customer service, Waldron says the company doesn't believe that is the way to improve business. The company believes in forging long-term relationships with its customers, and having the right people in place is the key to accomplishing that.
Waldron says having continuity in Metal Sales' work force is one way to give customers peace of mind, and the years of experience its employees have earned over time is too great a resource for the company to lose.
"Our people, frankly, set us apart," he says.