Metaltech-Piasecki is steel
In 1981 Stanislaw Piasecki established a company, Metaltech-Piasecki Sp.J in Czosnów, near Warsaw in Poland to carry out the processing of metal.
Throughout its 27-year history, the company has experienced some major developments and expansions to achieve its current strong position. Growing steadily since its inception, Metaltech-Piasecki successfully achieved its first exports to Sweden and Germany in 1985. This was also the year that Stanislaw Piasecki's sons, Rafal and Pawel Piasecki, decided it was time to join their father's business. A year later and the company launched its first production of road safety equipment.
In 1991, Stanislaw Piasecki made a significant decision to buy land in Ciechanów for a factory. This 17,000 sq metre plant is based in the industrial area of the city, forming the foundations for Metaltech-Piasecki in its existing form. Three years later and the company started its first hot-dip galvanised plant as well as the production of car lifts. The next investment came in 1999 when the company opened its powder coating facility, which was simultaneous to the modernisation of its plants with the purchase of up-to-date CNC machines for the processing of metal parts.
Pawel Piasecki, the joint owner of Metaltech-Piasecki, states: "Twenty two years of growth, expansion and healthy investment saw us achieve our first accreditation when we gained the ISO 9001:2000 standard in 2003. Following this success, the company made the decision to build a new hot-dip galvanising plant that was technologically advanced, state-of-the-art and environmentally friendly, and today we are capable of galvanising 100 tonnes per day."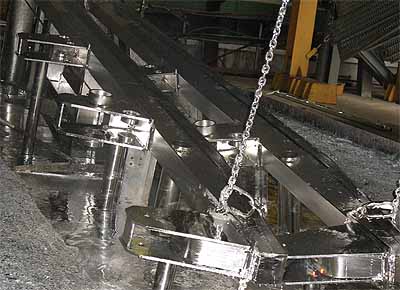 Today the business is divided into two main segments: the main part of which specialises in the processing of metal and anti-corrosion protection products as well as the galvanising of steel construction. The second area of its business is its logistics service – with its own fleet, it delivers products directly to customers. The technological and production capabilities of the company deal mainly with mechanical workings of metal including the processing of sections, shapes, sheet metal, pipes and plastic working, heat treatment as well as executing tasks within the scope of welding of structures and part, anti-corrosion protection (hotdip galvanising) and paint coatings (powder painting).
"We serve a wide range of customers in different sectors including machinery and devices, automotive, agriculture, road safety equipment, medium to small architectures and road-bridge engineering. In other words, we supply any sector where metal is needed," states Rafal Piasecki, Metaltech-Piasecki's joint owner.
He comments: "Eighty-five per cent of our products are exported out of Poland predominantly into European markets, with the main countries being Germany and France. We are currently penetrating other markets including the Baltic States with our focus on Lithuania and Latvia specifically. Considering opportunities to expand our scope, we are looking into countries where there has been a significant neglect in the infrastructure. We are considering Russia, Ukraine and Belarus as very interesting prospects for us and hope to be able to penetrate these markets very soon."
The steel industry is still expanding, offering many opportunities for growth and Metaltech-Piasecki is optimistic that it can take advantage of this growth. "The usage of steel is still applicable in a wide array of sectors and finds use in every aspect of our lives especially in the automotive and engineering industry. With these industries expanding, the demand on steel products will continuously increase," comments Rafal.
Continuing, Rafal adds: "We have a long-term strategy of expansion planned and this will not only involve our local markets but also the increasing potential we can see in other markets that will give us a competitive edge. In general, we are also expanding our co-operation with our long-standing customers. Year-on-year we have been increasing our turnover steadily and this is down to our winning formula of '80/20', which is based on the fact that 20 per cent of customers generate 80 per cent of income whereas the other 80 per cent of customers generate 20 per cent of income."
Pawel concludes: "In the next three years, we aim to improve our production and modernise our plants in order to help us meet our customers' increasing demands. Metaltech-Piasecki has come a long way from a one-man company to where it is today – a success story that makes my father proud. I am quietly confident that Metaltech-Piasecki will continue to grow and expand despite ongoing challenges in the marketplace."
Metaltech-Piasecki Sp.J
Products: Steel
Sites: Two in Poland
Employees: 620
www.metaltech.pl