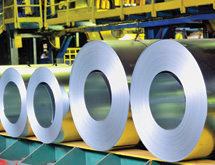 Metform International Ltd.
Manufacturers in a variety of industries have trusted Metform International Ltd. to provide the equipment they need for roll forming and coil processing for more than 45 years, and President Mark Volkmann says the company's success has been no accident. In addition to the overall high quality of the equipment Metform International builds, Volkmann says the company's ability to create complete solutions for its customers' needs has driven its success over the years and should continue to do so well into the future.
Metform International was founded in the United Kingdom in 1968, and opened its first branch in Canada in 1980. Although the company shuttered its U.K. operations in the early 2000s due to the poor economy there, Metform International has found a new home in North America serving a broad range of customers. Volkmann says the company's customer base includes some of the largest manufacturers in the automotive, metal building and heavy gauge industries, although the majority of the company's work is done for the automotive sector. Its equipment is used to manufacture automotive bumpers, agricultural grain bins, highway guard rails and numerous other products.
Multiple Services
Volkmann says the fact that Metform International builds equipment for two distinct functions is one of its primary advantages. "What makes Metform a little unique is that we do both roll forming and coil processing," he says, adding that the company's original focus was on coil processing but it added roll forming later.
The company's chief area of distinction is in its ability to help customers do custom work internally. Although some of the company's competitors are content to simply manufacture their equipment and sell it in a one-size-for-all configuration, Metform International will come into a customers' production facility and help them create the configuration for their exact purpose.
"Our customers come to us on a program that they're producing for their customer, and they ask us to make tooling and equipment for that particular program," Volkmann explains.
This means that Metform International is capable of designing a full solution for customers, even incorporating their existing equipment if necessary. "We design for the customer's finished product," Volkmann says. "We've fallen into that niche, if you will, so we'll take on the more challenging projects in the market."
Automotive Success
The company's ability to take on challenging projects means that some of the largest OEMs in the automotive industry have complete confidence in Metform International, Volkmann says. Although the details are still confidential, Volkmann says the company is working with a major auto manufacturer on a project that will be unveiled later this year.
A big part of the confidence major auto manufacturers have in Metform International comes from Volkmann himself, who spent the majority of his career in the automotive sector before joining the company. Volkmann says he ran a plant of more than 500 people before coming to Metform International, and the experience he has in that sector has created some good synergies for the company. "We relate well to what the customer needs to accomplish because I used to be in their shoes," he says. "Our customers feel at home when we're dealing with them."
Continuous Improvement
Until last year, the recession was Metform International's greatest obstacle, according to Volkmann. In a way, however, the recession also provided Metform International with an opportunity to improve. Volkmann says the company responded to the rough economy by focusing on increasing efficiencies and implementing lean principles throughout its operations. "That's what recessions do – they make you leaner," he says.
Specifically, Metform International concentrated on improving communications between its engineering department and the production floor to eliminate errors and improve lead times. "That allowed us to really get through those difficult times, and we're sitting here ready for some volume," Volkmann says. "We were able to increase our gross margins with the same amount of sales."
As a result of the company's efficiency efforts, Metform International was able to retain its core engineering and operations team through the recession. Volkmann says this puts the company in a better position than many of its competitors.
Another improvement the company made was the introduction of an enterprise resource planning (ERP) system. Volkmann says the company's ERP system allows it to track projects in real time and gives it the opportunity to be more proactive in tracking down issues during the production process. "That ERP system was pretty key for us and it allows Metform to grow organically," Volkmann says. "Our systems allow us to be a larger company."
And larger is how Volkmann says Metform International sees itself over the next few years. He says the company expects the automotive market to continue being an active one, but the fact that Metform International serves so many different sectors gives it confidence for the future no matter what happens in the automotive world. "We want to be able to be diverse enough to pick up growth in whichever [market] is seeing it," Volkmann says.