Mettler-Toledo Safeline Ltd
A host of innovations
Following the hugely successful introduction of its Profile Advantage range of detection systems, Mettler-Toledo Safeline Ltd. is once again demonstrating the innovation that makes the company a leading supplier of metal detection technologies
Beginning its journey as Safeline based in Salford, Manchester in 1989, the company rapidly established itself as an internationally recognised specialist in the delivery of industrial metal detection systems for the food, pharmaceutical processing and packaging industries. Safeline was acquired by the multinational manufacturer of precision instruments, Mettler-Toledo in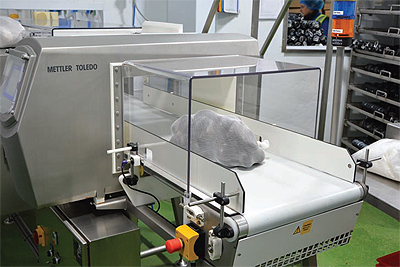 1997. Today Mettler-Toledo Safeline continues to maintain a leading position in the speciality market for industrial quality assurance instrumentation, with its highly acclaimed and trusted Profile and Signature metal detection solutions.
"Mettler-Toledo Safeline is one of four operating companies within the product inspection division of Mettler-Toledo andspecialises in metal detection technologies, whilethe other three businesses within the divisionprovide other speciality inspection solutions,such as checkweighing, x-ray inspection and vision inspection systems. The metal detector business provides brand protection and support that allows operators to achieve and maintain compliance in accordance to regulations, standards and legislation relating to food safety. This is also true within the pharmaceuticalsector, where product quality and compliance to international standards is again highly important," elaborates Mettler-Toledo Safeline Managing Director, Alan Purvis. "Roughly 90 per cent of our sales are to the producers of food and the rest is currently mixed between pharmaceuticals, speciality chemicals and a few other industrial applications. We produce inline instrumentation and equipment, which operates to a very high level of performance and includes electronic and software based instrumentation that runs 24-7 in production lines all over the world. This involves very high-speed real time signal processing, which is at the heart of the equipment that we provide."
Mettler-Toledo Safeline was previously profiled by Manufacturing Today Europe during April 2016, during which time Alan outlined the advantages of the company's then newly introduced Profile Advantage range, an innovative detection system developed in close co-operation with PhD students and senior researchers of the University of Manchester. Having racked up in excess of more than 1000 units globally during its first full year of sales Profile Advantage has proven tobe a huge success for Mettler-Toledo Safeline, allowing the company to cement its place as a trusted industry leader. Indeed the company has established a far-reaching global presence, with a solid export market and clients located in all corners of the world.
"We currently export around 96 per cent of what we manufacture in the UK and we havea sister company that is based in China which exports across Asia. We are active in every market where our key accounts in food or the pharmaceutical industries need metal detection technology," Alan says. "We are particularly strong in the Northern American market and also within most countries throughout Europe. We are also very strong in Thailand and South-East Asia and in Australia, so we are very diversified from a market activity point of view. In total we have more than 100,000 systems that we have sold, installed and continue to service around the world, representing a massive export business that is led from our base here in Manchester."
Further to continuing to service its clients around the world with its existing portfolio of metal detection products, Mettler-Toledo Safeline is set to unveil a host of innovations that are designed to afford the end user even greater flexibility in monitoring the effectiveness of their metal detection equipment. "We are just starting a rollout of a suite of significant equipment enhancements, which we will be making available to our sales teams and customers over the coming months. This is represented by four new developments, which will be available for clients operating within the snack foods and confectionery sectors, as well as with products such as powdered ingredients, cereals and pulses," Alan reveals. "Two of these enhancements are targeted at significantly improving the sensitivity and ease-of-use of vertically installed metal detectors. This will contribute to improved overall equipment effectiveness (OEE), which will in turn save our customers money through greater productivity, uptime and throughput. The other improvements will make it easier to integrate new equipment into difficult to access areas,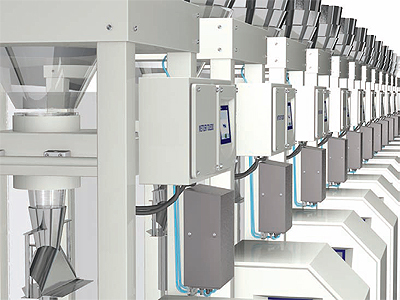 such as vertical installations where metal detectors may be mounted in the upper storeys of plants that are hard to reach."
Leveraging industry-standard Virtual Network Computing (VNC) technology, with Mettler- Toledo Safeline's emulation feature will make it possible for clients to control and monitor Profile metal detectors from a remote location, rather than directly at the machine.The technology is also flexible enough to be integrated into existing OEM equipment, making it a suitable solution for a variety of clients. Some of these enhancements will be made standard on all machines while others will be given as optional extras according to the needs of the customer, meaning that Mettler-Toledo Safeline is able to offer an effective solution across a host of different applications.
Mettler-Toledo Safeline's innovation success was recognised through a number of industry awards during 2016, including the company's second Queen's Award for Enterprise since 2012. This recognition is a key indicator of the esteem in which Mettler-Toledo Safeline products areheld and will allow the business to continue to grow its market presence well into the future, while meeting the needs of its clients. "There is an increasing pressure on large multi-national food companies to not only improve their product quality but also their process efficiency to address cost pressure. Many of these customers are becoming much more centralised about their process controls and compliance standards," Alan concludes. "Larger companies are becoming much more focused on having one recipe, one set of equipment and one process technology to produce their products consistently, irrespective of the manufacturing location. We are probably the only company with a network large enough to deliver standardised equipment like this on a global basis. We are strongly focusing on how we can help clients on that journey, to ensure that their products are produced cost effectively across the world."
Mettler-Toledo Safeline Ltd.
Services: Leading supplier of metal detection technologies