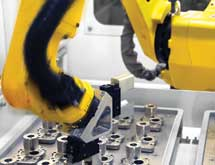 Jim Toy, vice president of operations and supply chain at MFC Group, believes managing a supply chain program is far from a one-man job. In fact, he maintains that it's not just a singular team effort, either. In his view, it takes a cross-functional team which includes internal and external resources.
"We are adding value to the entire supply chain process," Toy explains. "We are looking at the big picture across all functions of the business. In addition, we are working with external resources such as Emerald Logistics to connect the links of the value chain. Emerald manages the transportation required to keep parts and materials moving throughout the manufacturing process for the MFC Group. A lot of Class-A companies are looking at the supply chain now and they know if that functions efficiently, it usually means the company will function efficiently."
Toy maintains that a well run supply chain can increase customer satisfaction, improve cash flow and increase profitability.
MFC Group is  a Tier 1, 2 and 3 automotive parts manufacturer, producing forged and machined bearing and powertrain components for automobiles and light trucks. The group is made of three operating units: Meadville Forging Co. of Meadville, Pa.; Virginia Forge Co. in Buchanan, Va.; and Car­olina Forge Co. in Wilson, N.C. Toy says that for MFC to remain competitive and prosper, it has to first make sure it maximizes the potential of its own supply chain. In fact, MFC has to transform their supply chain into a value chain.
"Within the last three years, we strived to change the entire supply chain to a value chain," Toy says. "We have repositioned certain roles of the company to assist in managing the supply chain from PPIC [production planning & inventory control] to procurement to customer service.
"We look for win-win situations and shared savings initiatives with our supply chain partners to ensure they remain profitable and willing to invest in new capital equipment. "
It Takes a Team
At MFC, transforming the traditional supply chain into a value chain requires the "synergy" of a cross functional team. Toy has enlisted the help of Emerald Logistics, based in Industry, Pa., to assist with the efficient movement of materials throughout the complex Value Chain. Toy has been working with Emerald Logistics and its owner, Mark Anderson since 1991. As Toy says, "Emerald Logistics is a key link in the value chain and its services are vital to maintain the efficient flow of materials."
The MFC value chain has modified traditional roles to better serve the demands of its customers. The customer service department has been transformed into a vital link in the value chain.
The customer service/supply chain team is the first to know what the customer needs and when they need it. The customer service/supply chain team interface with PPIC, operations, procurement and logistics in an effort to ensure a smooth flow of materials.
The procurement team has also taken a more active role in bringing value to the process.
Instead of the traditional concerns of ordering according to pricing and timing, the purchasing department strives to develop win-win relationships with vendors and develop shared savings programs, Toy explains. "The way we do that is to develop relationships and look at shared savings with vendors instead of just looking for cost reduction," he says.
By developing relationships with their vendors, MFC's suppliers be­come more than just a contractor. Toy says they become extensions of MFC's value chain. MFC has a vested interest in helping their select suppliers succeed because if their supplier's quality suffers, MFC will suffer also. The company partners with vendors that it knows can consistently meet its needs," Toy adds.
MFC's vendor requirements include traditional factors that many manufacturers seek in a supplier. The material or service has to maintain a certain level of quality. Also, they need to be a consistent supplier and able to fill the correct orders at the correct time. The supplier should also know about the industry that MFC serves and be responsive to questions and concerns.
Bringing Value
MFC strives every day to bring value to the traditional supply chain. This is accomplished with a new vision and alignment of the supply chain team lead by Toy. One of MFC's biggest saving initiatives was developed with its transportation logistics vendor, Em­erald Logistics.
MFC maintains a just-in-time operation for its incoming materials. Also, many of MFC's customers operate a just-in-time model. MFC and Emerald Logistics stage trucks at strategic locations to bring materials in and deliver finished products with minimal lead time. "Making our logistics and transportation a key part of our supply chain to effectively manage the movement of material is probably the biggest innovation for us," Toy explains. "Also, we know there are increasing costs for transportation and new driving regulations and we are sensitive to our transportation company's needs to keep the trucks flowing at just the right place at just the right time. It has not only saved our vendors time and effort, but it has also taken us as close to just-in-time as we will ever get."
Getting Creative
Toy says creative solutions such as this are just the start of what MFC can accomplish with its progressive business model. "By transforming the traditional supply chain into an efficient value chain, we position our organization for future growth and increased customer satisfaction," he says. "How­ever, this transformation to a value chain at MFC will require the dedication of the team and the support of Emerald Logistics."
Between MFC Group's three companies – Meadville Forging Co., Virginia Forge Co., and Carolina Forge Co., – the company boasts more than half-a-century of forging and machining experience. Each MFC location leverages quality producing processes and technology to ultimately improve the bottom line of their customers and the company itself.
For instance, Meadville Forging, which began as a small hammer shop in the 1940s, today has a reputation for progressing the use of technologies such as pulse-plasma ion-nitriding and robotics machining. It is also the developer of a vertical press, which is "considered to be the most advanced [and] highly automated of its kind," the company says.
Virginia Forge also possesses an impressive list of technologies and all of its major processes from shearing and forging to heat treating and machining are automated and computerized. "Every production area features the latest equipment arranged to ensure smooth, efficient workflow," Virginia Forge says. "Machining is entirely automated."
At Carolina Forge, the company's "forward thinking attitude shows in our equipment and facilities," the company says. "We continually invest in processes and systems designed to deliver product value to our customers." Some of the technology Carolina Forge is known for includes the DataMyte Collection System, which collects manufacturing statistical data; the high performance Cognex In-Sight Machine Vision System and the TeamWork Software Systems for document control and storage.
"We will seek to continuously improve our products, delivery schedules, processes, services and systems by identifying both internal and external opportunities that can be used as a baseline for improvements," the company says. "We strive to provide the highest product and the information quality to our customers. Our focus is on continually improving our customer's total experience when doing business with the MFC Group."