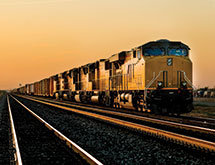 The railroad industry requires equipment that can be depended upon day in and day out, so it's telling that Miba holds a 98 percent market share in providing bearings for the railroad industry. With the company's engineering expertise and global reach, Miba's Bearings Group is in the perfect position to meet the demanding needs of its customers in the railroad sector and beyond.
"Miba Bearing Group is a product leader," the company says. "That means we offer our customers the optimum, tailored solution for each application and always seek the right balance between function, reliability and cost."
Since 1927, Austria-based Miba has been providing industrial solutions of all kinds to customers throughout the world. Miba Bearings Group concentrates on providing engine bearing products including bushings and thrust washers in all available materials and with all the modern surface technologies on the market.
Along with the railroad industry, Miba Bearings Group also serves customers in the automotive and government sectors. No matter what it supplies for its customers, however, the company says it remains focused on solving the challenges they face with components that work.
"Producers of high-performance diesel and gas engines face a broad set of global challenges, including the sheer pace at which markets change and ever-increasing demands with regard to the environment and performance," the company says. "Thanks to our international presence, Miba Bearing Group – a specialist in engine bearing applications and production of bearings – is well positioned to meet these challenges. From development to choice of materials right through to logistics, we offer innovative solutions and cost-effective products oriented to customers' needs. Our production processes are based on two key strengths: competent, committed employees and innovative technologies developed by us. We supply exactly the right product for the application in question, and customers come to rely on our uncompromising quality and timely delivery."
High Importance
Everything Miba Bearings Group does is based around the knowledge that what it does can mean the difference between a functioning engine and a ruined machine. "Engine bearings play an important role in determining an internal combustion engine's functioning and working life," the company says. "They support crankshafts and camshafts, minimize friction during operation and protect the engine against damage and breakdown. We develop new types of bearing on an ongoing basis, so that even under extreme conditions modern engines deliver top performance, not only efficiently but in an environmentally friendly manner."
With its years of experience in the industry, Miba Bearings Group says it has cultivated a deep knowledge base that allows it to meet virtually any challenge a customer can present it. "Over several decades Miba has acquired in-depth knowledge concerning the tribology of engine bearings and drive components that run on bearings," the company says. "Thanks to our breadth of experience, we have the right solution for any bearing application. Our key strengths – independence in raw materials, advanced, reliable production processes, and efficient quality management – enable us to meet all functional requirements as cost-effectively as possible."
Full Service
Miba Bearings Group understands the various needs of the markets it serves, and that understanding results in products that are tailored specifically for the requirements and engine conditions its customers deal with on a regular basis. For example, the company's bearings can be found in heavy-duty truck engines. "All the major high-speed and heavy duty truck engine producers have been using Miba engine bearings for many years," the company says. "They benefit in particular from the quality, durability and wear resistance of our products. We work closely with our customers to help them meet the challenges of the future in terms of CO2 reduction and compliance with emissions regulations. We meet the resulting demands for higher bearing load ratings by steadily increasing performance and load-bearing capacities."
The company's expertise in the locomotive arena is one of Miba Bearing Group's strongest sources of pride, according to the company. "Producers of locomotive engines have come to rely on Miba's expertise in the development, serial production and timely delivery of engine bearings, and benefit in particular from our strengths in the area of application technology," the company says. "Plants in Laakirchen, Austria, and McConnelsville, Ohio, have been supplying the locomotive industry for decades, and have built a formidable reputation as suppliers of innovative engine bearing solutions."
In Focus
The strength of Miba Bearing Group's products can be attributed to the company's strength in engineering and research and development. "As a technological leader, Miba has always sought innovative solutions," the company says. "We're heavily geared to the needs of our customers, who want high-tech solutions at cost-effective prices. Our emphasis on R&D keeps our products a step ahead and ensures they are precisely aligned with customers' needs.
"Evaluation and service are carried out by highly skilled employees at our own or the customer's location, or on site where the engine is in use," the company continues. "Our production processes for materials and bearings are state-of-the-art, and we keep the customer satisfied by providing reliable products with long working lives at competitive prices."