Building quality
Established in 1997, today Michelmersh produces over 125 million handmade and machine-made clay bricks and pavers a year, earning a reputation for being 'Britain's brick specialist'
Made up of seven premium brands (Blockleys, Carlton, Charnwood, floren.be, Freshfield Lane, Hathern Terra Cotta and Michelmersh) and working from five sites in the UK and one in Belgium, Michelmersh prides itself on the provision of the highest quality brick products. As Sarah Le Gresley, Innovation Director & Sustainability Group Chair discloses to Manufacturing Today, this latter point is a true differentiator for Michelmersh, and one which it works hard to maintain. "We adhere to the most stringent building requirements so we are able to guarantee these high-quality products," she says. "Our seven different brands enable us to cover various segments, which could range from a high-end architect's specification to large luxury house building developers. Above all else, we always promote ourselves as enhancing the built environment around us and we have a multitude of colors and textures that we promote as premium. Which is why Michelmersh is well known as 'Britain's Brick Specialists'."
To continuously deliver to the levels that clients have come to expect requires sophisticated manufacturing facilities and efficient processes, and as Sarah confirms, the business specializes in modern methods of production, with an emphasis on sustainable building solutions. But as Mick Brophy, Group Production Director, points out the factories operated by Michelmersh also include some historical methods, too. "We still make bricks by hand, from clay and sand, using traditional approaches," he says. "That work goes alongside extruded clays that go through automated kiln drying and firing processes where they are handled by robots in a process that is very automated."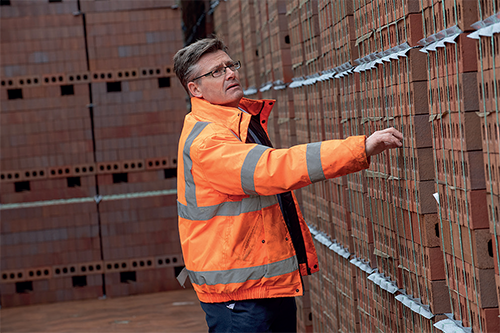 He explains that the bricks are made to match the marketplace to which they are targeted. "We produce soft mud bricks, which have a moisture content of around 25 percent within the clay, and that gives a traditional look to the brick. We also make a unique brick for the UK and world market, called a clamp fired brick, which is very specialist and sought after. Furthermore, we blend specific products for jobs all over the world, too, so we cover everything from a plain colored brick through to a unique brick or bespoke blend."
This range is also continuously added to and improved, in order to make sure Michelmersh has a product that will meet clients' needs. "We constantly innovate," Sarah confirms. "We have a gap analysis process involving directors from different departments that consistently evaluates where we might need to evolve. At the same time, we are looking at ways we can add recycled content into products, taking waste materials from other processes and using those to make bricks that are still very high quality, and that have a good sustainability message. For example, we have one product at the moment under our Blockleys brand called Porcelain White Smooth, which includes 44 percent recycled content, and includes reusing discarded white sanitaryware that is crushed into the clay."
She continues with further details on specific ranges. "The Synthesis range is a blend of products, and it has an almost mosaic-like appearance across the façade, and has been used on buildings like the ITV Media Studios. We also have long, thin linear products in our i-Line range that are in quite high demand from architects. Our Floren brand has the ability to undertake a lot of very highly detailed surface work at the end of the production process and therefore it has the flexibility to make a bespoke product for each client. We are constantly looking for the next innovation in product development and looking to put more resources into that where possible."
Mick and Sarah's descriptions of the capabilities that Michelmersh brings to the market made it evident why it is often the first port of call for clients working on difficult or bespoke projects. "We have real specialists on board, so when an architect, specifier or contractor is looking to have someone to hold their hand and help them along their process they come to us," agrees Sarah. "We have a project that finished a couple of years ago that involved tens of thousands of special shaped bricks, and that really showed how dedicated our team is in looking after and collaborating with both the designer and the builder all the way along the building journey."
Michelmersh also produced specialist bricks for Battersea Power Station generation. "It was a significant order for us, and it was a lot of work, but when I look at the project now, it's stunning," says Mick. "We also have big developments like Elephant & Castle, which continue through various phases over multiple years. We have one at the moment about to complete, West End Gate for Berkeley Homes – premium developers such as this come to us for relatability and resilience in our products."
The business also works on projects that use modern methods of construction, and Sarah gave an example. "We worked on University College Hospital Macmillan Cancer Centre in London, where our products were fabricated into precast panels with 'hit and miss' sails in front of glazing, raised and made offsite, and then craned into the site. This eases urban issues, speeds up construction phases as well as lessens health and safety risks on construction sites. We were proud to be involved with this and many other forward-thinking, modern methods of construction. It helps promote a different side to the sustainability argument."
Given their outstanding quality it is not surprising that Michelmersh products have been featured in some award-winning projects over the years, including the prestigious RIBA Stirling Prize winner last year; Kingston University. "We also regularly win sustainability and architecture awards each year, as well as awards from developers and home builders, so really we are multi award-winning throughout the industry sectors, and across a variety of architectural vernacular," adds Sarah.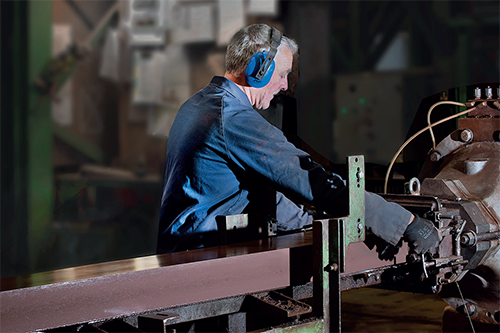 Throughout the conversation with Mick and Sarah, the two frequently referred to quality, a uniting thread that is woven through every aspect of Michelmersh's activities. Maintaining this pedigree in the industry takes not just investment in facilities and equipment, but also the right people – indeed, Sarah says without employees, there is no premium product to be found at the end of the line. "We really value our staff, and we know our employees are key to the business. We have KPIs around training, and we do promote personal development within the company," adds Mick. "Without them we wouldn't be where we are today, they are very important and we truly appreciate all the hard work that every single person in the company has done throughout the last few years."
Nowhere is the care for its employees more aptly illustrated than in the actions Michelmersh undertook in response to the Covid-19 pandemic. "We acted very rapidly for the whole sector and enacted a safe wind down immediately upon the first lockdown announcement was made," Sarah reveals. "We kept the staff informed, and we were closed for three weeks, but we introduced so many extra health and safety measures that we were back on track after four weeks of shutdown, and we were the first brick maker to come fully back online."
"Throughout the three weeks when everybody was sent home we worked tirelessly behind the scenes to get the operations back up and running again," elaborated Mick. "It did take its toll on us as a management team, because it was such hard work and it was very difficult to keep employees safe as well as producing the numbers. We revised the output to get the business back safely, and then we expanded and looked at other safe methods of work.
"Throughout the two years we spent hundreds of thousands of pounds to keep people safe in terms of social distancing procedures, audits, electrostatic sprays, supporting the employees' mental health and everybody went through a tough time. But we got through and came out the other side of it, we made a profit in both years and were successful enough to pay back all the furlough money that the government paid us. We looked after the people at risk, we didn't force anybody to come to work, we made sure everyone was safe. I take my hat off to everybody who worked so hard to get to where we are."
Having referred to KPIs in terms of staff, Sarah also noted that there are also 16 KPI targets to achieve by 2030 in relation to sustainability at Michelmersh, with both herself and Mick part of the Net Zero Steering Group. "We support the Government's ambition to reach Net Zero by 2050, but we are going above and beyond that," she states. "We try to involve ourselves in some very innovative projects to rapidly decarbonize not just our own operations but also show the rest of the industry how they can decarbonise the brick-making process."
Anecdotally, Mick had recently visited the Carlton plant, where a large investment has been made into a new dryer, which was being installed and commissioned. This project could potentially cut drying times significantly, which has huge implications, as he divulges: "Throughout this and other trials of technology we will reduce energy, which is a massive gain and if this works we can cascade this to the other dryers we have on-site so it's a great investment programme and we are very excited about it."
Indeed, over the entire Michelmersh operation, energy reduction programs can be seen in action, encompassing fuel prices and gas or electricity usage, as Mick continues. "We have formed Energy Teams within the factories and we are looking at areas such as the replacement of machinery as detailed above with the dryers, and introducing electric alternatives for forklifts and cars. We run transport efficiency programs for our HGV vehicles, and even look at driver efficiency programs. Anywhere we can squeeze to get energy use down is a focus for us."
"We also support rainwater harvesting at our plants, and we have renewables on-site too," Sarah adds. "We are working on our entire decarbonisation journey, and that doesn't just come down to biodiversity or environmental goals, because it falls under our wider ESG ambitions. This means we are also looking at the wider community, and getting involved in education and training at a grass roots level. For example, every year we give 100,000 bricks to brick laying colleges for the different NVQ levels and we give local communities free clay or products when there is an initiative of people in need.
"We are a partner of the supply chain sustainability school and we currently hold a gold badge with them, not for payment, but purely down to the amount of training or presentations our employees do/give in sustainability through the school. We are really proud of that."
Its ESG ambitions and standards also have implications for the supply chain, as Michelmersh is keen to hold its suppliers to its own high standards. "We have a fantastic working relationship with all of them, and we are continuously working together, whether it's to improve sustainability or achieve any other really high standards, such as Modern Slavery policies. We make sure our supply chain stays up to our standards and we also constantly challenge how we can improve that going forwards as well," says Sarah.
Having survived Covid-19, maintained exemplary quality levels and set industry-leading sustainability targets, Michelmersh is entering the second quarter of 2022 as a business to watch. "I think we are ready for the next challenge and are looking forward to the next few years and growing as we have been," says Sarah. "We have dealt with challenges as they have been thrown at us and we look forward to leading the industry in multiple innovative, sustainability and design areas. We always want to innovate and improve, as well as offer the best value for money we can to the customer, and are excited for future projects we are working on at this moment in time."
Michelmersh
www.mbhplc.co.uk
Services: Brick manufacturer