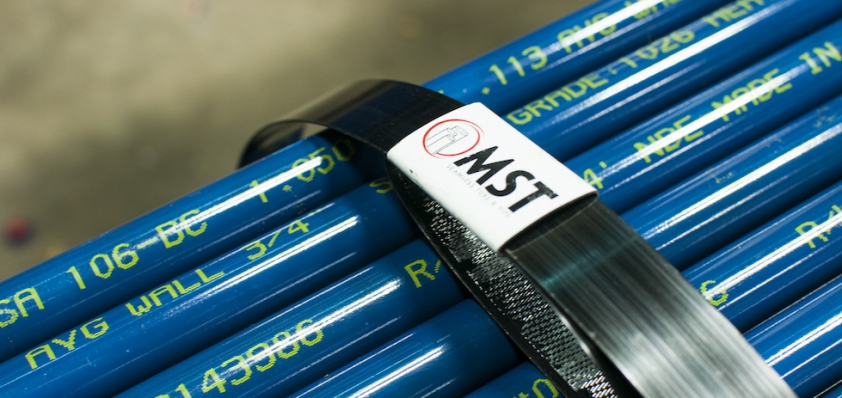 As recently as six years ago, Michigan Seamless Tube LLC (MST) was still seen as a tube manufacturer with a small pipe supply business. But as the natural gas market took off and construction began on new oil and gas facilities, the Detroit-area company saw great potential in the pressure pipe market and decided to invest in the equipment it needed to become a big player.
MST chose to focus on pressure pipe 2-inch nominal pipe size or smaller. . These sizes are most commonly used by the oil and gas industry in a range of applications from refineries to fracking sites in the United States and Canada.
But growing its pipe business wasn't as simple as changing a production line. MST first needed to enhance its capabilities. "To get in a position to better serve our customers in general and the pipe market, we went through a $45 million expansion from 2011 to 2014," Vice President Ted Fairley says.
The biggest piece of that expansion was the addition of a $19 million cold pilger mill, enabling Michigan Seamless Tube to offer a more precise method for cold-finishing its pipes. Traditionally, tubes and pipes are finished in a cold drawing process, which pulls the metal through a stationary die and over a mandrel to reduce it to the desired outside diameter size and wall thickness. However, the pilger mill cold reduces the metal by driving the shell over a tapered mandrel and through rotating dies, resulting in smoother surface and tighter dimensional tolerances.
The pilger mill is also substantially faster than traditional cold drawing. In the past, MST had to make two to three passes on a draw bench before a pipe was the right size. The pilger mill takes only one pass to reduce a tube down to the finished size.
Investing in the pilger mill enabled MST to efficiently produce piping at a favorable cost structure. "The pilger mill changed the economics for us as to how we make specifically pipe products," Fairley says.
At the same time it expanded its manufacturing capabilities, MST worked on the people aspect of the transition. Moving from a customized product such as tubes to a more standardized item such as pressure pipes was sure to disrupt long-followed processes within MST's facility. Before, every order that came in was for a specific job, but with an increased focus on pipes MST needed to run enough material to keep products in stock.
"There needed to be a buy-in from the rest of the organization," says Tom Doherty, general manager of pipe products. "It did not take long at all for them to see the results of this. Everybody is 100 percent behind it."
High Standards
By 2014, MST was producing high-quality pipes and was ready to take the business to another level. It purchased Blue Diamond®, a brand known for offering superior surface and rust protection. Blue Diamond products are highly regarded in the market, utilizing an ultraviolet cured compound that produces the coating. Blue Diamond products are always 100 percent melted and manufactured in the United States.
The fact that Blue Diamond and MST's other products are produced entirely in the United States is not only a point of pride for the company, but also a strong selling point for its customers. "There are a lot of jobs that required 'Made in America' and spec it," Doherty says. "And there have been some moves with the current administration for 'Buy American.'"
Because everything is American made, customers have greater confidence in MST tubes and pipes than their foreign counterparts. When looking at a test report, there's no question that the steel grade or mechanical properties listed are correct. "Because of the pilger mill and the cold finishing process, our pipe has a much tighter tolerance than a standard piece of pipe," Doherty states.
MST's precise manufacturing processes and high quality standards have helped the company achieve a number of important certifications, including ISO 9001, ISO/TS 16949, NCA 3800 for production of pipe for nuclear uses, and pressure equipment directive (PED) certification, which allows the exportation of tubes and pipes to EU member countries. Most recently, MST earned certification from the American Petroleum Institute (API), considered one of the most stringent standards in the oil and gas industry. "Being able to be certified as an API mill is a real feather in the cap," Doherty says.
Perfecting the Process
MST's production process begins with solid steel bars that are cut to a specific length dependent on the specific customer order. To reach the desired size, MST places the bar in a 2,100 F rotary hearth furnace. Once it is uniformly heated, the bar is indented in the center, the bar enters a rotary piercing mill and a hydraulic ram feeds it between heavy rollers and drives it over a piercing point to produce a tube hollow. From there, the pierced hollow is processed through in a stretch reducing mill producing a tube shell.
At that point, the tube shell is cooled back down to room temperature and thermally treated. It then goes through either the traditional cold drawing process or the pilger mill for finishing.
The finished product comes out exactly to customer specifications, an important differentiator in an industry that is used to some variance. The standard length in the pipe business is 21 or 42 feet. However, it's not unusual for a pipe to be as short as 19 feet or as long as 23 feet for an order requiring 21-foot pieces.
But because MST produces its own hollows instead of buying from suppliers, the company can produce pipes at a uniform 21 feet. "We're the only pressure pipe mill in the United States that starts with a bar," Doherty says, "so we have 100 percent control over how we produce our pipe."
The raw materials that MST uses to produce its products come from three different domestic bar mills. "We know we can trust them with on-time deliveries, which helps us keep our delivery intact," Doherty says. For customers, delivery time is paramount. A delayed shipment can halt production and create a snowballing financial impact. That is why MST prides itself on its 98.6 percent year-to-date on-time delivery rate.
Service Oriented
Pipes have long been seen as a commodity product, but by controlling every aspect of production, MST gives customers enough options that its products look a lot more specialized. Where most competing pipe mills are loading up the same stacks of products on railroad cars day after day, MST is capable of sending out mixed truckloads containing bundles of different sizes and coatings designed for a wide variety of applications. "We've really customized this business," Doherty states.
For buyers that require corrosion protection on their pipes, MST offers galvanized pipe through an outside processor that Doherty says is known as the best in the market. Although MST doesn't perform the galvanizing itself, the relationship it has with that processor allows it to control the process from start to finish, guaranteeing a high-quality coating that has a consistent thickness.
MST also offers thread and coupled pipe products, commonly referred to as "T&C" within the industry. Combined with the galvanizing, MST can act as a total solution for its customers. "What we've done is we've come to the market with a completely full basket of products to offer so MST can be a one-stop shop for everything needed in the pressure pipe business," Doherty claims.
As MST has entered into the pipe market its strategy has been to sell through a handful of master distributors that are capable of investing large amounts of inventory into its products for resale. This has allowed MST to develop symbiotic relationships with those distributors. "Our customers know they're not going to see MST running around the marketplace, trying to sell to every PVF house in the world," Doherty says.
Sticking with a smaller group of distributors allows MST to provide better service without stretching itself too thin. "We are a niche player in the global pressure pipe world," Fairley says. "We're nimble, we're very customer service oriented. We like mixed truckload orders as much as all one item orders. It's all in a day's work here at MST. "
That willingness to work hard for every customer is one of the primary forces behind MST's rapid growth into the pipe business. Despite its recent facility expansion, the company is already running at 90 percent capacity. "We expect to be producing pressure pipe for many years to come," Doherty says.