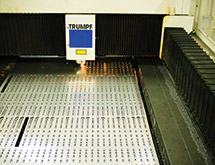 Micro Metals Inc. was created in 1972 to meet the needs of the then-emerging electric enclosure market. The company's current ownership took over operations in the early 1980s, and the company has since grown from an eight-man shop in 5,000 square feet into a company with more than 125 employees operating in more than 160,000 square feet. Today, it is a highly automated manufacturer of custom metal products operating out of a modern facility in Colorado Springs, Colo.
"Our reputation is built on providing quality parts with fast delivery and complete one-stop service," Vice President of Operations Greg Driscoll says. "We have complete fabrication, machining, finishing and assembly capabilities all under one roof so we can eliminate headaches for our customers and improve lead times."
As a full service, single-source manufacturer of precision metal parts, Micro Metals has invested in state-of-the-art machinery. This has resulted in high speed, consistent products and reduced costs to customers.
Depth of Service
From cutting precision components on automated lasers to forming, welding and painting of custom parts, Micro Metals offers a diverse array of services. Its capabilities include robotic and manual press brakes, automated laser cutting, robotic and manual welding, automated powder and liquid coating, automated coil punching and rollforming, CNC machining and punching, blanking and punching, waterjet, assembly and support, engineering and surface finishing.
"Our team at Micro Metals is dedicated to doing the job correctly, and we have the knowledge and experience needed to meet that goal," Driscoll says. "We maintain a work environment with the best machines, the best people and the best service to customers."
This diverse array of capabilities has allowed Micro Metals to provide parts to a wide variety of companies in a number of industries. The company has learned to understand customer requirements, investing time and resources to meet customer needs in industries that include telecommunications, the U.S. military, energy, climate control, oil and gas, construction, secure storage, aerospace and government.
"For us, there is no such thing as a typical customer," Driscoll says. "Our projects vary from retail to aerospace and from hundreds of dollars to millions of dollars. We try and keep our customer base as broad as possible so we have a hand in many industries."
Micro Metals likes to target long-run customers so it can develop a relationship and service the account. The company's best path toward growth has always been excellent customer service, high-quality parts and on-time delivery. When Micro Metals services its accounts in a professional manner, its reputation helps the company to reach its growth goals.
Ensuring quality is another focal area for Micro Metals, which is why it utilizes several quality systems to meet the needs of its broad customer base. Combining its quality systems with a number of certifications helps ensure that customers have all of their needs met at one location. The company is ISO 9001:2008 registered and has one IATCA/IRCA lead auditor and eight trained internal auditors. In addition, it is Chemical Agent Resistant Coating (CARC) paint certified and holds a number of welding certifications.
Preparing to Grow
The company continues to look for key investment areas that it believes are essential to its strategic plans. Micro Metals' goal has always been to invest in automation and advanced manufacturing techniques to compete with the best manufacturers. Sometimes, however,  these technologies are expensive and do not provide the company with a quick return on investment.
For example, Micro Metals recently installed a robotic press brake cell that allows the company to hold tight tolerances. Although the cell is very productive, the cost of the investment did not provide greater output as compared to manual press brake machinery. However, the company still made the investment.
"The benefit of having the best machinery is that it produces superior quality and repeatability, and it prepares us for a new way of doing business in the future," Driscoll says. "An operator no longer has to manually bend heavy blanks and risk fatigue or injury. He can produce more parts, better parts and because of that it attracts better operators and hopefully enhances our reputation for quality. That is just one example of the type of investment we are eager to make at Micro Metals."
Looking ahead, Micro Metals is keeping close track of the trends impacting its industries to help it achieve growth goals for 2015 and beyond. Driscoll thinks the economy is coming back, but not all industries are coming back as quickly as expected.
"There is a tension in the global manufacturing world between importing and producing locally, and I believe local production is going to start winning," Driscoll says. "In 2015, we are going to continue to do what we always do: work hard to win business and service the customers we already have. We will continue to invest in our equipment and employees so we can continue to do what we love for a long time."