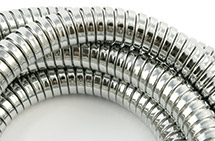 Microflex Inc. has prided itself in manufacturing high-quality flexible metal products for 40 years. "Since 1975, Microflex has proven to be the innovative leader in the manufacturing of metal hose and braid, metallic expansion joints, bellows and automotive products," the company says. "Our customers can count on us to be their one elite source for design and fabrication of flexible metal products for all applications."
Microflex Inc. operates two main divisions: an industrial division serving the automotive, petrochemical and power generation industries; and an automotive division. Both divisions are served by a 120,000-square-foot manufacturing facility in Ormond Beach, Fla.
Founders and brothers Josif and George Atanasoski lead a staff of more than 160 people, which includes "a staff of engineers that design products for reliability and value," the company says.
Microflex's products and operations are backed by a number of quality certifications. "We always strive to be above the industry curve when it comes to all available qualifications and certifications in engineering and manufacturing," Microflex adds.
The company is ISO 9001, Pressure Equipment Directive (PED) and American Society of Mechanical Engineers (ASME) certified.
Quality and Consistency
Microflex offers hose, braid and expansion joint products in a variety of materials and configurations. Stainless steel tubular wire braid, beam braid or braided products are manufactured in diameters ranging from one-quarter inch to 30 inches. Products are available in two different types of stainless steel. "Microflex has combined years of manufacturing experience with the most technically advanced braiding equipment to provide customers the finest, most consistent wire braid available," the company says.
The company assembles braided pump connectors using close-pitch annular metal hose and high-strength braid. Connectors are available in diameters ranging from one-half inch to 30 inches and flanged or male threaded. "Microflex braided pump connectors are a high-quality alternative to the commodity braided pump connectors that are on the market today," it adds.
Microflex's annular corrugated metal hose is manufactured from high-quality materials "which are precision welded and corrugated to create a flexible, long-lasting and reliable product," the company says. Metal hose ranges in diameter from a quarter-inch to 30 inches and is available in Type 321 and Type 316L stainless steel. Special alloy hoses are available on request. "Years of experience, along with our modern corrugating equipment, combine to provide the customer with the most consistent, reliable metal hose available," the company says.
The company can also combine its hoses and braids to create hose assemblies, which it designs with reliability and safety in mind. "Microflex can perform all types of leak tests and non-destructive testing, hydrotest, pneumatic, mass spectrometer and dye penetrant, as well as X-ray," the company says.
Microflex's metal hose assemblies are used in a multitude of applications ranging from tank trucks to Space Shuttles and from steam generation to gas separation. "Microflex hose assemblies are the standard by which the industry compares all metal hose," the company adds. "Our ASME-certified welders and ISO9001-certified facility provide customers with the confidence they require when specifying metal hose for demanding applications."
Environmental Stewardship
Microflex manufactures with the environment in mind. "We maintain an environmental management system to improve our environmental management and, ultimately, reduce the environmental impacts of our operations, activities, products and services," the company says.
The system includes five main components:
>Identifying materials, processes, products and wastes that could cause pollution, and implementing measures to avoid, reduce or control pollution where possible;
>Complying with applicable federal, state and local environmental laws, regulations, codes and other environmental requirements;
>Evaluating the effectiveness of the system and continually improving it to meet the company's environmental goals and prevent pollution;
>Educating employees as well as vendors, contractors and customers;
>Maintaining a system that considers the interests of the public.
"We consider waste reduction in every process we undertake and make it a top priority in order to protect the environment in which we live and work," according to Microflex.